Dog And Pig Have A Playdate Together Every Single Week
"Carlton waits by the door on Mondays."
Carlton and Colt are different in so many ways, but they have one very important thing in common — they love each other wholeheartedly.
For the mismatched pair, it was friendship at first sight.
"Their friendship was instant!" Amanda Quick, Carlton's mom, told The Dodo. "Colt couldn't take his eyes off of Carl. They were doing zoomies and grazing together, even wrestling and playing in the leaf piles."
Both animals are rescues, abandoned by their previous families. Carlton was originally sold as a "mini pig" — also known as micro or teacup pigs — a breed that doesn't actually exist. When he didn't stay small, his family dumped him on a farm in rural Texas.
When Quick first saw a photo of Carlton, she knew he belonged with her: "I had been hoping to rescue a pig to train as a therapy animal like I've done with my two previous rescue dogs," Quick said. "As soon as I saw his sweet baby face I knew he was the one. I drove an hour to get him that night."
When the happy-go-lucky pig isn't flipping dog bowls or spilling his mom's coffee, he loves to snuggle with his dog siblings.
"He is a troublemaker. I've considered renaming him 'Damnit Carl' because I feel like I say it 100 times a day," Quick said. "He's either making you laugh or giving you the best snuggles 24/7. What more could you want?"
Quick brought Carlton along one day for her weekly singing practice with her friend, Mary. Little did she know that Carlton would meet his soulmate, a dog named Colt, there.
Now, their playdates have become a beloved tradition.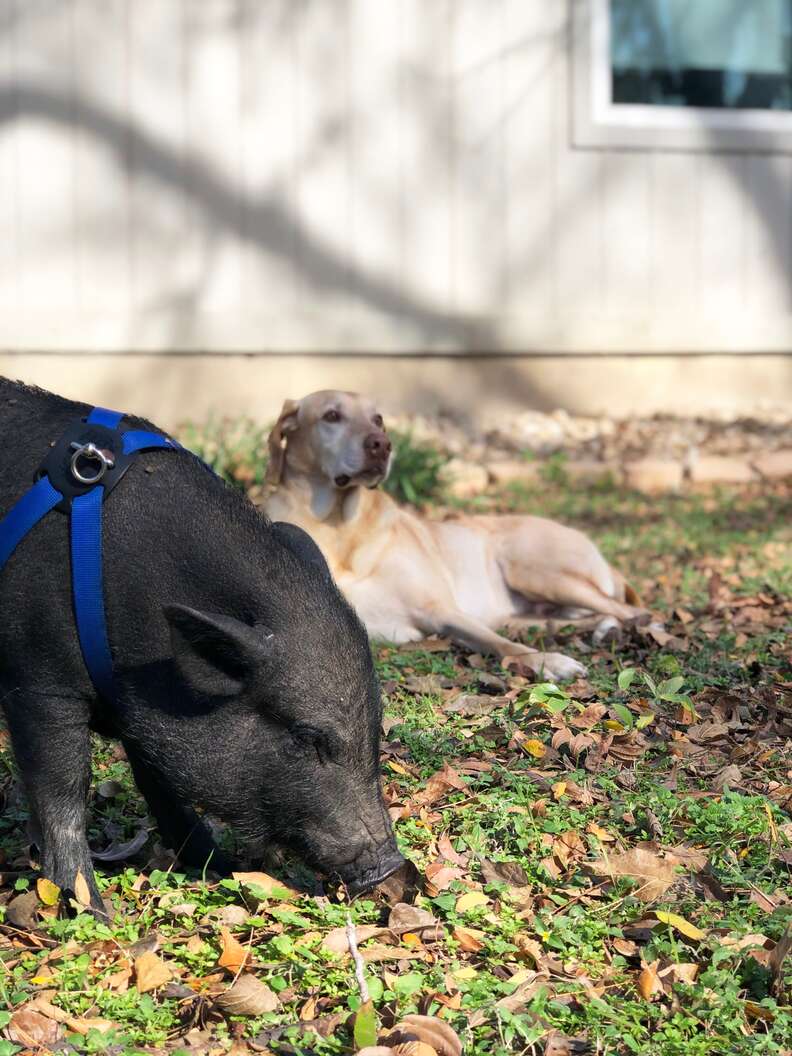 "Ever since that first time, Carlton waits by the door on Mondays," Quick said. "He knows when it's time to go. He trots from the car to Mary's front door and Colt starts hopping the second we come in. Even after weeks, they're still this excited to see one another every Monday."
For Colt, these visits keep him young, according to Quick: "He doesn't get this excited over dogs. He's 8 years old and fairly arthritic, so he saves his hops for Carl."
Quick recently captured this joy in a video that she posted to Facebook on Wednesday. You can watch the adorable video here:
Carlton's mom isn't surprised that the special pig has so many unique friends: "He's just a good soul," Quick said. "He extends love to any species and he has a knack for knowing who needs it most."