Police Thought They Were Too Late To Save This Frozen Turtle — But They Were Wrong
They named her Elsa.
The person responsible for leaving this pet turtle inside a Rhode Island home during subzero weather clearly didn't care if she perished in the biting chill. But fortunately, the hearty reptile wasn't about to let that act of cruelty slow her down — not for long, at least.
Police in the town of Coventry were alerted to the red-eared slider's predicament last week, after receiving reports of an abandoned animal inside the vacant home. When they arrived, it looked as though they might be too late to help.
"Located in the home was a fish tank that was frozen solid," the Coventry Police Department wrote in a release. "Encased in the ice was a turtle."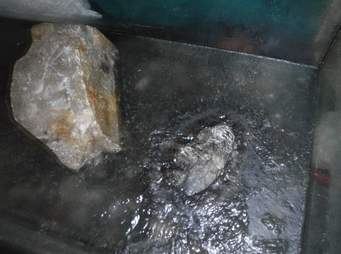 Coventry Police Department
Incredibly, the turtle was actually still alive — as her eventual reanimation proved.
Authorities removed the tank and placed the frozen turtle under the care of animal control. Overnight, the tank began to thaw. And sure enough:
"The next morning officers checked on the turtle and as they were removing the turtle from the tank one of its legs began to move," the police department reports. "The turtle was placed into appropriate conditions and began to show more signs of life, eventually standing on its own and opening its eyes. The turtle was transferred to a local reptile organization where she continues her recovery and rehabilitation."
The turtle has since been named Elsa.
Coventry Police Department
Coventry police later noted that a dog had also been found abandoned in the home. The dog is said to be in fair condition and is being "nursed back to health."
Meanwhile, a suspect has been identified in this case of animal cruelty.
With any luck, justice will be served — but, in the meantime, it's reassuring to know that Elsa and the dog are in good hands.