Last week, Nicole Abel walked out of her house and noticed something beneath her car. When it moved, she realized it was an animal.
As Abel got into her car, the animal scurried over to her neighbor's parking spot.
At first, Abel thought it was a jackrabbit, which are common where she lives in Calgary, Alberta, Canada. But when she looked closer, she saw that the animal was too furry to be jackrabbit. She wondered if he was a cat, but then she decided he looked like a domestic rabbit.
"I thought it was odd," Abel told The Dodo. "Initially I dismissed it."
But Abel saw the rabbit again three days later — underneath her neighbor's car, in the exact same spot. She knew then this animal wasn't wild — he'd probably been someone's pet.
"I went inside, thinking I'd bring out some apples and see if he's afraid of people," Abel said. "I walked up to the vehicle, sat on the ground beside the car, and it didn't faze him. He even stretched, yawned and sprawled out. I didn't think he was scared [of me] at all — he seemed shockingly mellow. I threw him a small piece of apple and you could see his little nose and whiskers wiggling as he quickly made his way over."
But as Abel fed the rabbit, she noticed he had a wound on his back. It looked like he'd been attacked by another animal — possibly a cat.
"He had a tuft of fur hanging off," Abel said. "The wound ... wasn't fresh."

But Abel knew she had to do more than feed the rabbit — she needed to get him somewhere safe. She reached out to Amanda and Rosemarie Greening at Against All Odds Rabbit Rescue (AAORR), an organization that rescues and rehomes rabbits, and they drove to Abel's house to help.
Once they were all on-site, they fenced off the area and guided the rabbit, whom they started calling Romeo, into a pet carrier. Romeo didn't hesitate, and went straight into the carrier, according to Abel.
"Seeing him respond to the carrier made my heart melt," Abel said. "He was sniffing at the gate, got on his hind legs and was smelling the top. He honestly seemed to know what it was, and it had me wondering if he was thinking, 'Hey, I know what this is, I used to have one of these.'"
Amanda and Rosemarie took Romeo to a local vet, who treated his injuries and shaved away some of his matted fur. Then they took him back to their home, where Romeo could get lots of food, rest and attention.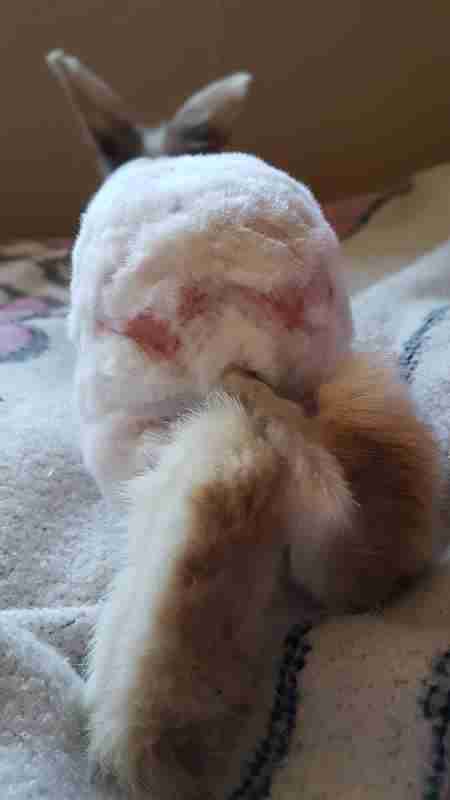 The Greenings believe that Romeo definitely belonged to someone, but they weren't able to find his owner. This may not be a bad thing, as the Greenings suspect Romeo was purposely dumped.
The dumping of rabbits has been a big problem in Calgary, Amanda Greening told The Dodo, but the problem is especially bad after Easter, which is the time of year when many people impulse buy rabbits as pets.
"Usually it's a few months after Easter as the baby rabbits start to mature that it becomes more of a problem, but for some reason it seems to have gotten an early start this year," Amanda Greening said.
"Many people don't realize the work involved in keeping a rabbit happy and mentally stimulated, and that they are very intelligent and can be destructive if not given a good outlet for energy," she added. "We suspect when rabbits hit puberty, and these behaviors start becoming more common for them, that is when people decide they don't want the rabbit anymore."
If people do get rabbits as pets, they need to provide a safe, secure environment, and keep them forever, Rosemarie Greening told The Dodo.

"There are far too many rabbits in Calgary that are dumped all the time," Rosemarie Greening said. "Also, a domestic rabbit shouldn't be allowed to be somewhere it can escape from. They should be kept in the house where it's safe, out of the elements, as Calgary weather can be hot and very cold, as well as safe from predators."
As soon as Romeo fully recovers and is neutered, he'll be up for adoption. And he'll make a wonderful pet for someone, Rosemarie Greening said.
"He was a little shy for the first day or so, but that's to be expected as he had a lot happen to him in a short time," Rosemarie Greening said. "He's currently becoming more curious and outgoing, coming over to the side of his pen and standing up for pets and attention. When let out for playtime he just wants to explore his surroundings and loves treats."