Man Driving Along Spots Unexpected Animals Running Through Woods
"These two have obviously been pets who have either escaped or sadly been abandoned when they were no longer wanted."
A man was driving along one day when he glanced out his window and saw two tiny animals running through a wooded area. At first he didn't think anything of it — until he realized the animals were actually guinea pigs.
RSPCA
The man immediately pulled over and contacted the RSPCA, knowing that the animals couldn't survive out there on their own. RSPCA inspector Mick Darling rushed out to try and rescue them — he was just as shocked as the man was that these guinea pigs had somehow ended up in the woods all alone.
"These two have obviously been pets who have either escaped or sadly been abandoned when they were no longer wanted," Darling said in a press release. "Anything could have happened to this vulnerable pair who could have easily been attacked by another animal or succumbed to the cold, wintry weather."
RSPCA
It took a bit of chasing, but after a while the guinea pigs huddled up together under some bushes, and Darling was able to catch and safely secure them. He took them to the RSPCA's Chesterfield and North Derbyshire branch, where staff named the sweet year-old guinea pigs Buttercup and Pixie.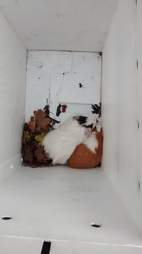 RSPCA
Luckily, the guinea pigs were healthy and happy when they arrived at the shelter, and if no one steps forward to claim them, they'll be put up for adoption and find a fabulous new forever home.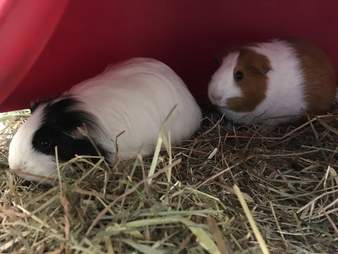 RSPCA
"Unfortunately, it's a sight we see all too often but I'm glad that on this occasion we were able to find the little critters, catch them and take them to a place of safety," Darling said. "If anyone knows what may have happened to them or where they've come from then I'd urge them to get in touch with our appeal line on 0300 123 8018."
RSPCA
If you're interested in adopting Buttercup and Pixie, you can
contact the RSPCA
for more information.