This College Has A Special Graduation Ceremony For Students' Pets
It's considered the most pet-friendly college in the U.S.
An important question, when holding a college graduation ceremony for pets: How do you get a tiny cap to stay on a hedgehog's head?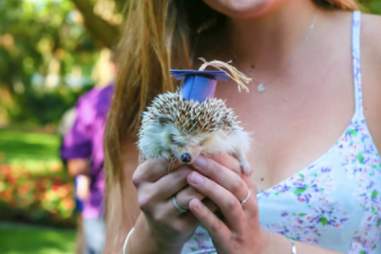 Lisa Presnail
Last week, almost 30 cats, dogs, lizards — and, yes, even a hedgehog named Mr. Higgins — graduated from Eckerd College, in St. Petersburg, Florida. These are pets belonging to seniors (the graduation ceremony for humans would be later in the month).
Lisa Presnail
Things got underway after a cookie and Milk Bone reception. Associate chaplain Libby Shannon delivered an invocation on the topic of giving thanks to God for animals, then college president Donald Eastman spoke about the growing, revolutionary field of animal consciousness.
After that, students and their animals walked across a dais to receive a certificate, and shake hands/paws with Eastman.
Lisa Presnail
Lisa Presnail
Students have been allowed to bring their animal companions since the early 1970s. Today, about a third of the traditional dorms, plus a handful of other student housing complexes, are animal friendly.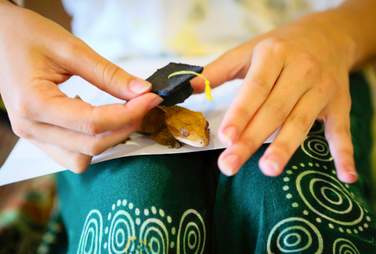 Lisa Presnail
"This is a campus that is focused upon living in responsible empathy with all beings, including animals," James Annarelli, vice president for student life and dean of students, tells The Dodo.
"Our focus on sustainability, our dedication to the study and responsible stewardship of the natural environment, and our commitment to the creation and maintenance of a caring community all support the unique place that companion animals occupy in the Eckerd community."
Lisa Presnail
Pet graduation is one more way of charmingly embracing this ethos.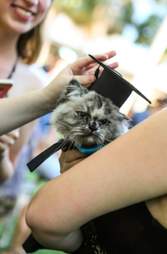 Lisa Presnail
This year's ceremony was the fifth annual pet graduation. The school said in a press statement that more than 190 animals have graduated from Eckerd since 2013.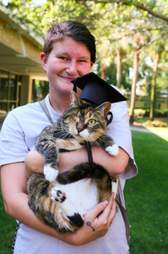 Lisa Presnail

Galit Sarvet and her dog Opie were part of the 2017 affair.
Sarvet tells The Dodo that Eckerd's pet friendliness was one of the things that attracted her to the school, and that the pet graduation ceremony was a perfect way to see out her and Opie's college career.
"Eckerd College really cares about their students and takes pride in our quirky traditions," she says. "We are all dorks who love animals and we want to celebrate their wonderful companionship throughout one of the weirdest times in our lives."
Lisa Presnail
For the pet graduation, each student had the option of dressing their pet in the traditional garb, provided by Eckerd. Luckily, many said yes.
Lisa Presnail
And just in case you want to know: You secure a tiny cap to a hedgehog's head using a bit of string.