Guy Can't Believe He's Seeing Cat Again After 3 Years Missing
"Everybody was just in tears ... They couldn't believe it" 😍🐱
A cat named Violet hasn't stopped surprising her family since the day they adopted her.
In 2012, Drew Potter had adopted Violet, a Persian mix, from a local shelter in Grand Rapids, Michigan, as a gift to his daughter and stepdaughter.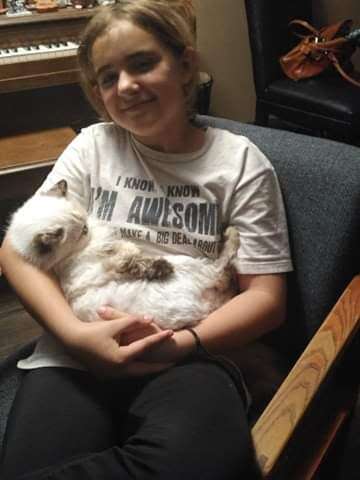 Potter's daughter holding Violet

| Drew Potter
Potter's daughter holding Violet

| Drew Potter
"I got her during a time when my family was going through separation," Potter told The Dodo. "I was dating the mother of my daughter, and we'd been together for about seven years, but we were coming to the end of our relationship, and it was a very, very sad time for the girls particularly."
Yet Violet seemed to cheer everyone right up — more than Potter ever imagined she would.
"I brought her home to raise the spirits, and she very effectively did that," Potter said. "We really all enjoyed Violet. She was sweet and kind."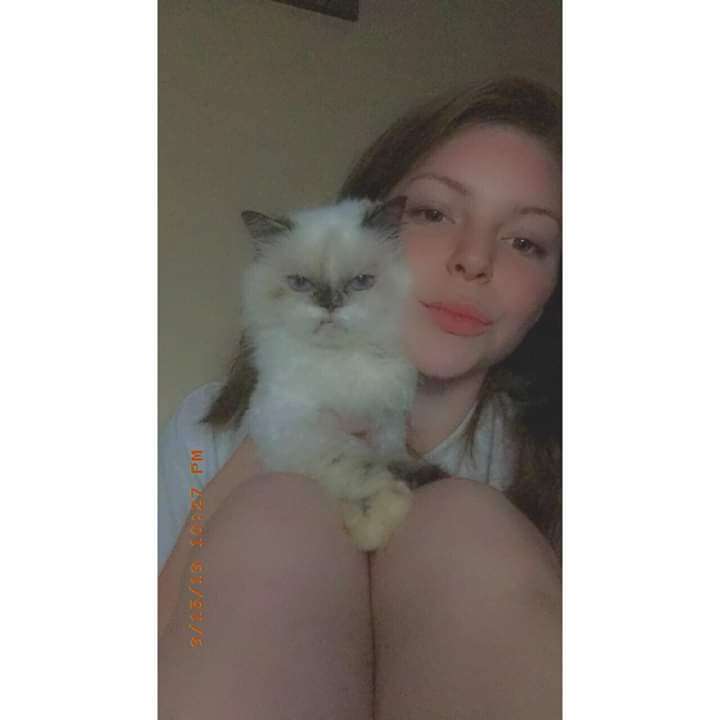 But a year and a half later, Violet mysteriously vanished.
"I had advised that the girls not to let her outside because she was an indoor cat, but it happened anyway," Potter said. "For about a week or two, she would stay right by the house, so the girls kept doing it because Violet really enjoyed being outside. Long story short, she just disappeared. I kind of assumed that somebody grabbed her because she looked like such an expensive cat."
The girls searched for Violet everywhere, posting flyers and asking neighbors if they'd seen her — but she was never found.
"We'd only had her for about a year and a half, but we had all made a solid bond with Violet," Potter said. "So when she left, it was really hard. Violet was dearly loved by all of us."
Eventually, Potter and his family had no choice but to accept that Violet was gone. The family also left their old home — Potter moved into a place on his own, and his former partner, daughter and stepdaughter moved to Sparta, Michigan.
Then, three years later, Potter got some unexpected news when Carly Quinn, director of Ionia County Animal Control, sent him a Facebook message.
"When I answered the Facebook message, she [Quinn] said, 'I think I have your cat,'" Potter said. "I was very, very tired. I was just finishing a 12-hour shift, and it just felt like a dream when she said 'Violet.'"
A few days before, Quinn had gotten tagged in a Facebook post about an injured cat lying in a woman's garden.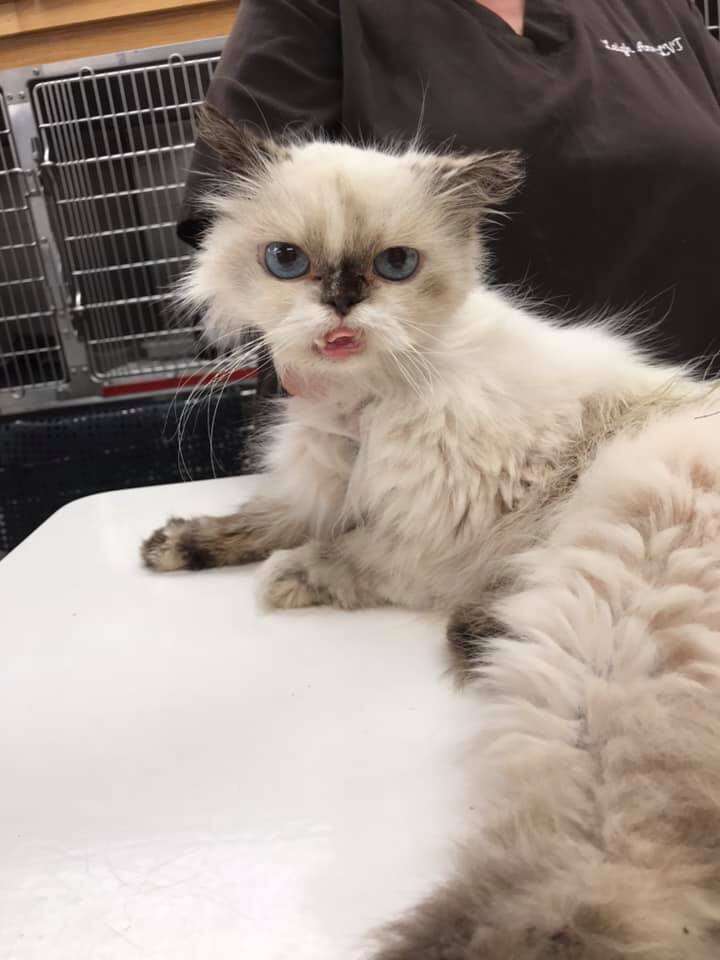 "The woman said the cat hadn't moved in hours, possibly even days," Quinn told The Dodo. "She was laying in her flower garden on the side of the house. When I arrived, Violet could barely lift her head. I knew it was bad when I approached her and she made no attempt to run, which most cats do when approached by a stranger outside. You could see it in her eyes that she needed help."
Besides being very tired, Violet was dehydrated, malnourished and covered in fleas and other parasites.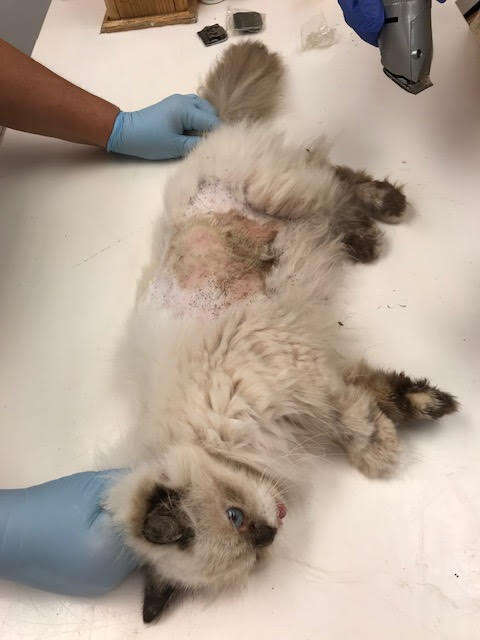 Quinn rushed Violet to the vet, but she wasn't sure if Violet would make it. But the vet team did everything they could to help Violet, including giving her a good grooming.
"Once our vet staff started to shave her, you could tell she started to relax," Quinn said. "Especially after her flea bath, she started to perk up. But the next day, she was a totally different cat. She stayed the night at the vet and got canned food, water and [a] nice plushy bed. When I picked her up in the morning she was bright-eyed and bushy-tailed. Literally, because it was the only thing they didn't shave!"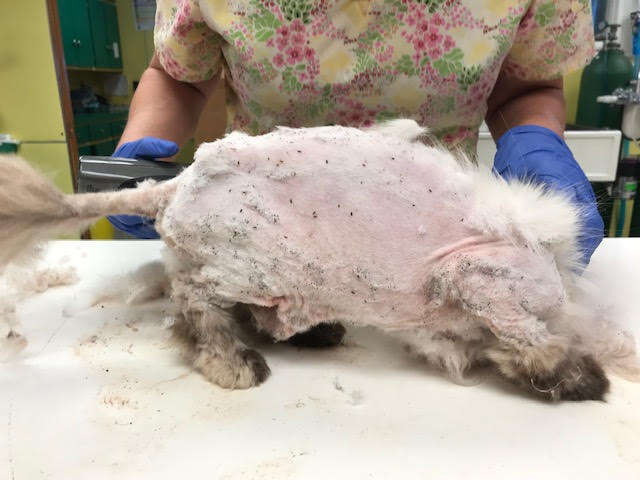 The next step was finding Violet's family. Luckily, Violet had a microchip that listed Potter as her dad, although Potter's contact details were outdated. So Quinn turned to Facebook.
"I had tried all day to find him," Quinn said. "But Drew's full name is fairly generic ... so Facebook came up with a million different possible people that could be him. After going through probably 30 Facebook profiles, I found the correct Drew. I came to a photo of Violet being hugged by his daughter. I remember saying to myself, 'Got himmmmm.'"
The next day, Potter and his stepdaughter (who was living with him at the time) went to the shelter to get Violet, who was now about 10 years old.
"They put her into my arms, and she was just fine and content," Potter said. "She was very, very weak because of everything that she'd been through. I don't know how aware she was at that moment, but when I brought her home, she instantly used the litter box and acted like she was home. She jumped up on the couch and let us pet her."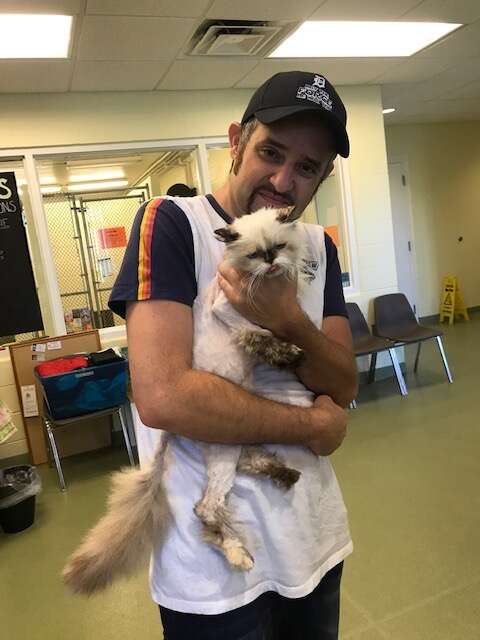 Potter called his other daughter, who was staying with her mother in Sparta, and she was astonished by the news.
"Everybody was just in tears," Potter said. "They couldn't believe it. We were just all kind of in shock."
Violet lived with Potter for a couple of months, but she eventually moved to Sparta to be with his daughter as well as his stepdaughter, who'd moved back in with her mom. Violet is getting lots of love and attention there, and she's thriving, Potter said.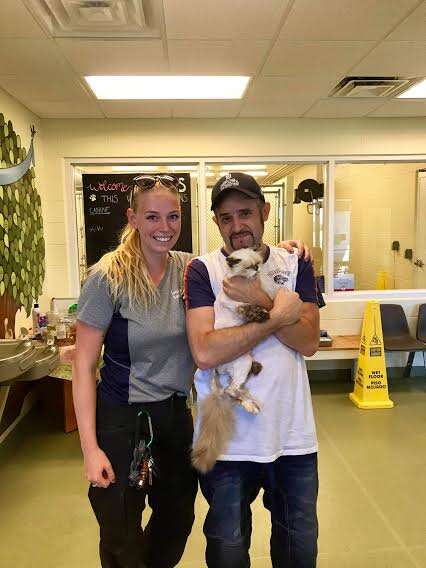 For Potter, Violet's reappearance brought back a lot of memories from the separation — but most of those memories were joyful ones. And once again, Potter is surprised by much happiness Violet has brought to his family.
"It's a miracle — there's no other word for it," Potter said. "It's just a blessing. I want to thank Violet for re-manifesting herself into our lives."