On her first day volunteering at a local animal shelter just before Thanksgiving, Hallee Fuqua met a playful and loving dog named Rambo.
"I loved hanging out with him," Fuqua told The Dodo.
It was important Fuqua soak in the time she could spend with the shelter dogs at the Humane Society in Stillwater, Oklahoma: Even though she'd been begging her parents each Christmas for the last several years for a dog of her own, they told her that she had to wait until she was finished with college first.
And so when, during the weekend of December 15, Fuqua heard that Rambo had been adopted, she found herself heartbroken at the idea that she'd never see the dog again.
Little did she know that, this year, her parents had a plan.
In secret, Hallee's father, Lance, was in communication with the shelter about adopting Rambo for his daughter. And shelter workers had helped keep the whole plan under wraps so as to not spoil the surprise.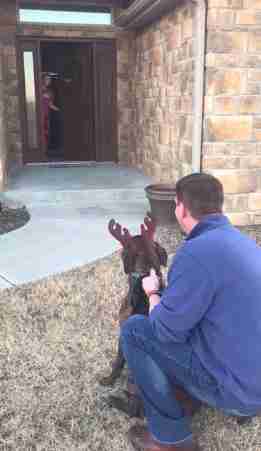 So on December 16, Lance brought Rambo home and set up right by the front door. Rambo even donned antlers in the spirit of the season.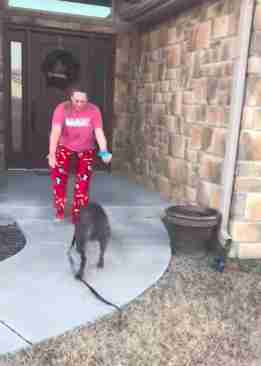 The camera was rolling as Fuqua answered the door so her family could always cherish her priceless reaction.
And she did not disappoint.
"When I opened the door I was very confused at first," Fuqua said. "I instantly knew it was him, but I also knew that he had been adopted. Then I finally put two and two together and a wave of emotions just crashed over me."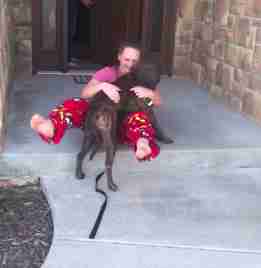 The feeling was mutual for Rambo, who couldn't wait to jump into his girl's arms and couldn't stop wagging his tail.
"It was such a great feeling," Fuqua said.
It was a Christmas that the whole family will always remember. Hallee got the dog she fell in love with at first sight. And Rambo got the most precious gift of all: a real home.
"He loves to run and jump outside, but most of all he just eats up all the attention we give," Fuqua said. "He fits into our family and has really shown us how much we needed him just as much as he needed us."