Paralyzed Woman Couldn't Use Her Hands — Until She Adopted Bunnies
They helped her heal in the best way ❤
When a woman saw a post from the RSPCA about two abandoned and neglected bunnies who desperately needed a home, she immediately wanted to help them, but was worried that she might not be able to handle their care — because of her hands.
After a series of surgeries on her wrists, Marley-Belle Quaid was left unable to use her hands. That meant she could no longer use crutches and became confined to a wheelchair. She made several attempts at physical therapy, but nothing seemed to work. She was on the verge of giving up when she saw the post about Woodstock and Wilfred, who had been found in the woods, matted and tangled up in some bushes, by a woman running a race.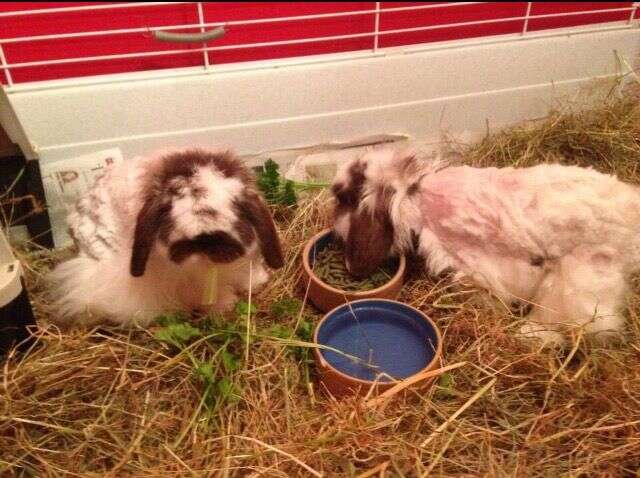 "The first time I saw them, I knew I would do whatever it took to have them in my life," Quaid said in a press release. "The pair were rescued by the RSPCA but spent a year in foster care because no one wanted the hard work it takes to keep them groomed and tidy. Although I had help day to day, I didn't know how I was going to manage doing it myself when no one was there because of my wrists, but I wanted to make it work."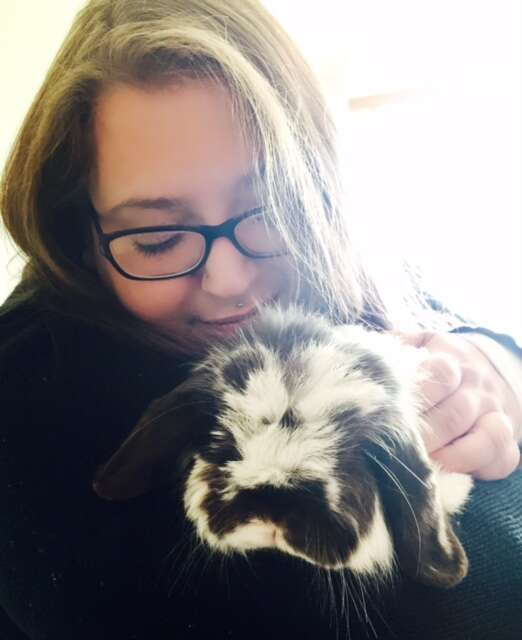 Quaid knew it would be a risk adopting the two bunnies, but something about them convinced her that she had to try. They needed a loving home, and she needed something to believe in again. Quaid went ahead and adopted both Woodstock and Wilfred, and day after day made painful attempts to groom and care for them. While it was incredibly difficult at first, after a while, something amazing happened: Quaid's hands and wrists began to heal.
"Within six months, I had full, malleable wrists; I was grooming Wilfred and Woodstock by myself on my own lap and I could use scissors again. My surgeon was quite astounded I had the use that I had with my wrists again. These bunnies were a massive part of my recovery."
After regaining the use of her hands and wrists, Quaid no longer needed to use her wheelchair and was able to go back to using her crutches instead, giving her back so much freedom that she had previously lost.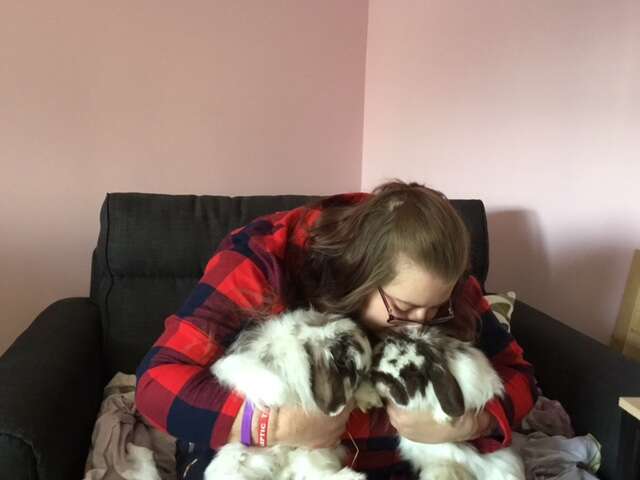 Woodstock and Wilfred, now around 6 years old, have free reign of Quaid's home. They even have their own bedroom and a room filled with play furniture, such as tunnels, jumps, boxes to hide in and even a hay pit. When they were first rescued, Woodstock was so matted on his back legs that his bones were misshapen, and he had some trouble hopping around. Thanks to his playground, though, his constant exercise has helped to heal him, and he now hops and jumps with no problems at all.
Quaid, Woodstock and Wilfred all rescued each other, and are now living the happiest life because they found each other.
"Before, I had to use my wheelchair all the time, because I couldn't use my hands to grip my crutches," Quaid said. "That meant there were shops I couldn't go into or places I couldn't get to because I needed my crutches. Woodstock and Wilfred have given me so much more than love; they've given me independence and freedom."