Stray Dog Who Couldn't Walk Worked So Hard To Get Better — And Just Needs A Family Now
"He loves to play, but he also loves to just hang out. He has a beautiful, amazing temperament. He's perfection."
When a woman rushed a stray dog into the emergency animal hospital, the vet team thought there was only one thing they could do — put the poor animal out of his misery by having him put down.
Hugey, a 6-year-old shepherd mix, had been found lying in an open field in South Texas. While no one know how he got there, Stacey Silverstein, cofounder of Rescue Dogs Rock NYC, believes he might have been abandoned by his former owner. And the worst part was that Hugey was completely paralyzed.
Hugey when he was first found in the field

| Rescue Dogs Rock NYC
"They [the vet team] really thought there was no hope for him," Silverstein told The Dodo. "They were like, 'Put him down. There's no hope. He's paralyzed. He can't poop and pee on his own. He's not going to make it.'"
As it turned out, Hugey had a serious infection called discospondylitis, which eats away at a dog's spinal cord. Since the infection was left untreated, it had caused Hugey's paralysis.
Rescue Dogs Rock NYC
"He actually has holes on his spine," Silverstein said.
On top of everything else, Hugey was heartworm positive, which can also be a life-threatening condition if left untreated.
Yet Silverstein, as well as the other volunteers at Rescue Dogs Rock NYC, were used to helping dogs like Hugey — and they refused to give up on him.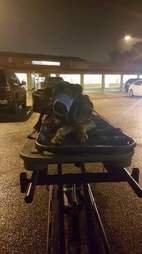 Hugey getting transported on a medical stretcher

| Rescue Dogs Rock NYC
"I said, 'We go the distance — whatever it costs,'" Silverstein said.
Hugey spent two weeks getting treatment at the emergency hospital in Texas. Then he was transferred to a clinic in Long Island, New York.
"They put him on a number of medications," Silverstein said. "Right now, he's on 15 different medications, at a cost of about $1,000 a month."
Rescue Dogs Rock NYC
But it all paid off. The medication, along with physical therapy sessions, worked wonders on Hugey. Six weeks later, he could walk again.
"He went from paralyzed to using wheels to using a sling," Silverstein said. "And now he's walking and running and doing great. It's quite miraculous."
And Hugey is feeling great about his progress, too, according to Silverstein.
"He was a pretty hopeless guy," she said. "But as the weeks go on, I see in his face that he's lit up. He's so happy to be alive and so grateful."
Rescue Dogs Rock NYC
Hugey is currently living with a foster family in New York, but he's on the lookout for a forever home. Silverstein thinks that any kind of home would suit him.
"He's phenomenal," Silverstein said. "He's loved by everyone — kids, cats, other dogs. Everyone who meets him falls in love with him."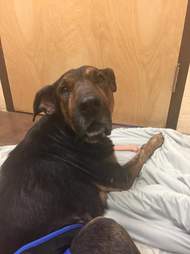 Rescue Dogs Rock NYC
"He's very gentle, very sweet and well-mannered," she added. "He loves to play, but he also loves to just hang out. He has a beautiful, amazing temperament. He's perfection."