Let's face it: We all need a little R&R now and then, especially with the holidays coming up. That extends to our furry besties — after all, it's hard work being that adorable 24/7. Self-care is important for our pups, too, and with these gifts, our pets can get in on the pampering action. With everything from interactive toys to natural CBD products and beyond, you can make sure your pup is just as relaxed and happy as you are this season with these gifts:
A camera that lets you comfort him throughout the day 
Not everyone can spend the whole day with their best furry friends (bummer, we know), and making sure that they're happy throughout the work day can be tough for working pet parents. The good news is there's a way to check in on your pets — and even interact with them — when you're not home. Furbo is an interactive pet camera that connects right to your smartphone, letting you not only see your pup, but also talk to him and even toss him a treat! Hearing your voice throughout the day will calm separation anxiety and remind your best friend that you're always there, even when you can't physically be together.
Some CBD for especially nervous dogs
For especially nervous pups, try adding Veritas Farms' CBD pet products, like their CBD Pet Tincture, into their food or water to help them achieve perfect calm. Made from full spectrum hemp oil, this CBD tincture provides the same benefits as tincture for humans, but is specially formulated for pets.  It's a great way to provide your buddy with some extra soothing help during triggering times like storms, long travel, or during training and times of separation. Veritas also has a new line of CBD pet topicals in the works for even more ways to provide your pup with perfect zen. 
Courtesy of KONG
A toy that will keep her busy for hours 
Every dog needs and loves to play, but not all toys are created equal. Toys that keep treats hidden inside will capture your dog's attention for a long time, which can help with problem behaviors like barking during separation anxiety, destructive chewing, digging, and more. KONG makes an extensive line of treat toys that accommodate dogs of any age and size, whether your pup is crate training or teething, or a senior pup suffering from boredom. Another great option is a puzzle toy, like this treat ball, which gives an added element of challenge and reward.
Unsplash
A pal that stays warm for extra cozy cuddles
Some pet toys are not only super soft, but can be heated in the microwave to be comforting heating pads for your pup. This Smart Pet Love cuddle buddy is perfect for puppies who are used to the warmth of their littermates for comfort and sleep, but also for dogs of any age who have issues with separation anxiety, loneliness or fear. It also has a pulsing heartbeat to mimic yours, so that your buddy can be perfectly at ease and get the soothing warmth they need until you're able to be there to provide all the hugs yourself.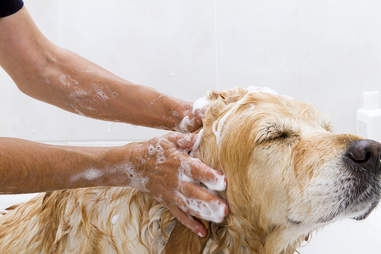 Shutterstock
All the tools for a luxurious spa day 
Everyone loves a good spa day to achieve maximum relaxation, and with a few supplies, so will your pup! Of course, not every doggo likes a bath, but with the right tools, treats and relaxed atmosphere, they'll come to love this one. Grab a slicker and pin brush designed for their particular coat length and texture, some shampoo and conditioner (available in fragrance-free for pups with sensitive skin, or in a soothing scent like lavender), nail clippers, and a cozy towel just for them. Draw them a relaxing bubble bath and take your time with washing and brushing their coat to avoid any unpleasant tangles and pulling. While you wash, add in a gentle massage on their paws, backs and around the ears. Your pal will not only be clean and fresh, but also relaxed and happy from the extra affection.
Courtesy of Casper
A bed that'll even make you envious
Our pets spend a lot of time catching Zs, which makes it all the more important to get them a bed they'll love spending time in. With couch beds like these chaises, and orthopedic foam beds like these luxurious ones from Casper, you can spoil your pup even while they sleep. These especially come in handy if you have a senior dog with aching joints, as the foam in orthopedic beds provides extra cushioning and comfort for sore spots. Pair it with a cozy fleece blanket and they're set for the best snoozle (that's a snuggly doggie snooze, in case you weren't aware) they've ever had.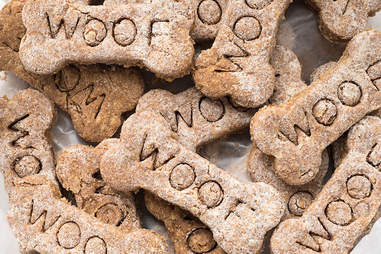 Shutterstock
Homemade treats they'll love
Just like home cooking is better for you than processed foods, homemade dog treats will likely contain more natural ingredients than the store-bought variety, and you can customize them to your pup's tastes. Peanut butter and spinach, carrot & zucchini are just two of the flavors of simple-ingredient treats you can make at home. Letting them watch as you create these treats will get them excited that you're making something just for them, and the smell of those baking puppy cookies will get those tails wagging in anticipation of when they're finally ready to eat.
Shutterstock
A paw massage for happy feet
If your pup enjoys having his feet touched, grab some coconut oil or petroleum jelly and give your pup's paws a good massage. It'll help keep his paw pads moisturized and healthy, too, especially if you live in the city, where concrete sidewalks can lead to dry and cracked paws. Not to mention, it makes for a great bonding and trust exercise, and leaves them feeling super relaxed. They might become so relaxed they'll fall asleep during the process — so this is a good nighttime activity.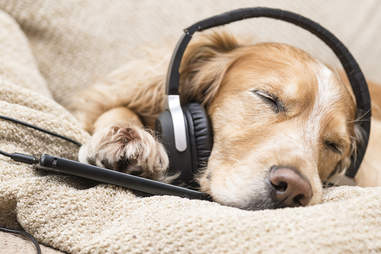 Shutterstock
Their own tunes 
Music is known to help soothe and calm babies. That same logic applies to our pets, too. Playing some gentle music at a low volume will help keep your pet calm and relaxed during the day, especially during separation or training. Research has shown that relaxing music can calm nervous dogs. Different genres have different effects, too. Shelter dogs have even shown a preference for classical music, soft rock, and reggae due to their softer tempos. Just remember that your dog's hearing is much more sensitive than your own, so adjust the volume on your home speaker accordingly. 
Shutterstock
A fun at-home obstacle course
Dogs need mental stimulation just as much as we do, and fun activities are as important when it comes to pampering your pooch at home as relaxation is. Beat the boredom by setting up an obstacle course for your dog to clear, all made with things you already have around the house. You can use pillows, blankets, plastic bottles or toy blocks to set up a maze for your dog to navigate and earn treat prizes. Learning these new tricks are beneficial for their bodies and brains — and no doggo self-care session would be complete without added time with their favorite human.