Woman Sees Overweight Dog On Walk And Knows She Has To Help
"He couldn't even lift his leg to pee without wanting to topple over ... I made it my mission to give him his best life."
When Sadie Cox first saw Suki, she couldn't believe her eyes. The little Chihuahua was out with his owner, and was so overweight he could barely even walk. His owner was unfortunately unable to care for him properly, and as a result, poor Suki weighed a whopping 19 pounds — about 13 pounds more than he should have weighed.
Wanting desperately to help, Cox approached Suki's owner and told him that if he couldn't care for him properly, she would gladly adopt Suki into her family, and the man agreed.
"He couldn't even lift his leg to pee without wanting to topple over," Cox told The Dodo. "From that moment on I made it my mission to give him his best life. And let him relearn how to be a dog and do dog things like run and play fetch. And be healthy and happy."
As soon as Suki arrived in his new home, however, it became very clear that his weight loss journey wasn't going to be an easy one. The poor dog could barely stand without falling over, and he had to lie down in order to eat his meals. He was constantly panting, as even the simplest activities made him out of breath. His previous owner clearly hadn't taken him outside very often, and he was scared of everything. His weight was affecting every aspect of his life, even his personality, but his new mom refused to give up on him.
"At his heaviest, Suki was mad at the world," Cox said. "Every day was a struggle for him. He was a loner and didn't care for human or canine interaction in any way. He stayed in the back of his crate and made growl noises, nothing vicious or threatening, just more of a 'leave me alone' growl. He was like a little bear in his cave, he was just missing a 'do not enter' sign."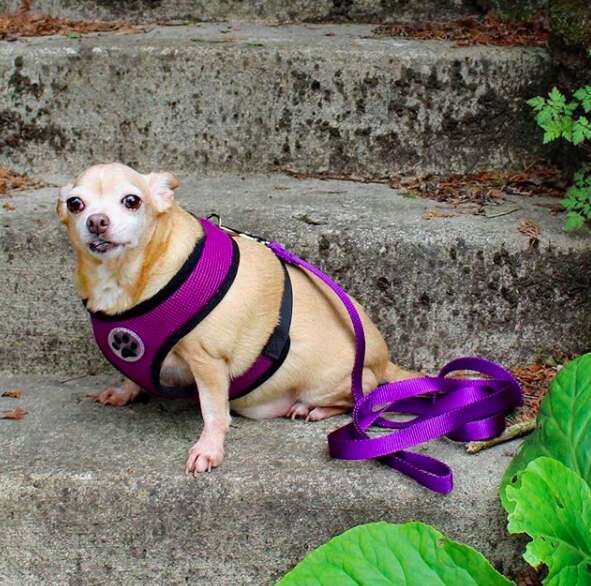 Cox took Suki to see a vet as soon as possible, and she put him on prescription weight management food, as well as a medication to help with his joint pain to make it easier for him to move around. The vet recommended that Suki take two 20-minute walks every day — but in the beginning, that proved to be nearly impossible.
"Suki literally couldn't make it one minute without panting and having to sit and rest," Cox said. "So we started at one, one-minute walk a day, and built up a minute at a time. He was scared of the world and of leaving the house. Everything in the outside world scared him. Flowers, rocks on the ground, bushes, weeds, cars, everything seemed new and frightening."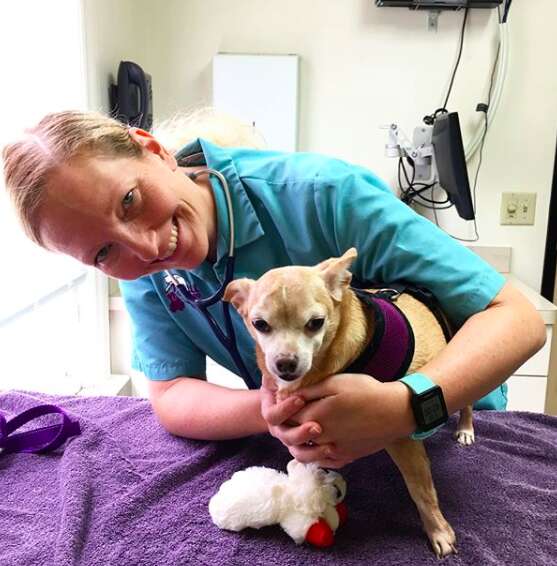 People in the neighborhood would stare and make comments whenever they saw Suki outside, saying he looked more like a potbellied pig than a dog. Cox paid them no mind, though, and continued to help Suki on his journey, knowing that in the end, it would all be worth it.
Despite his physical limitations and his intense fear, Suki and his mom kept going, increasing their walks little by little. Slowly, the pounds started to come off, and as they went away, so did Suki's fear and anger. Now, five months later, Suki is down to 10 pounds with only a few more pounds to go until he reaches his goal weight. Not only does he look like a completely different dog, but his personality is miles away from what it used to be.
"As each pound came off, his personality really started to blossom," Cox said. "He slowly started coming out of his shell, the growling stopped. Now he wants to be the center of attention at all times. He runs and plays and gives little puppy kisses. He went from an angry, antisocial dog to a little dog full of happiness and love."
Suki still has a little more weight to lose before he is considered completely healthy for his size and age, but his mom is confident he'll get there in no time. He's already come so far, both physically and emotionally, and is loving every minute of his healthy, joy-filled new life.