Olympic Skier Helps Save 90 Dogs From A Korean Meat Farm
He even adopted one of his own — a puppy named Beemo.
Olympic skier Gus Kenworthy makes a habit of rescuing dogs whenever he goes.
Four years ago, Kenworthy competed in the Winter Olympics in Sochi, Russia, where he won a silver medal for freestyle skiing. But he also made time in his busy schedule to rescue a street dog named Mamuchka and two puppies, Jake and Mishka, who now live with Kenworthy's mother and former boyfriend.
This year, Kenworthy competed in a different Olympic Games in PyeongChang, South Korea, but he went on a similar mission. On Saturday, Kenworthy, his boyfriend Matt Wilkus and team members from Humane Society International (HSI) visited a dog farm, and helped rescue 90 dogs destined to be slaughtered for the dog meat trade.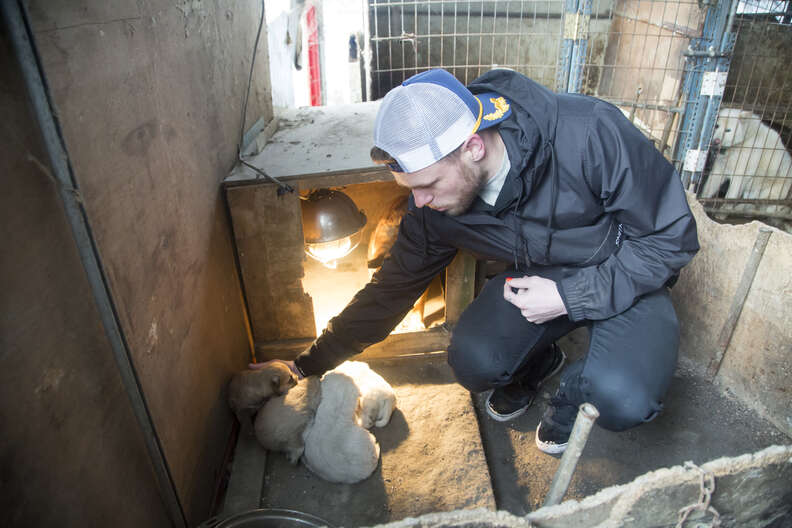 The dogs were in terrible shape. Some were barely surviving in the cold winter weather.
"The dogs are freezing and exposed to all of the elements, in their metal cages or makeshift wooden boxes," Kelly O'Meara, vice president of companion animals and engagement at HSI, told The Dodo. "In addition, they are overcrowded in their cages, barely able to move around, or tied so closely to their boxes that they can only move forward and backward … They often bark and scramble at the front of the bars of their cages or end of their chains as we walk by, just to get a moment of attention from humans."
For Kenworthy, this was a very difficult thing to see.
"I was told that the dogs on this particular farm were kept in 'good conditions' by comparison to other farms," Kenworthy wrote on Instagram. "The dogs here are malnourished and physically abused, crammed into tiny wire-floored pens, and exposed to the freezing winter elements and scorching summer conditions. When it comes time to put one down it is done so in front of the other dogs by means of electrocution sometimes taking up to 20 agonizing minutes."
"Despite the beliefs of some, these dogs are no different from the ones we call pets back home," he added. "Some of them were even pets at one time and were stolen or found and sold into the dog meat trade."
The owner of this dog meat farm had actually approached HSI about shutting down the farm due to a change of heart, and HSI helped it happen.
"Although he has been farming dogs for more than 10 years, he wanted to close down his farm for good and he was eager to see his dogs have a happy ending," O'Meara said. "He did not want to send his dogs to slaughter, so he reached out to HSI to help him close the farm, rescue the dogs and transition to a new livelihood of mushroom farming."
There are about 17,000 dog meat farms in South Korea, and 10 million dogs are slaughtered for their meat each year in the country, according to Korean K9 Rescue. But animal advocates are working hard to put a stop to dog meat farming, and save as many dogs as they can. And people like Kenworthy are helping to spread awareness.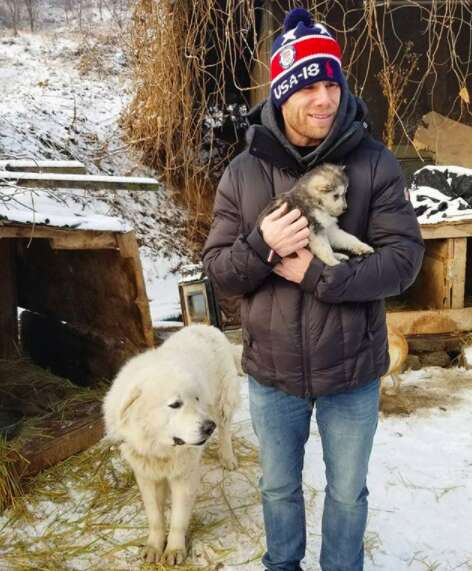 "He [Kenworthy] spent a long time at the dog meat farm HSI brought him to, and lending his celebrity status helps tremendously in reaching people about the importance of this issue and our HSI campaign," O'Meara said. "He is an amazing ambassador to the campaign."
HSI is currently preparing to transport all 90 dogs to Canada and find them forever homes. Kenworthy even decided to adopt one of the dogs himself — a puppy named Beemo.
"She'll be coming to the U.S. to live with me as soon as she's through with her vaccinations in a short couple of weeks," Kenworthy wrote on Instagram. "I cannot wait to give her the best life possible!"
Kenworthy isn't the only Olympian who's rescued a dog from South Korea. Last year, figure skater and gold medalist Meagan Duhamel adopted Moo-tae, a dog rescued from a meat farm, while she was competing in a test event for the 2018 Winter Olympics in PyeongChang, South Korea. And during the actual Olympic Games this year, she flew to the U.S. with Ha-Wool, a 3-year-old beagle rescued from a high-kill Korean shelter, so he can start his search for his forever home.