People Find Dog Living In The Dirt After His Family Moves Away
"[He] still loves people even though they've let him down in the past."
To the person passing by on her delivery route, the yellow Labrador was just another poor old boy in need of help.
The 8-year-old dog's family had moved away and left him behind. With nowhere to go, the dog, known as Larry, took up residence in the parking lot of a landscaping business across the street from his former home.
For months he lay in the dirt, surviving on the goodwill of passing truckers, who would occasionally toss him something to eat or drink.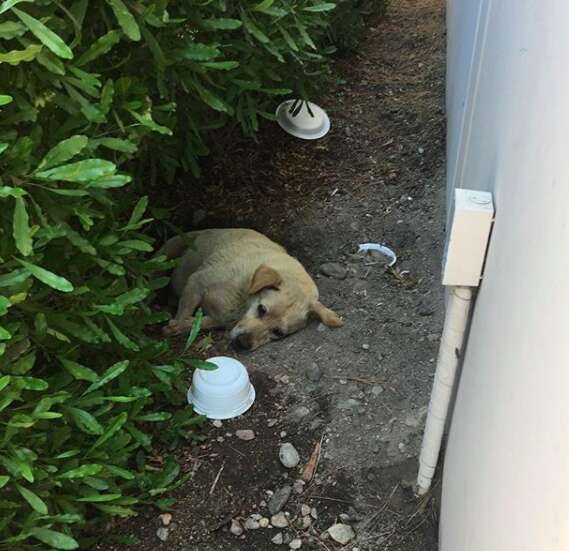 It became clear to the delivery driver that the dog's family wasn't coming back — so she made him a profile on Instagram.
That seemingly small act helped bring Larry's story to the attention of Sasha Abelson, president of Love Leo Rescue, who reached out to local volunteers. "As soon as we saw [the posts] we said, 'Just get the dog to us, we'll take care of the rest,'" Abelson told The Dodo.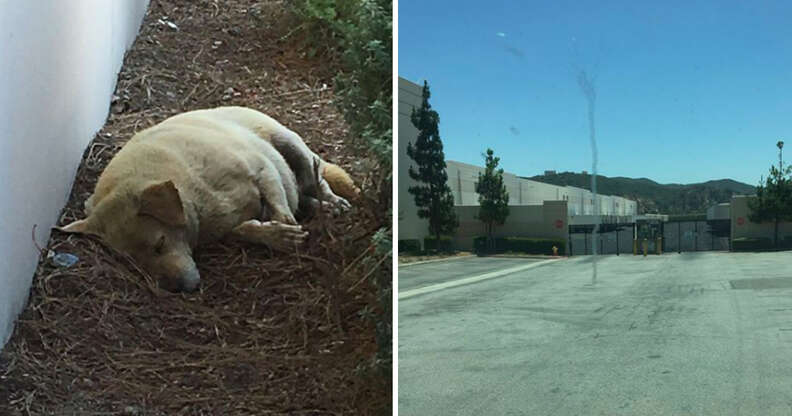 Volunteers were able to coax Larry into their car, and drove him two hours to Los Angeles.
They noticed the old dog's stomach was bloated, despite having no regular access to food or water for months, and he was missing patches of hair on his legs and was having difficulty walking.
Though the dog looked sad, he still wagged his tail for his rescuers.
A trip to the vet the following day revealed that Larry was suffering from Cushing's disease, a condition caused by a benign tumor on the pituitary gland. Larry was sluggish, uncomfortable and grumpy — but his rescuers wouldn't give up hope that there was a sweet dog underneath all the pain.
For a month and a half, Larry lived at the veterinary clinic while he adjusted to his new medication. "In that time he was kind of sad, and a little depressed and reactive with other dogs," Abelson said, "so we weren't sure if he could live with another dog safely."
As Larry's potbelly began to shrink, the dog's true personality revealed itself. Suddenly, all Larry wanted was to be around other dogs, and he was moved to a doggy day care facility, where he could spend more time outside.
Now that Larry's health issues were managed by a monthly medication, he began looking for his forever home — but he still had a few things going against him. "Not everyone wants a dog with an automatic expense attached," Abelson said. "And he doesn't like being alone, but he's been abandoned, so we can't really blame him for that."
Three times Larry has gone to a forever home, and three times he has been returned to the rescue thanks to a string of bad luck. "He's been so resilient, doesn't hold a grudge, and still loves people even though they've let him down in the past," Abelson said. "He's just a happy, grateful dog. He just wants someone to take care of him and be there for him."
Whenever Larry meets a new person, he knows exactly what he wants — and isn't afraid to ask. "He'll literally push up against you and ask for his head to be pet and his ears to be scratched," Abelson said. "He's not pushy, but he's very affectionate."
Despite Larry's age, he still has plenty of pep in his step and loves to go on walks. But the thing that sets Larry apart from other dogs is his capacity to forgive and heal, noted Abelson. "Some dogs have a bad experience or are abandoned and it scars them for the rest of their lives," she said, "but with him — he's just so sweet, he needs someone to realize that."
"It's a little bit like a Cinderella looking for her slipper," Abelson added. "We know they're out there and we're willing to wait for the perfect person."