Senior Shelter Dog Was So Sad He Wouldn't Even Wag His Tail
"He just wanted to get out of there."
Leslie Ysuhuaylas
On Saturday, with less than 48 hours left to save his life, Ysuhuaylas went to the shelter, armed with her camera. She hoped that a few good pictures would help the boxer find a family.
"I was walking past the kennel, and the dog was just laying there, not getting up, so I decided to back up so he wouldn't see me, and I started snapping pictures of him," Ysuhuaylas told The Dodo.
Ysuhuaylas eventually went into the boxer's kennel, but he seemed stressed and not interested in Ysuhuaylas at all.
"Most dogs wag their tails or move around, but this dog was not," Ysuhuaylas said. "He just wanted to get out of there."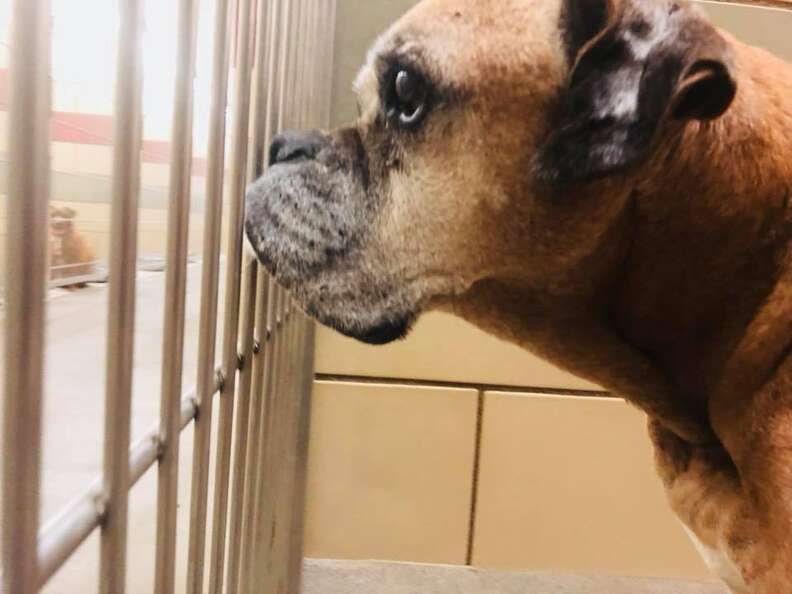 Leslie Ysuhuaylas
Ysuhuaylas published the photos on Facebook, and the post quickly went viral. Lots of people reached out to Ysuhuaylas, expressing their interest in rescuing the dog — but no one came through.
Finally, someone did. Legacy Boxer Rescue, a group that specializes in rescuing boxers, arranged for James and Robin Zalinski to pick up the dog and take him into foster care. The boxer also got a name — Wendell.
Leslie Ysuhuaylas
Wendell has completely relaxed since leaving the shelter on Monday, James Zalinski told The Dodo.
"He's doing wonderfully so far," Zalinski said. "He's very docile, but he's also got a little bit of energy. He's just a sweet soul."
Legacy Boxer Rescue
Wendell already knows some basic commands and he behaves well inside of a house, Zalinski explained, which would make him the perfect companion.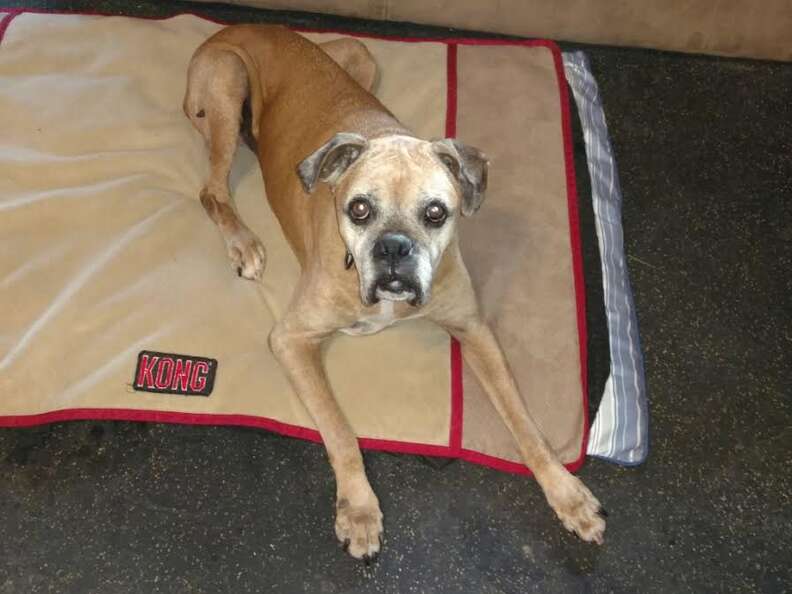 Legacy Boxer Rescue
"We've only had him for 24 hours at this point, but this fellow is so loving," Zalinski said. "He is not a jumper. This little guy can go with kids, as well as adults, so from our perspective, it gives us a wide option. We're looking for a family that understands that a mature boxer is into love, but they're not going to be runners."
Legacy Boxer Rescue
While Zalinski is hoping Wendell finds a home soon, he's enjoying every minute with him. "He's an elegant gentleman, and he's so loving," he said.
If you're interested in adopting Wendell and giving him the best forever home,
contact Legacy Boxer Rescue
.
Thinking about adopting? Then meet Dodo Adoptbot, an interactive guide for new pet parents. Get started on
Facebook Messenger
or text HOME to 38349.