Blind Senior Cat Who Lost Owner Is Looking For A Home Where She Can Retire
At 18 years old, all she wants is to be cuddled and brushed all day ❤️️
Isabella spent her whole life with the same family until her owner sadly passed away, leaving the 18-year-old cat all alone. One of her owner's family members took her in for a little while, but they soon realized they were unable to care for her, and surrendered her to the RSPCA in April. Isabella has been there ever since, and would love to find a quiet home to retire to. 
RSPCA
Even though she's already 18 years old, which would be 126 years old in human years, and is completely blind, Isabella still has so much love left to give. Due to her age, the staffers at the RSPCA Thanet branch let Isabella spend her days in reception, greeting every new visitor who stops by, instead of sitting in a kennel. 
"She is adored by everyone who meets her," Emily Mayer, an animal care assistant at the RSPCA Thanet branch, said in a press release. "She loves to be around people, being cuddled on their lap or being groomed. She is currently living in reception as she has become our unofficial greeter and she gets lots of attention there, but we would really like to see her live her retirement days in a home where she can feel special every day."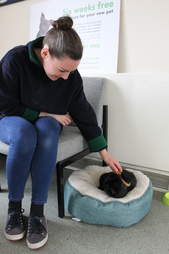 RSPCA
Isabella has her very own bed in the reception area, and is content to snuggle up there all day long, accepting scratches from anyone who passes by. Her age makes her very low-key, and all she really asks for is a little attention.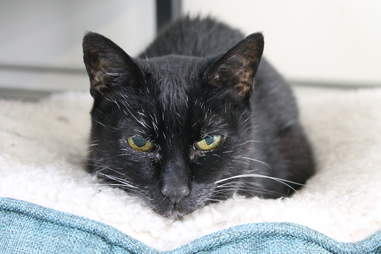 RSPCA
One of Isabella's favorite things in the world is being brushed …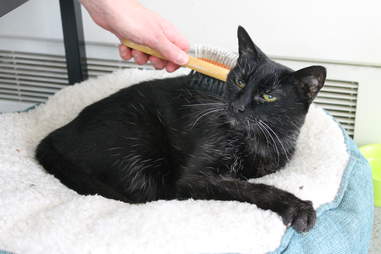 RSPCA
… and she really just wants to find a calm home where she can hang out on the couch with her new family and be brushed and doted on for the rest of her life.
Besides being blind, Isabella also has high blood pressure and has to take daily medication, but the RSPCA is willing to continue to cover the cost of her medication once she finds her new home. She may be old, but everyone who knows Isabella knows what a wonderful addition she would make to any family, and has high hopes that she'll find a new home very soon.
RSPCA
"The RSPCA never gives up on golden oldies and the Thanet branch is no exception, having recently rehomed a 12-year-old diabetic cat called Harry and a 16-year-old duo Chloe and Malibu," Mayer said. "They may be older but they still have so much love to give."
If you're interested in adopting Isabella, you can
contact the RSPCA
for more information.