Couple's Wedding Was Cancelled So Their Dogs Stepped In As 'Bridesmaids'
"They were total hams."
When Autumn and Christian Miller had to postpone their wedding in late March, the Cincinnati, Ohio, couple was heartbroken. But as weeks passed, the couple had a change of heart and decided they couldn't wait any longer to tie the knot.
Luckily, their dogs, Sasha and Oreo, stepped in to help make their wedding dreams come true. The pups even dressed in matching bridesmaid outfits.
"April 20th is our dating anniversary so we decided we'd get married on that day and stream the wedding," Autumn Miller told The Dodo. "I was originally supposed to have two bridesmaids and a groomsman. We were at PetSmart and I saw the dresses and knew [our dogs] had to have the outfits."
Instead of the 80-guest wedding they had been preparing for, the couple held an intimate ceremony in their backyard. They decorated their deck with fairy lights and flowers and set up a Facebook Live link for friends and family.
The groom's brother presided over the ceremony, while the couple's faithful pups acted as bridesmaids and witnesses.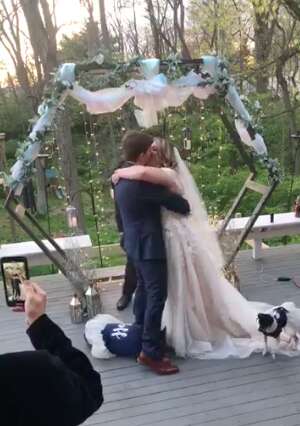 The dogs seemed to know that they were taking part in something special, and were on their best behavior the entire time.
"Sasha is our blue heeler and Oreo is a rat terrier/whippet mix. They're actually both of our dogs from before we met," Miller said. "Normally, [Sasha] barks at a leaf blowing but during our ceremony, she didn't make a peep."
"The entire wedding Sasha sat at [Christian's] feet," Miller added. "She didn't even move when we kissed."
The couple's family was happy to be a part of the special day, even if it was only over video. "They were all bummed they couldn't be with us but they still thought it was beautiful and magical," Miller said.
Once the ceremony was over, the couple sat down to dinner, and Oreo immediately fell asleep on the train of Miller's dress — exhausted from the day's festivities.
For the Millers, having their dogs play a part in their wedding made the day even more special. "I felt like a princess and we were both really, really happy our doggos got to spend it with us," Miller said. "They were total hams."