Office Dog Receives A Holiday Bonus For A Job Well Done
"When our coworkers are having a tough go of things, they sit by Sarge and he listens to them and makes them feel better."
Every day for the past year, Sarge wakes up early and heads into work with his mom, Jennifer Gibbs.
He may not wear a suit and tie like his associates at the insurance restoration company All Phase in Littleton, Colorado, but when he's in the office he's the picture of professionalism.
A suit wouldn't be comfortable on the 8-year-old shepherd mix anyway, with his thick double coat and oversized ears.
Back in October, he couldn't wait to shrug off his skeleton costume at the office Halloween party.
Sarge has many important duties around the office, which he approaches with aplomb. While his mom is busy doing accounts payable and general office work, Sarge helps with workplace morale and acts as a mascot for the team.
"Sarge enjoys going to work and greeting his coworkers, delivery people and meeting the children and furbabies of my coworkers," Gibbs told The Dodo. "He loves car rides and going on errands, from doctor appointments to shopping at Home Depot. More people know and recognize him than any of my coworkers or family members!"
Gibbs' family adopted Sarge as a 7-week-old puppy from a rescue in Brighton, Colorado, called Lifeline Puppies. Turned over to animal control by a backyard breeder who couldn't afford to care for him, according to Gibbs, Sarge didn't have an easy start in life, but since finding his forever home, he's made sure to show his love and appreciation everyday. "If you ask any member of my family who their favorite relative is, they will say Sarge," Gibbs said. "We didn't pick Sarge so much as he chose us."
In addition to being the ideal coworker, Sarge also assists his mom in important ways not everyone sees. In April of 2015, Gibbs suffered a traumatic brain injury and broken back as a result of a mountain biking accident. Two years later, Sarge is indispensable when it comes to helping his mom cope with side effects of the injury, including anxiety, and chronic pain and migraines.
When his mom is having a hard day, Sarge is always there to give a quick snuggle and lick. "Sarge helps me [be] active and helps me stay calm and collected," Gibbs explained. "He doesn't understand why I get upset or why I am in pain, but he knows when something is wrong and he sits by me, lays his head in my lap and gives me kisses, which makes everything seem better."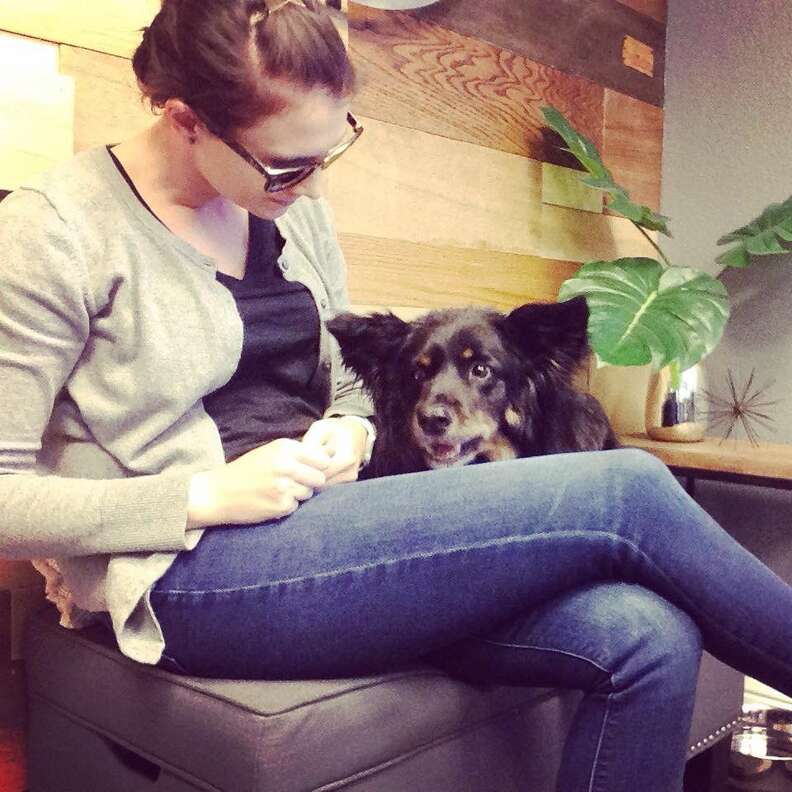 Before Gibbs' injury, Sarge would occasionally visit the office, but now he's a dependable presence, offering support and companionship to all. Sarge is protective when it comes to his work family as well as his home family, and will do what he can to cheer people up. "Even when our coworkers are having a tough go of things, they sit by Sarge and he listens to them and makes them feel better," Gibbs said.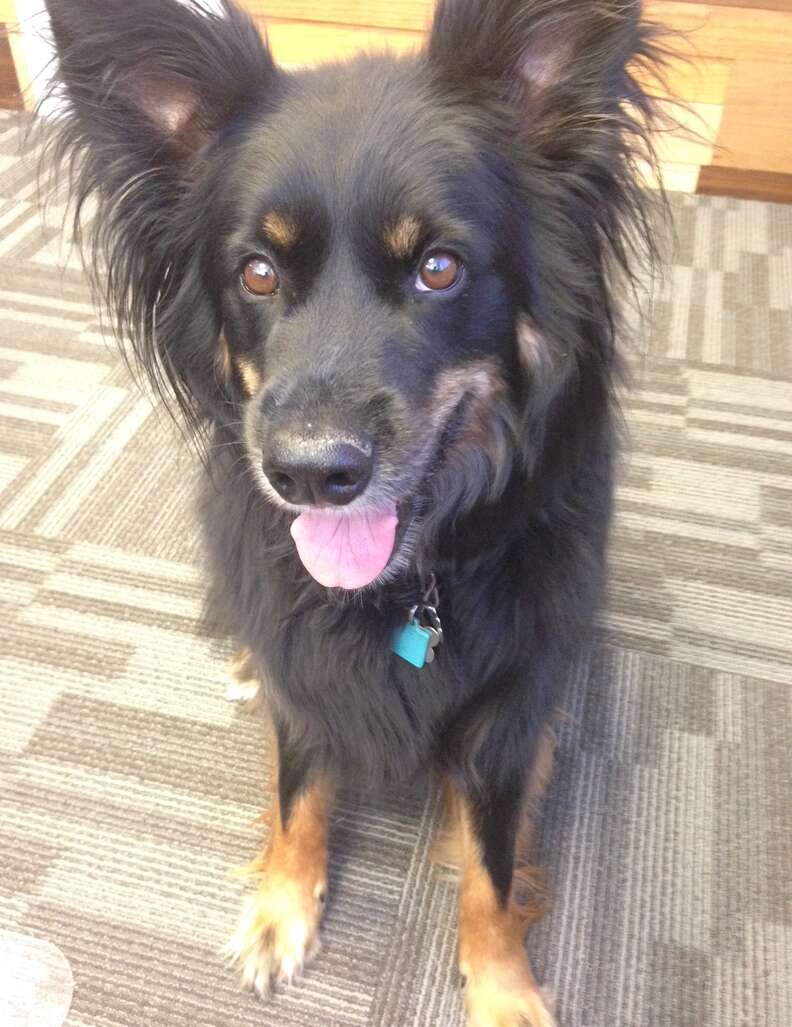 Being a dog, Sarge does not get an official end-of-year performance review, but it was clear to all that he had done a stellar job in 2017. When it came time to hand out the holiday bonuses, Gibbs' bosses decided to do something something special for the pup who meant so much to so many. Something they knew that the rescue dog would really enjoy ...
"Every year they provide our entire office with a holiday bonus in the form of a card with a handwritten message of gratitude and a cash bonus," Gibbs explained. "Since Sarge has been coming to work so much this last year, they decided to give him a 'bone-us' as well in the form of a handwritten card and a $50 gift certificate to PetSmart."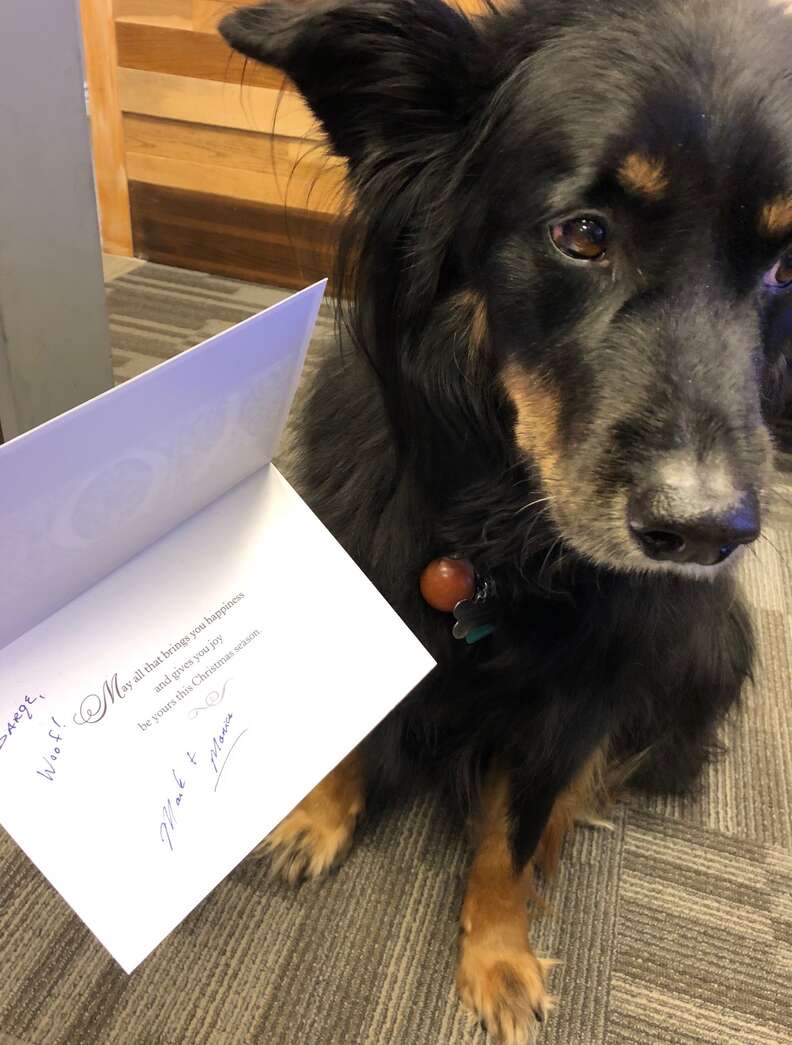 "They had never done this before, and although the gesture was unexpected, it was not at all surprising as they love Sarge and have always been very generous toward him," Gibbs noted. "They even keep treats in their offices for him!"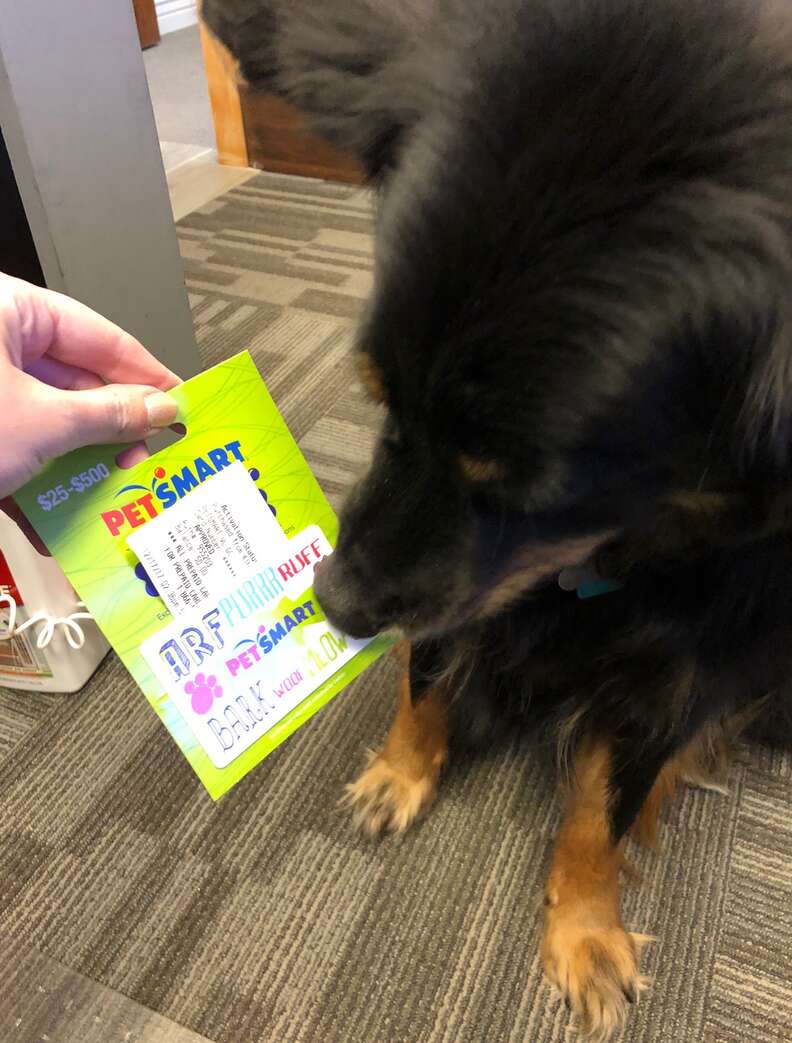 Gibbs was so touched by the thoughtful gesture that she posted a photo of Sarge and his gift to Reddit — something she had never done before. Within hours, the post amassed over 24,000 upvotes and almost 300,000 views — spreading holiday cheer and goodwill across the internet.
Everyone wanted to know what Sarge was going to use his bonus to buy. The answer: bully sticks and chewy treats, his favorites.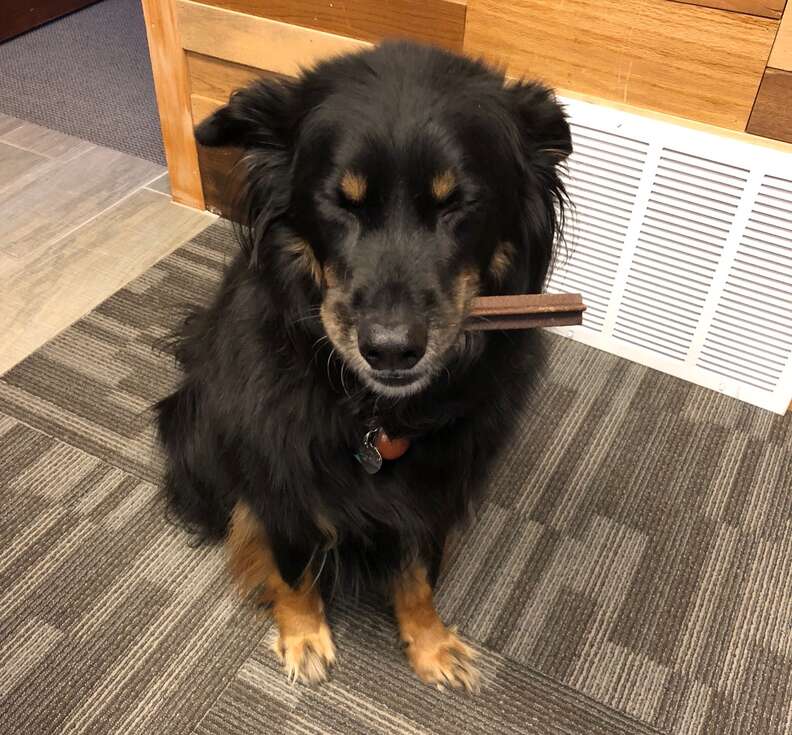 Gibbs encourages everyone to think about adding a new member to their family this holiday season, by giving a dog in need the home he deserves. "If someone is unable to adopt a pet, we hope that they would consider fostering or even donating their time or funds to a reputable rescue," Gibbs added.
Even donating package of treats to a local rescue can brighten a dog's day — just look at Sarge.
Looking for another pet? Then meet Dodo Adoptbot, an interactive guide for new pet parents. Get started on
Facebook Messenger
or text HOME to 38349.