Obese Beagle Is On Weight-Loss Journey To Drop 60 Pounds
His foster mom's going on a diet with him!
A homeless beagle named Wolfgang is always in good spirits — even if he can't do a lot of the things other dogs can do.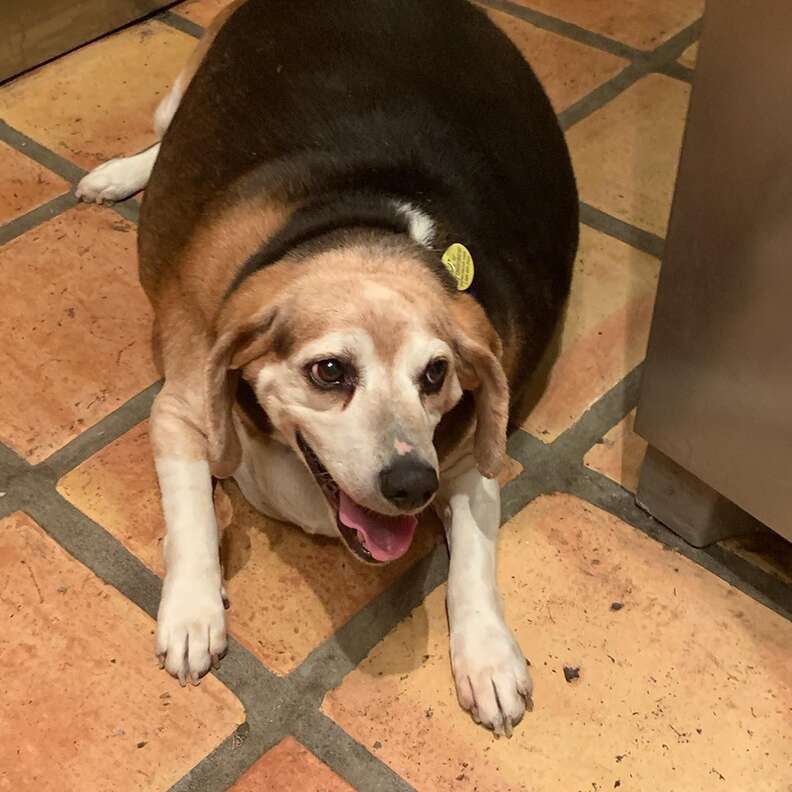 Wolfgang is over 60 pounds overweight. He should weigh around 23 pounds. Instead, he weighs nearly 90.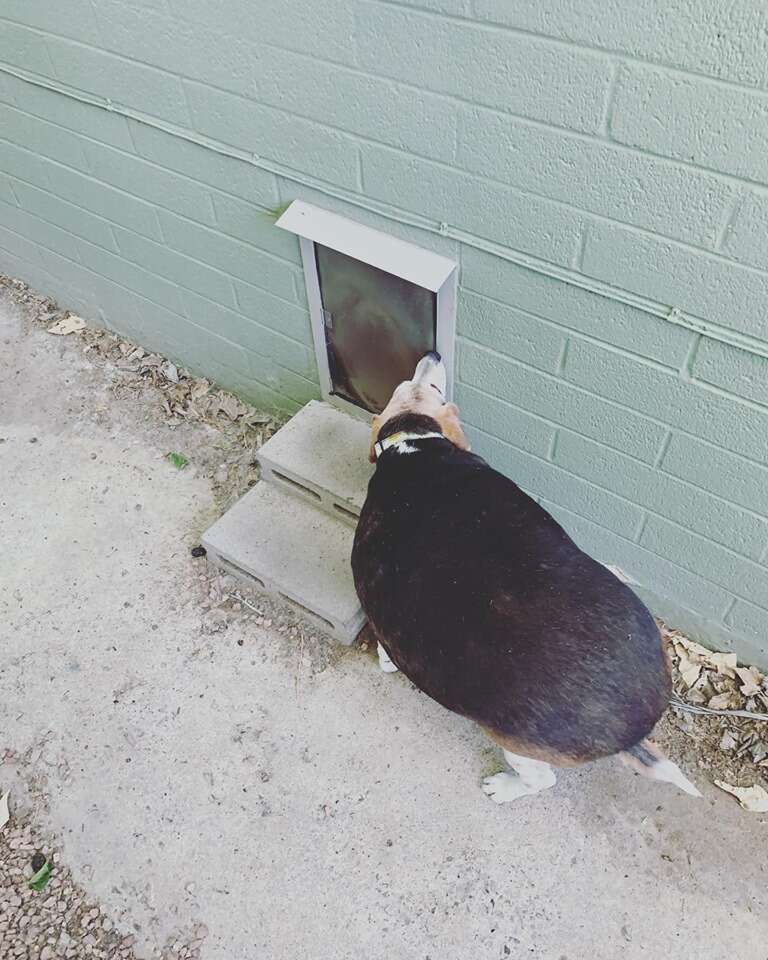 No one knows exactly how Wolfgang's weight got so out of control.
"We do not know anything regarding the circumstances as to why he was at the shelter," Erin McManis, a foster with Arizona Beagle Rescue, told The Dodo, "but the shelter initially found him as a stray. Arizona Beagle Rescue decided to spring him from the shelter and my husband (Chad Schatz) and I became his foster parents."
Even ending up in a crowded shelter didn't put a damper on Wolfgang's innate positivity. When his foster family took him to their house where two other rescue dogs live, Wolfgang happily made himself at home.
And even though he's too rotund to do much, Wolfgang loves to lie on his back in the yard, sunbathing and staring at Fred and Andre, his foster brothers who were both adopted from Arizona Beagle Rescue.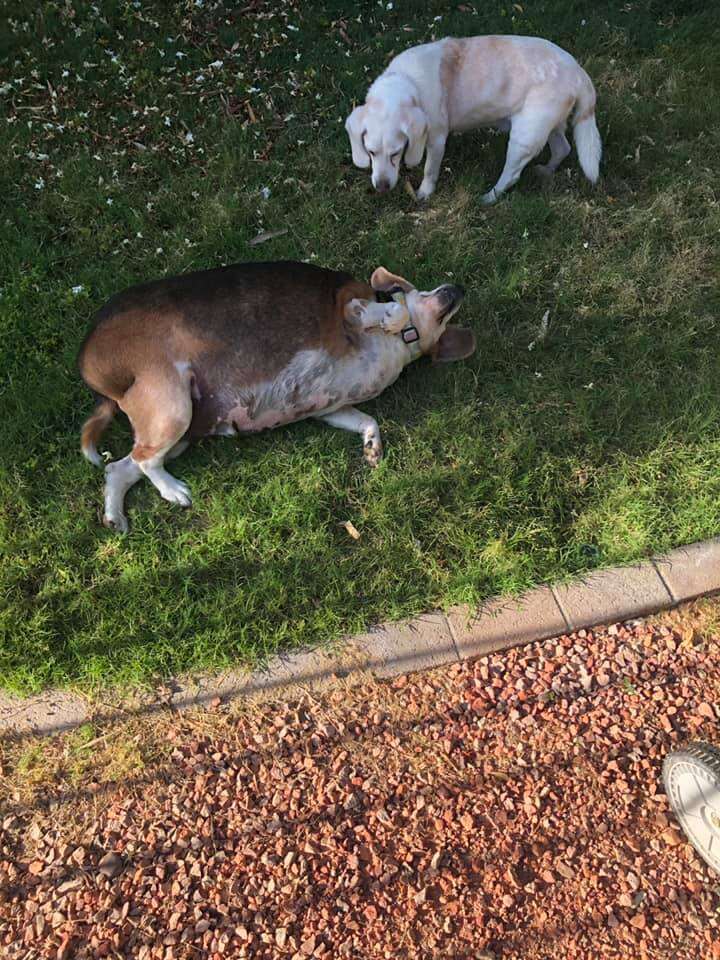 Wolfgang's foster family sees just what a special guy he is and are determined to help him lose weight and eventually find a home.
Wolfgang is now on a special diet of 600 calories a day, which a veterinarian recommended. "I cook him a combination of lean turkey meat and lots of green veggies (green beans, broccoli, spinach, etc.)," McManis said, adding that Wolfgang has a thyroid condition and is taking medication to help get that under control, as well as a vitamin supplement to keep him healthy.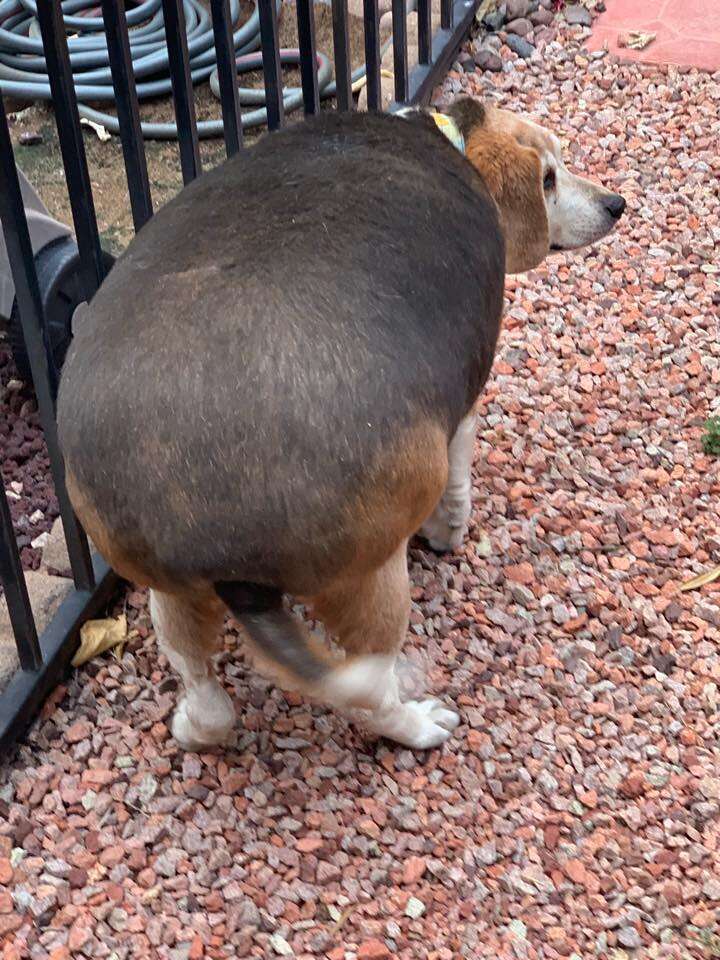 Of course, eating healthy is only part of the plan — Wolfgang is also getting a good amount of exercise. McManis is even helping him swim around in their pool, in addition to taking regular walks.
"I was concerned he would act really hungry on the new diet," McManis said, but Wolfgang surprised everyone with how upbeat he is. "He seems to love his foster home and his diet/exercise plan. He is a very happy dog."
This isn't the family's first time helping a dog with weight problems — and this gives them hope for Wolfgang.
"When we adopted Andre he weighed about 68 pounds and now he is 23 pounds," McManis said. "We have had experience before helping overweight dogs, so we are confident we can help Wolfgang."
McManis decided to join Wolfgang in solidarity, committing to a low-carb diet herself and starting a Facebook page to chronicle their progress. She said the whole thing would be "more fun if we were doing it together."
Wolfgang will be up for adoption once he makes sufficient progress on his diet to ensure he's his usual happy self, and also healthy, when he makes that transition.