Cops Save Dog's Life — Then Decide To Find Him A Family
They took Orson on a special outing to show him off, and he couldn't stop wagging his tail.
Orson has overcome so much since he was found in a basement in a South Bronx apartment building in 2016 — but he still needs a home.
The 3-year-old pit bull was rescued from a suspected dogfighting ring, and even though his life had been presumably full of fear and cruelty, he was still so full of love. 
ASPCA
Orson's inherent sweetness is one of the things that has made him a favorite among his rescuers at the ASPCA and the New York Police Department (NYPD), which partners with the ASPCA to handle cruelty cases like Orson's. 
And so when Valentine's Day rolled around, officers decided to do something special for Orson, who became available for adoption in December, after spending a year recovering from his past.
ASPCA
The officers — Sgt. Maria Sexton of Patrol Borough Manhattan North and PO Dana Moran and PO John Riquelme of the Central Park Precinct — who all serve as animal cruelty liaisons with the ASPCA, decided to take Orson to several New York City hotspots to help him meet potential adopters.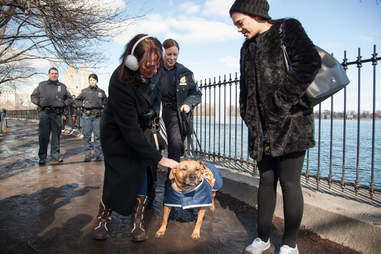 While walking along Central Park's Jacqueline Kennedy Onassis Reservoir, NYPD officers introduced Orson to potential adopters who gave him a lot of attention.

| ASPCA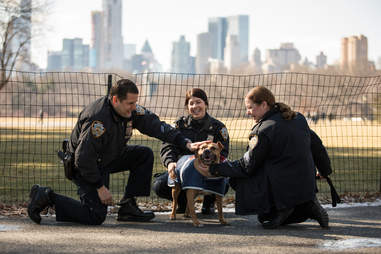 ASPCA
To make their mission extra clear, Orson donned a vest that said he was up for adoption. And to make him look a little fancy for the special day, he also sported a red bow tie.
Orson walked through the park, sat by a bench in front of a coffee shop, perused a bookstore and strutted down the city streets with his officer friends.
NYPD officers and Orson people-watch from a bench outside of a local coffee shop.

| ASPCA
Orson clearly loved being around his NYPD friends, getting encouraging ear scratches and pets as he explored the city.
ASPCA
And even though Orson clearly had the best time on his outing, meeting so many friendly people and smelling so many new places, he still didn't manage to meet his future forever family. Some adoption applications came in, but they just weren't quite the right fit for Orson. So he's still waiting.
ASPCA
"Orson is an affectionate dog who is eager to leave the abuse of his past behind and become a loving companion," Howard Lawrence, vice president of ASPCA Humane Law Enforcement, said in a release. "We're thankful to the NYPD officers for their dedication to helping dogs like Orson."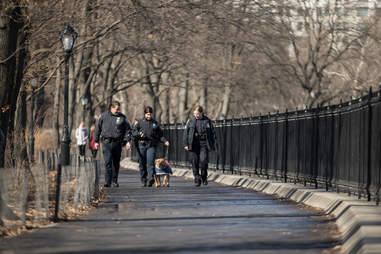 ASPCA