Dogs Are Getting Rides To Day Care In Little Yellow Bus
The dogs even wear tiny backpacks 🐶📚
A little yellow school bus rides around the streets of Cape Breton, Nova Scotia, but its passengers might not be whom you'd expect.
Good Hands Boarding Kennels uses the bus to pick up its doggy day care clients whose owners can't bring them in personally.
Rachel Haggett and her partner Wayne Devoe, who founded Good Hands Boarding Kennels in October 2011, decided to model their doggy day care after the kinds of schools human children attend while their parents are at work. "I figured since we all love our dogs like our kids, it would be fitting," Haggett told The Dodo.
The school-themed doggy day care and boarding facility, which generally has 15–30 dogs in its care at a time, was in need of a way to transport its canine clients when the couple found a small school bus for sale online. "We almost bought a cube van, but when I saw this little bus online, I could just picture the dogs in it," Haggett said. "We had to have it."
Though they have only been using the bus for about a month, it has been a huge success. "Most people use the bus because they get called into work and can't make our business hours," Haggett said. "Some people just use it because of the convenience of it, or they don't like to drive in winter."
The bus can transport up to 10 dogs at a time, and the dogs are safely placed in crates while they ride along. It leaves an hour before the day care opens to pick up pups, and drops them off at home an hour after the day care closes.
Some parents really get into the school spirit by sending their dogs to day care with a backpack, often containing snacks or lunch for the puppies who are still eating three meals a day, or even a blanket for naptime.
Once dogs get to Good Hands, they might start the day by greeting a friend …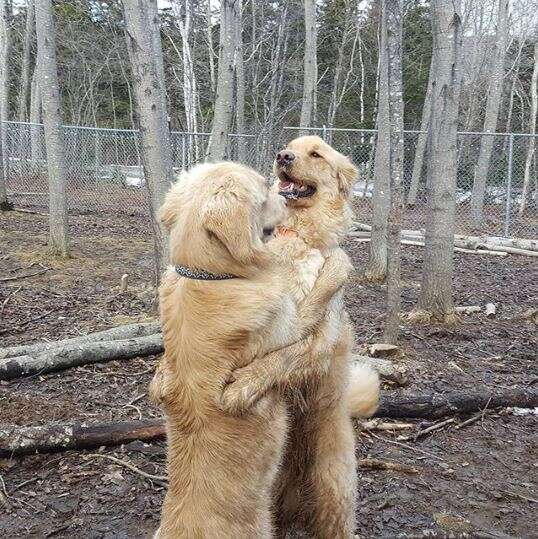 ... or a quick potty break.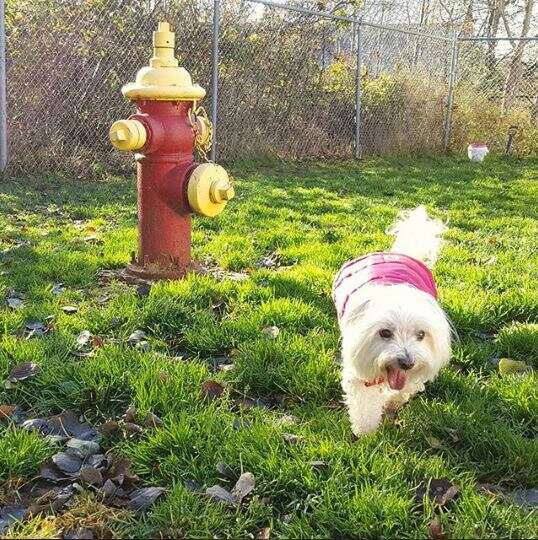 Then it's on to one of the many toys and activities at the day care, such as two trampolines (lowered for safety) ...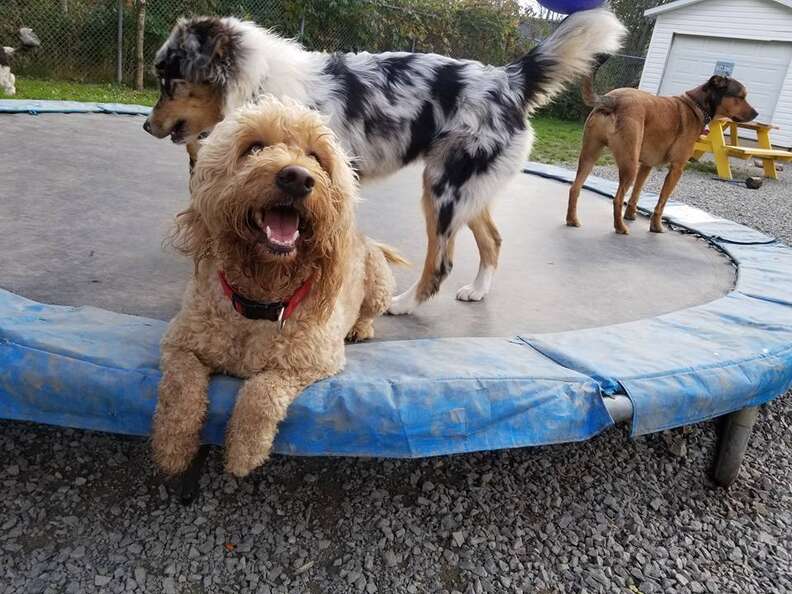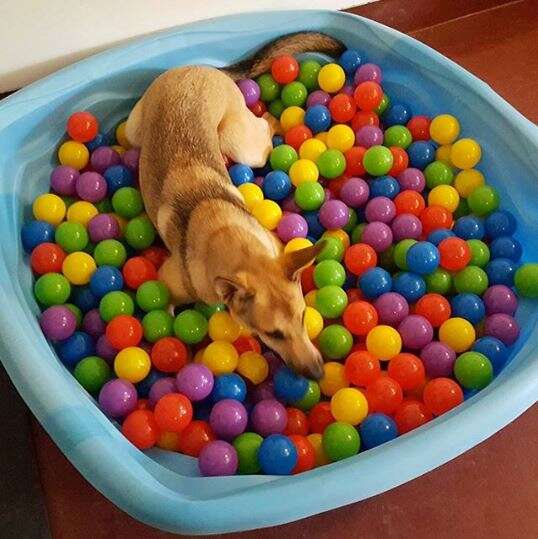 ... fetch with a giant sling shot ...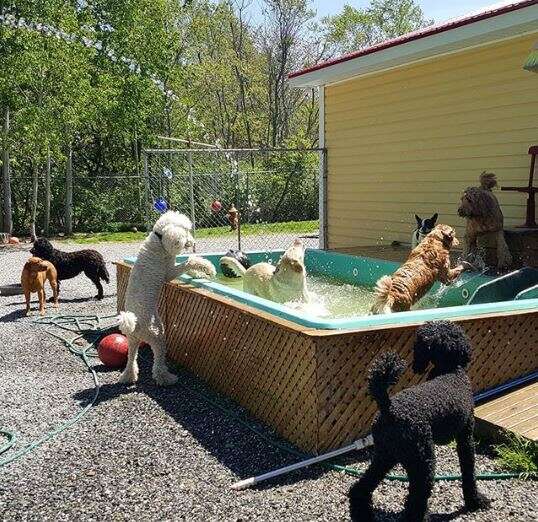 "One of my favorite days was the opening of our swimming pool," Haggett said. "The dogs loved it so much. They love when we get something new."
They love to celebrate holidays and birthdays as well, which is extra special for pups in boarding whose owners are away.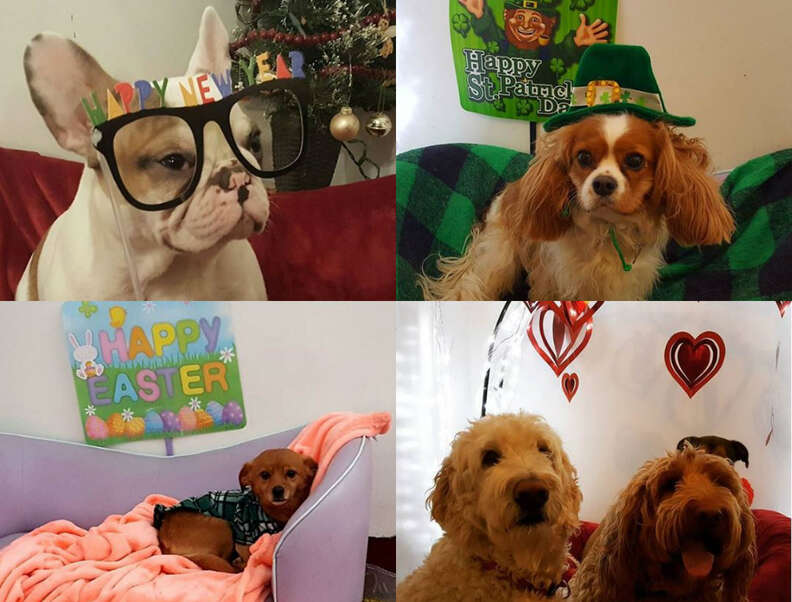 "It's especially nice when families are away for Christmas and they can watch a video of their dog getting a present Christmas morning," Haggett said.
Just like any good school, the pups learn how to take turns ...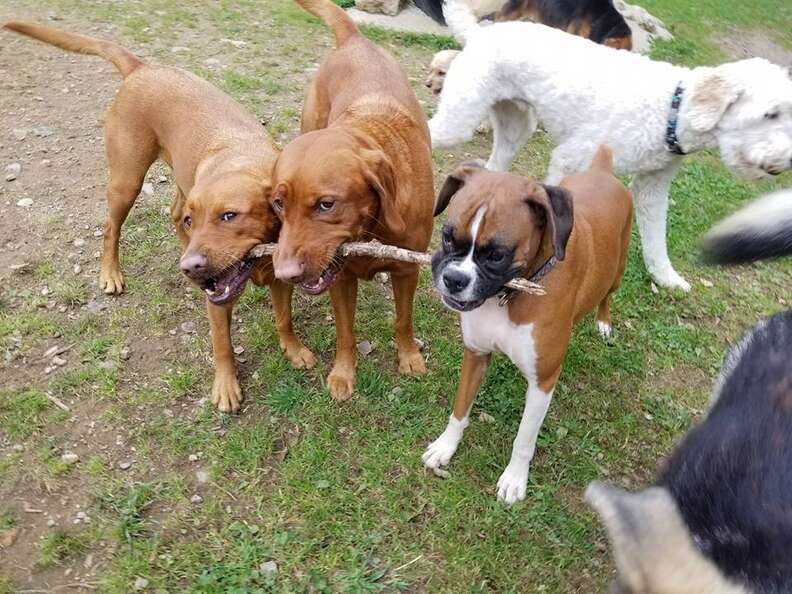 ... and get along with the unlikeliest of friends.