Homeowners Surprised To Discover Their New House Comes With A Cat
"We immediately looked out the back sliding glass door and he was looking at us."
Early last month, Miranda E and her family began an exciting new chapter in life by moving into a new home. But, as they soon came to learn, the new place came with an long-time tenant who was expecting things to keep running as they had been.
Upon walking into the house for the first time after getting the keys, Miranda and her family found a curious note left for them by the previous owners asking a "favor" of them: to care for a feral cat who's been living in the backyard.
It didn't take long for Miranda and her family to first lay eyes on the old orange kitty. In fact, it was almost as if the cat had been expecting their arrival.
"We immediately looked out the back sliding glass door and he was looking at us through the door," Miranda said.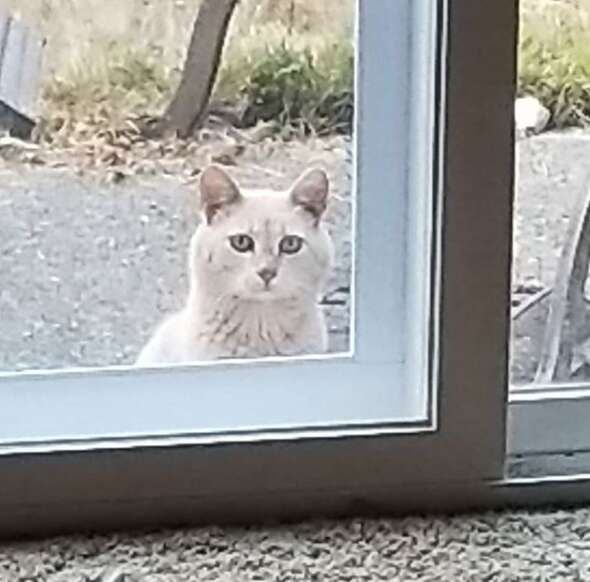 Fortunately, the feral kitty had lucked out. These new people living in the house are cat lovers. It was almost as if fate had brought them in to be his new caretakers.
"We started laughing because we currently have five cats, all but one have been rescued," Miranda said. "The house we lived in previously, people used to drop off their cats there and we took them in."
Miranda and her family were more than happy to fulfill the previous owner's request and take on another needy feline. But actually winning him over would be easier said than done.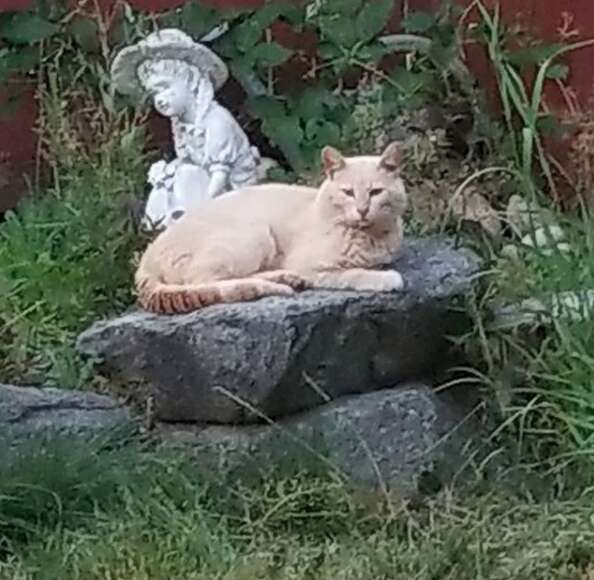 Miranda named the cat Raz.
At the beginning Raz was more than just a little aloof — gladly accepting bowls of food left out for him, but scampering away if anyone tried to get too close.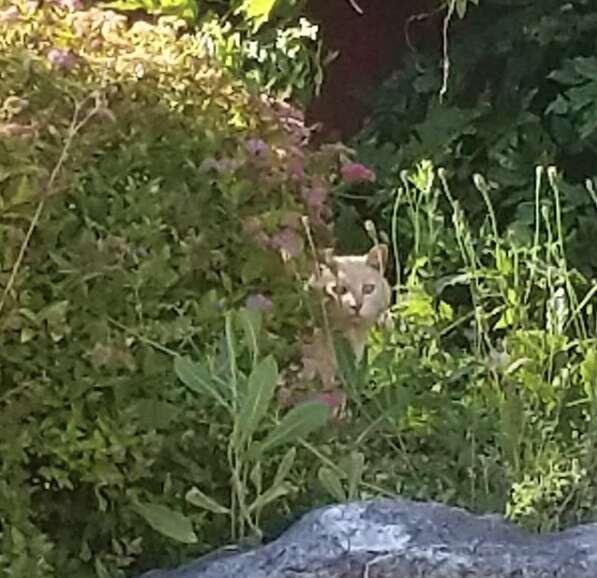 Sure enough, over the last several weeks of feeding him, Raz has started to warm up to Miranda and her family.
"He used to hide anytime we came to the door. Now we can sit outside with him," she said. "He will come up and eat now when the screen door is open, which he wouldn't do before."
Raz, it seems, has slowly come to understand that Miranda and her family have his best interests in mind — a fact that he's even come to exploit.
"He also now comes to the door and meows to let us know that he needs food," Miranda said.
Whereas the previous homeowners were apparently unable to get Raz medical attention, Miranda and her family would like to do more.
"Our hope is to eventually be able to interact with him more and get him seen by a vet as he has an old injury to his paw," she said.
And perhaps someday, Raz will feel comfortable enough to join their cat clan as full-time member.
While Miranda and her family weren't necessarily expecting to be caring for yet another cat upon moving into their new home, it's a duty they've embraced wholeheartedly.
Raz deserves nothing less.
"If you have the means to take care of an animal in need, you should," Miranda said. "There is nothing like earning the their trust and helping them live out their time comfortably and feeling loved."