Neglected Dog Can't Believe She Has A Real Bed Now
"I realized that for all 14 years of her life she had slept in a dirt hole and she was not expecting anything more."
A 14-year-old dog named Emma had been kept outside her whole life before her owners dumped her at a shelter in North Carolina.
She was days from being put down, when something incredible happened.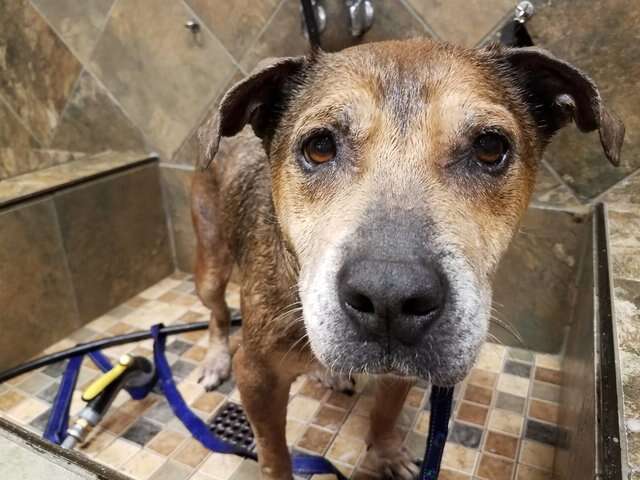 An animal rescue organization in Connecticut, Animals R Family, raised the money to save her, and a pilot flew her to safety. She was given the first dog bed she ever had in her life, along with a lot of donated toys.
Emma still doesn't seem to believe that she deserves all this love.
"On one of the first nights she did a very sad thing," Nicole Bruck, founder of Animals R Family, told The Dodo. "She went out for her late-night before-bed toilet break. After she had gone to the toilet, she walked under the deck, scratched around in a dirt hole, lay down in it and closed her eyes. It made me cry."

Bruck realized that for all 14 years of her life, Emma had slept in a dirt hole. "She was not expecting anything more or anything better," Bruck said. "I led her back into the house and put her on her bed and told her, with tears in my eyes, that she would never, ever, ever sleep in a dirt hole again."
Even though she's safe now, the years Emma was neglected have really taken a toll on her health, so she's undergoing a lot of medical treatment to get her healthy again. She's currently in a foster home, getting heartworm treatment. She also suffers from arthritis in all four of her legs and her spine.
People are going above and beyond to make sure this neglected dog is comfortable. And that means getting her a new bed, made specially for dogs with aches and pains.
"We would love for 14-year old Emma to have a Tempur-pedic dog bed, as it really helps with her arthritis," Animals R Family wrote on Facebook this week. "The only problem is they are very expensive."
Almost immediately, Foster Dogs, Inc., a group that helps people who foster dogs, gave $200 towards Emma's new bed. Then other people started stepping forward to donate. In less than 24 hours, Emma had enough to get the bed she needed.
"We have been really overwhelmed by the amount of support and love we have received for Emma," Bruck said. "From the couple who are paying her vet bills without question, to all the people who sent her canned food, to the people who donated for her bed, to the person who sent us a box of soft toys for Emma. It has been heartwarming and moving that so many people care about a throwaway neglected 14-year-old dog who lived outside all her life."
If you live in the New York City metropolitan area and think you can give Emma the greatest gift of all — a forever home — you can email animalsrfamilyinc@gmail.com and ask about adopting her. You can also
donate to Animals R Family
to help the group save more dogs like Emma.