Dog Who Spent Years Outside In 105-Degree Heat Is Finally Safe
"Every time I looked at him, he just wagged his tail and looked at me like he knew he was being saved. He was so grateful."
Izabella St. James didn't know how the two pugs were still alive.
The day she saw them, it was 105 degrees out, and the dogs were outside on a concrete patio. One of the pugs had an old trailer that provided a little shade, but neither of them had a true refuge from the heat. Both pugs were panting.
"I thought, 'I'm going to get these dogs, no matter what I have to do,'" St. James, the woman behind The Pug Queen, an organization that helps abused and neglected pugs, told The Dodo.
St. James had learned about the pugs, whom she named Lewis and Clark, through a follower on Facebook.
"I always tell people, 'If you see dogs that are being abused or neglected, or if there's any way I can help, let me know, because you need to be the voice for the voiceless,'" St. James said. "So one of my followers on Facebook sent me a message and said, 'I drive by this house every day and I see these pugs. They've been out there for years — in the pouring rain and the heat.'"
St. James went there as soon as she could.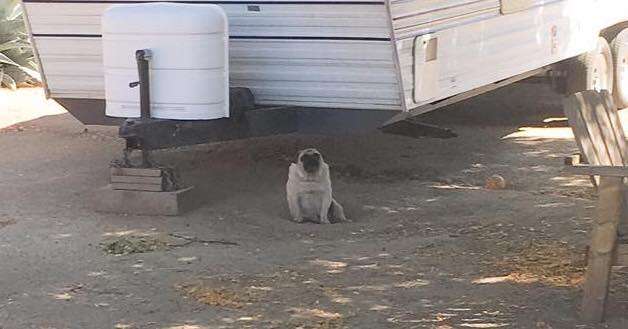 "It was a tiny little house, and right next to it is a big dirt lot, and there was an empty trailer standing there," St. James said. "I could see Lewis — this really chubby little dog — in a hole in the dirt. He'd literally dug himself a hole in the dirt to stay cool."
But it was Clark, who was on the other side of the property, whom St. James worried about more.
"I thought he was dead," St. James said. "He was just lying there."
St. James knocked on the door of the home, and an older Hispanic man answered.
"I asked him if he spoke English, and he said, 'A little bit,'" St. James said. "So I began a conversation. I told him that I had recently lost my senior dog, and I wanted to enquire whether he was willing to sell these dogs to me. I would like to give them an indoor home, where they don't have to suffer in the heat and 105-degree weather. I told him that pugs are not made for this kind of weather, and they're suffering — they can barely breathe."
The man, however, wasn't interested in selling the dogs.
"He said, 'No, no — they don't need anything and they don't need help. They're fine here,'" St. James said.
But St. James refused to walk away.
"I said, 'They're not OK,'" St. James said. "And the one I thought was dead, who I later named Clark, he started coughing. And it was a horrible, guttural cough. He still laid there with his eyes closed, coughing and coughing. And I said, 'He's sick. He needs medical care. He needs to go to the vet.'"
St. James offered the man $500 for both dogs. When the man refused, she offered $750. When he continued to say 'No,' St. James raised her offer to $1,000.
"He just looked at me like I was crazy and he said, 'No,'" St. James said. "And I said, 'You're not going to take $1,000? You realize this dog could be dead in a couple days … and right now, you could have $1,000 in your pocket, and the dogs can get medical care that they desperately need.'"
When he wouldn't budge, St. James was devastated.
"I started crying because I just thought, 'That dog is going to die,'" she said. "And with the other one in the hole, it was just the saddest, saddest thing I had ever seen.'"
She decided to leave, although she planned to come back with food and medication for the dogs, and to try and talk the man into at least letting her take them to the vet. But on her way back to her car, St. James met the man's neighbor. When St. James explained to the neighbor about how she'd tried to buy the pugs, the neighbor provided some background.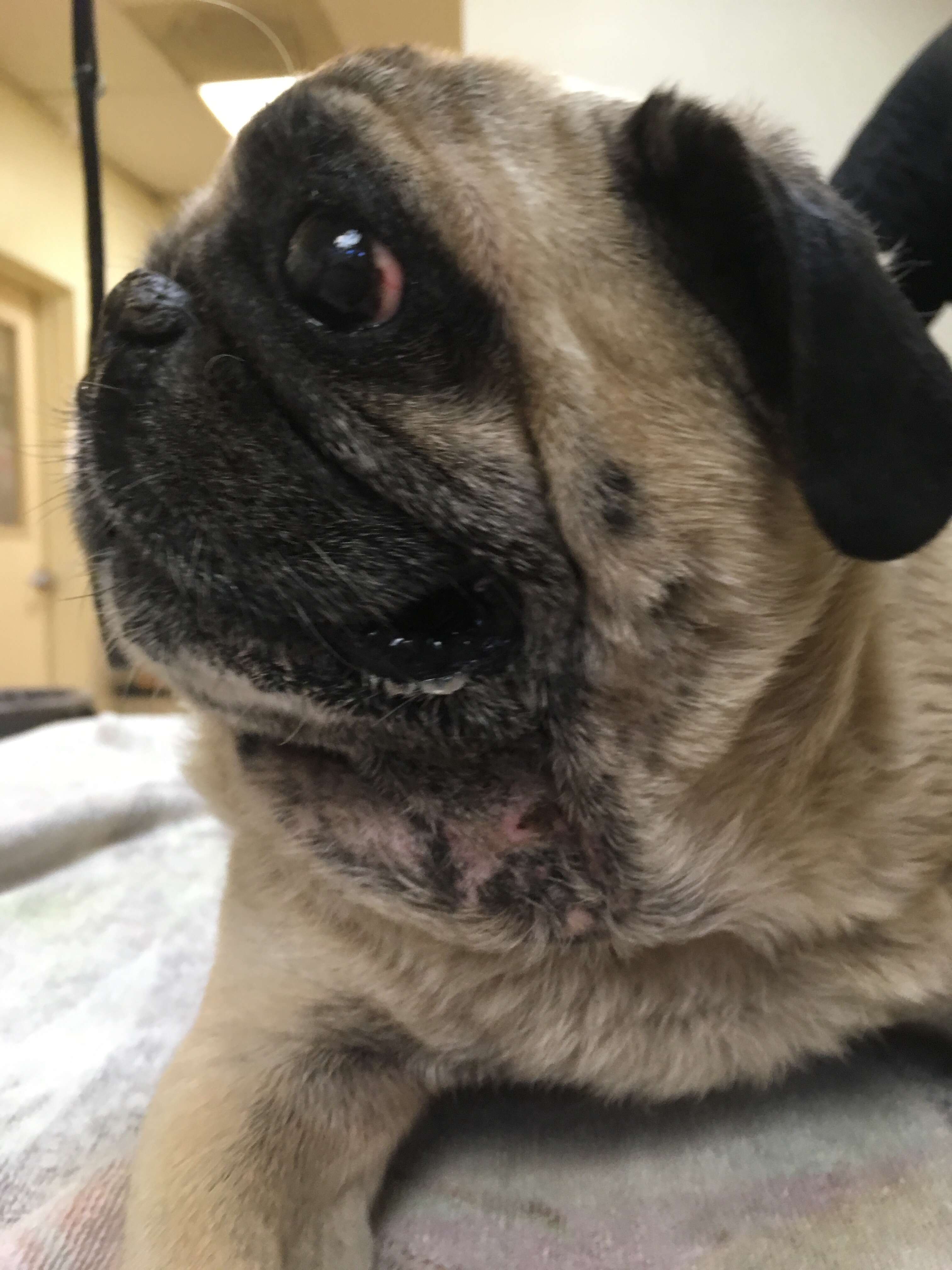 "[The neighbor] said, 'You know, they never take care of those dogs. They barely get fed and they never get any attention. They never go for walks. No one ever comes and pets them. They've never been to the vet. They're just literally out there in the dirt by themselves 24/7,'" St. James said.
The neighbor also explained that the man lived with his son and daughter-in-law, and St. James wondered if it would be easier to speak with one of them.
St. James left a note with her phone number for the man's son, whom the neighbor said lived with his dad. And then she went home and waited.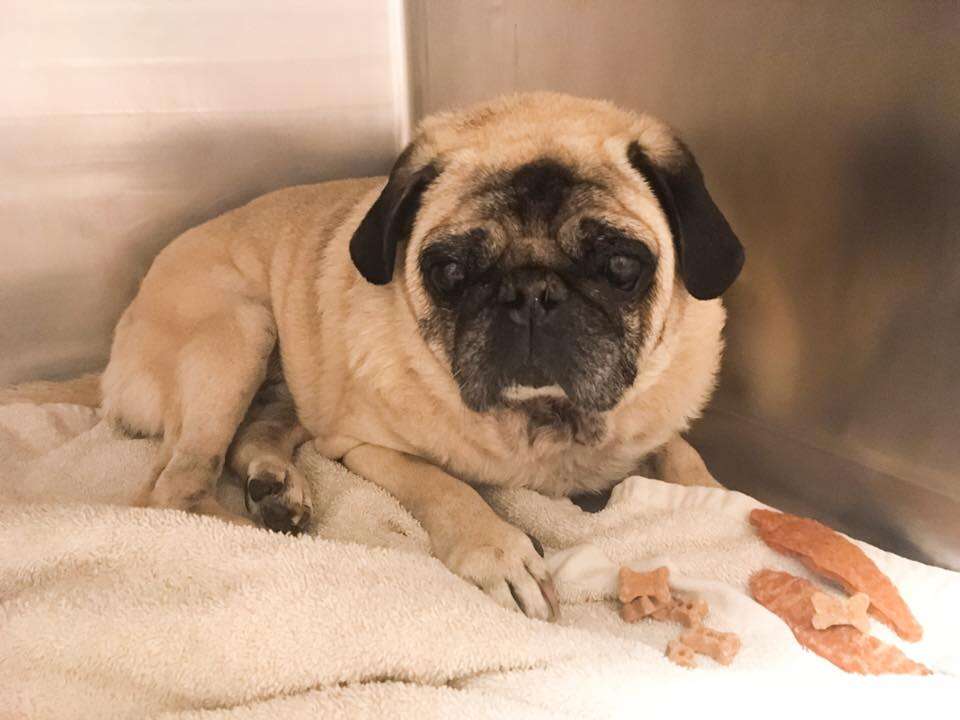 The next day, St. James got a call from the son.
"This guy said, 'I hear you came here trying to buy my dad's pugs,'" St. James said. And I said, 'Yeah, I did, and I would still like to do that.' And he said, 'My dad will take the money because he has zero money.'"
St. James went the next morning to pick up Lewis and Clark.
"I arrived with crates with food and treats and everything for the dogs, as well as harnesses and leashes," St. James said. "And [the man] came to the door, and I gave him cash, and I took the dogs in the car."

Lewis seemed overjoyed to be in the car with St. James.
"His little tail did not stop moving," St. James said. "Every time I looked at him, he just wagged his tail and looked at me like he knew he was being saved. He was so grateful."
Clark, on the other hand, was too preoccupied with his cough.
"He was coughing so badly, and I was like, 'I really hope this dog doesn't die on the way to the vet,'" St. James said.
Once they arrived at the vet, the team immediately started to treat Lewis and Clark. Besides suffering from overheating and malnutrition, both dogs had eye problems, rotten teeth, arthritis and overgrown nails. And Clark, of course, had his cough.
Since St. James didn't know if Lewis and Clark had anything contagious, she kept them in boarding initially. But then Lewis got to go home with St. James after a couple of days.
"When I first brought him into the house, he was scared to move," St. James said. "He was never allowed in [at his old house], so he looked at me like, 'Are you sure? Am I allowed to be here? Am I allowed to move?' And he went into one corner and he didn't want to leave."
But it didn't take long for Lewis to get into the swing of things — he started to explore the house with more confidence.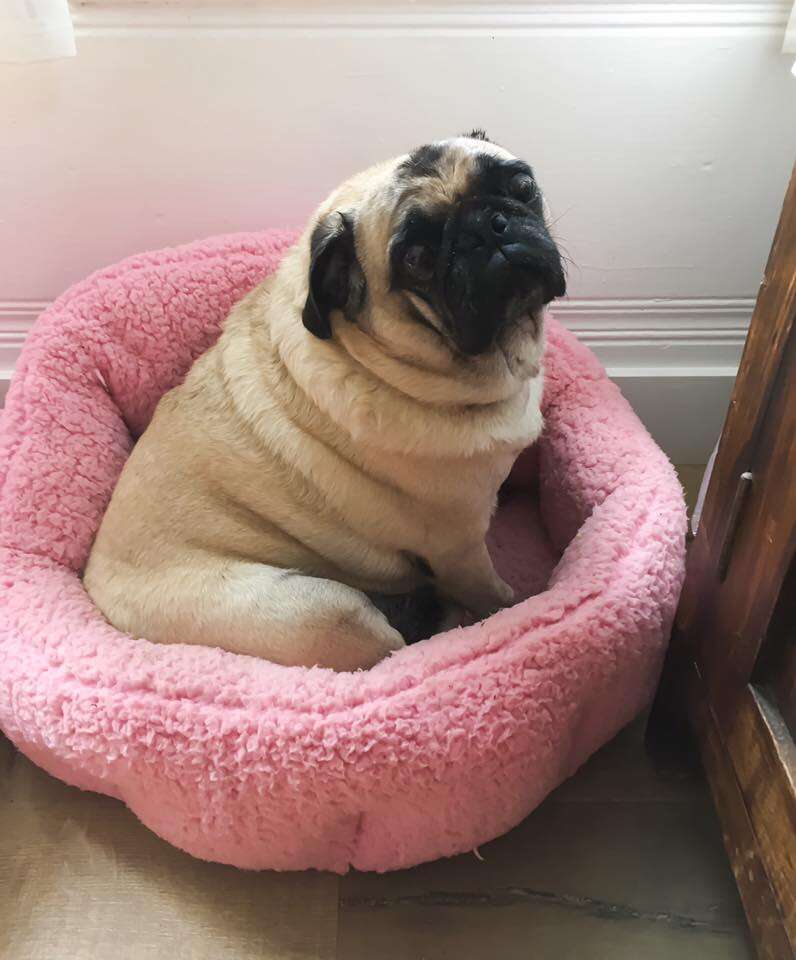 "His favorite bed is this little fluffy pink bed that I bought for the girl puppies, but that's just the one that he likes the most," St. James said. "His big, chunky butt barely fits in there, but he likes it. I think it makes him feel very snuggled up and secure."
Clark, however, is still at the vet. "He's still coughing," St. James said. "We just can't seem to get the cough under control."
While he heals, St. James visits Clark as often as she can.
"I take him out into the sun," St. James said. "The days I can't go, I have a friend who does it. She picks him up and takes him out in the sun. He was barking and so happy. Even being there is so much better than where he was."
Once Clark has made a full recovery, both he and Lewis will be up for adoption. If you're interested in giving either of them a forever home, contact
The Pug Queen
. You can also help the organization rescue more pugs in need by
making a donation
.