Breeder Asks Shelter To Put Down Sick Mama Dog On Mother's Day
"[She] gives kisses to anyone that comes close to her" 😢
On Mother's Day weekend, while most people were heading out to brunch or visiting family, one Texas shelter got an unexpected visit.
A sick, matted dog was deposited at the reception desk by her owners with one request: to put her down. Glancing at the frail dog's belly, the shelter workers could see she had been a mother herself — many times over.
Dallas DogRRR
On a day reserved for honoring motherhood, the shelter staff couldn't stand to euthanize the mama dog, so they reached out for help.
"Many animals that come into our rescue have been left behind to die afraid and alone," Kerry Anechiarico, executive director of Dallas Dog Rescue Rehab Reform (Dallas DogRRR), told The Dodo. "We weren't about to let that happen to Abigail on Mother's Day weekend when all she has probably done was loved both her human family and the litters of puppies she has obviously had over the course of her life."
Dallas DogRRR
Rescuers rushed the poodle mix, who is estimated to be 9 years old, to the nearest emergency vet clinic. They could see immediately that Abigail's road to recovery would not be an easy one — the bulges on the dog's belly were extremely worrisome. But they knew they had to try.
Dallas DogRRR
At the vet, Abigail received a bath and a haircut. She clearly felt so much better after just a little attention and was grateful to her rescuers. Her once tear-stained face seemed to even have a slight smile on it.
"She's physically exhausted and was as sweet as could be as she was bathed and prodded," Dallas DogRRR wrote on Facebook. "Why is it the sweetest souls are those that are taken the most advantage of?! I'll never understand."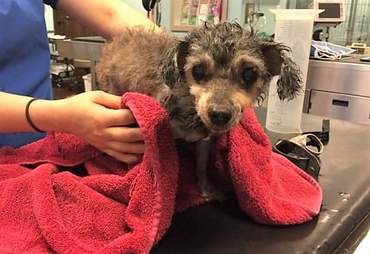 Dallas DogRRR
Abigail is now gaining strength at a foster home so she can undergo surgery to have her tumors removed and tested. Her foster mom is trying to show the little dog that she is worthy of a good home.
"She's quiet, gentle and gives kisses to anyone that comes close to her," Anechiarico said. "She only knows love, and that's what we're trying to show her. Animals such as her seem to think she has to love first to receive love in return, but it shouldn't be that way."
Dallas DogRRR
Abigail's future is still uncertain, but one thing is clear — this mama is going to be spoiled as if every day is Mother's Day.
"Abigail is more than likely a hospice case," Anechiarico said. "It's just a sad situation, but like so many others, we know how resilient animals can be, so we feel like anything is possible and every animal deserves that chance."