Dog Who Nearly Starved To Death Has The Best Life Now In Belize
"She is just a lump of love."
When they found the dog, she was chained to a plastic chair beneath a stilt house in Belize. Floodwaters had inundated the yard around the house, and the dog had climbed onto the chair to try and stay dry.
This was three years ago, when volunteers from the Hopkins Belize Humane Society found Elsie during a "roundup," where they pick up animals who need to be vaccinated or given urgent medical care. And Elsie needed to get help as quickly as possible.
Being chained beneath a house with a flooded yard was bad enough — but Elsie had bigger problems.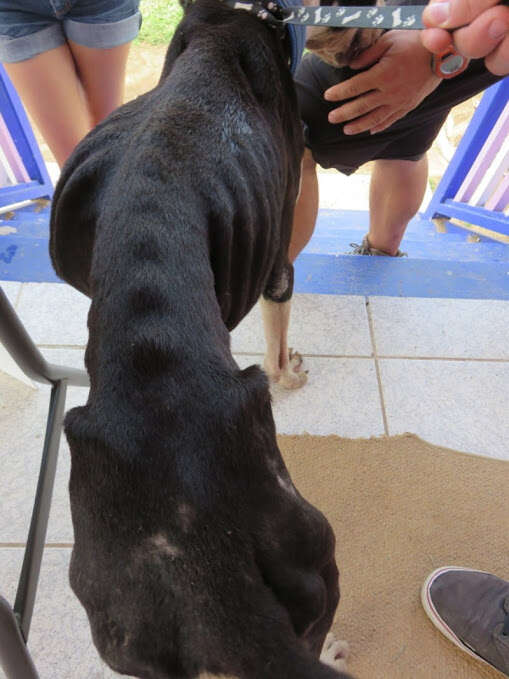 "She had two bleeding sores on her back legs, one so bad that she couldn't put the leg down," Rebecca Coutant, a volunteer for Hopkins Belize Humane Society, told The Dodo. "Her toes and feet were incredibly swollen with infection. At that point we thought she might be missing toes — we couldn't even tell. She had chewed out all her nails. There was nothing left — just swelling."
Elsie was also missing patches of fur, but the most serious issue was her weight — she was completely emaciated, weighing only 27 pounds. "She was literally a bag of bones," Coutant said.
Team members from the humane society went to speak to the owner, who explained how he got Elsie — he said he'd rescued Elsie from someone else, who'd been deliberately starving the dog to death.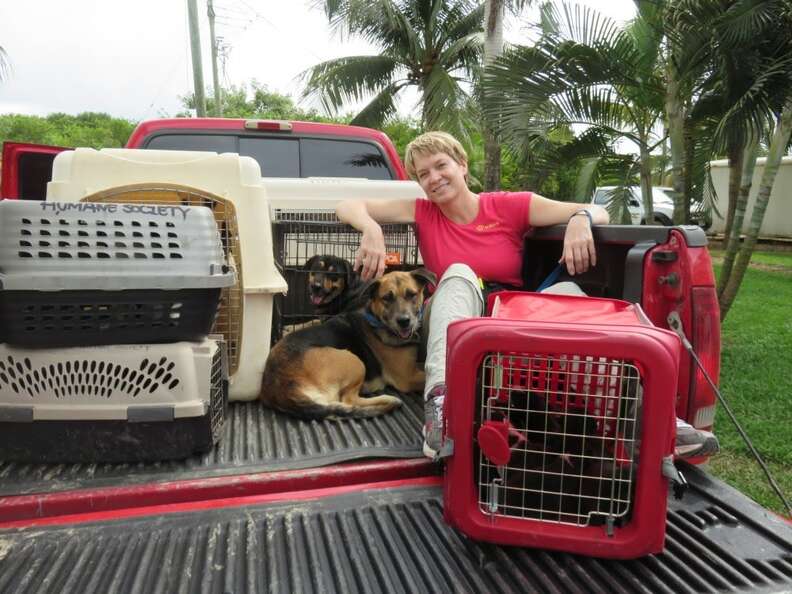 "The people who had her had better intentions, but she was still in a horrible situation," Coutant said.
The rescuers got Elsie into a transport crate and drove her to their clinic, which was only 10 miles away. When they took Elsie out, they saw that she'd become very sick on the short drive there.
"She had thrown up pieces of tin foil and the dark water from the yard," Coutant said. "She was cowering with her tail between her legs."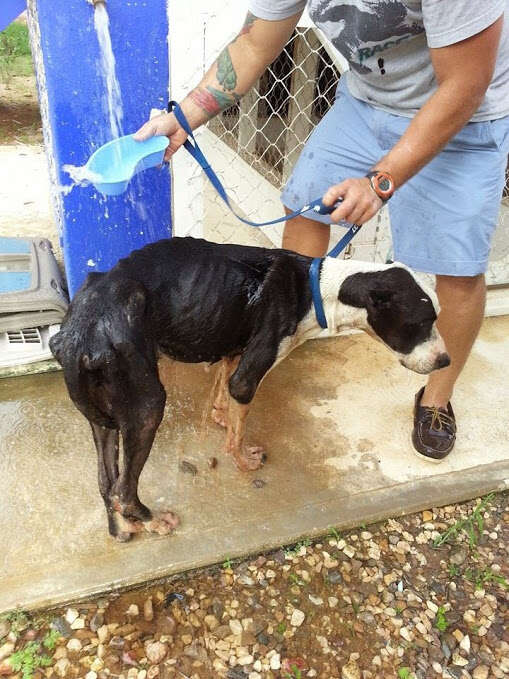 Before she went in to be treated, the volunteers tried to clean her up.
"She got a shower [with] the hose," Coutant said. "Jason, one of the volunteers, started to rub her down … and her tail started wagging — thwack, thwack, thwack against the fence."
Coutant remembers this as the moment that everything changed for her — and for Elsie. "That's when she 'got me,'" Coutant said. If Elsie managed to get better, Coutant decided that she'd come live with her and her boyfriend on Ambergris Caye, one of Belize's islands.
Elsie spent the next month at the clinic, getting her wounds tended to and her weight up. Elsie had also tested positive for both a tickborne illness and heartworm disease, so she was treated for these as well. A month later, she was finally well enough to leave — and Coutant transported her via water taxi to her new home on Ambergris Caye.
But this wasn't the end of Elsie's health struggles.
When the wounds on one of her legs wouldn't heal, Coutant and her boyfriend made the difficult decision to get Elsie's leg amputated. They worried about Elsie's mobility after this, but she was up and walking five hours after the surgery, according to Coutant.
"She was probably just so happy and relieved to have that awful hurting leg gone," Coutant said. "Honestly, she didn't miss a beat. When she is running, you wouldn't notice a thing. And she moves it side to side, almost like a pogo stick for balancing and maneuvering. She is amazing."
Elsie also had trouble keeping food down, even though she had a great appetite. "The vet told us that her esophagus didn't work properly," Coutant said. "The muscles were basically worn out from years of vomiting ... probably from scrounging and eating things that shouldn't be eaten."
But Coutant and her boyfriend figured out a solution.
"We grind up her food in a blender, mix it with water and make 'meatballs,'" Coutant said. "That word alone perks up her ears and gets her tail wagging. We started giving her three meals a day, hand-feeding her the balls while she was sitting up. And after a year of trying to get her weight up, she now weighs in at 56.4 pounds. We will gladly hand-feed her meatballs forever."
Now that Elsie is healthier, she gets to spend her days living the good life on Ambergris Caye.
"She goes for walks on the beach every day," Coutant said. "She loves to look for fish with my boyfriend. She loves to go out onto a dock and sit and smell the ocean. She's a fan of riding in the boat, though she has been known to fall asleep if the ride gets too long."
Most of all, Elsie loves spending time with the people who love her.
"Elsie is the most loving dog I've ever met," Coutant said. "She makes a grunting noise when she is content, and she also has a smile — she shows all her teeth and scrunches up her nose. She absolutely loves physical contact. She wants a hand on her when she sleeps. If we are on the couch, she has her head on Jeff's lap."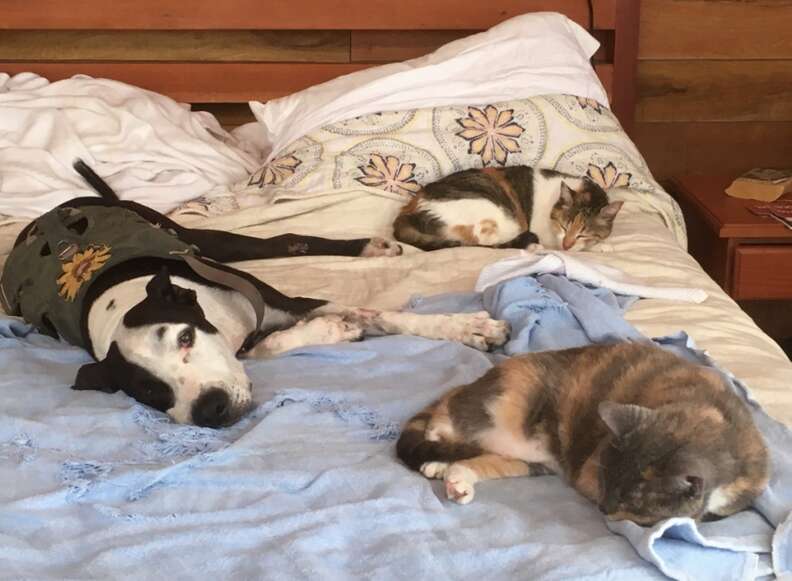 "She is just a lump of love," Coutant added. "She came from such a crappy situation where she was at best neglected, and who knows the worst — and she loves us so much."
In Belize, veterinary supplies are hard to come by, and pet owners can't always afford to get their animals vaccinated, spayed or neutered. To help dogs and cats in Belize get the veterinary care they need, you can make a donation to
Hopkins Belize Humane Society
.