Cops Take Shelter Dogs On Ride-Alongs So They'll Get Adopted
"He's so perfect that I can't get over it."
Mickey's only crime was needing a home. The 6-year-old dog had been at the Nebraska Humane Society for four months, and needed a little boost to find himself a family.
So when officers with the La Vista Police Department proposed teaming up with the shelter for a new program called K-9 for a Day — where shelter dogs join a local police officer for a ride-along — Mickey was selected as the first dog to participate.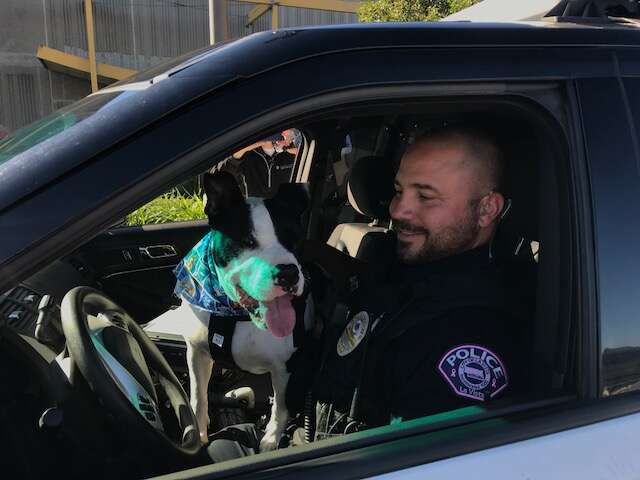 The aim is to help get shelter dogs like Mickey some extra exposure with potential adopters, as well as to give them a break from the shelter, which can be a stressful environment for many animals.
"We love this partnership," Pam Wiese, a spokesperson for the Nebraska Humane Society, tells The Dodo. "The dogs are more relaxed, and they are able to showcase their personalities as they interact in a more normal, natural way."
Captain Bryan D. Waugh is the person who suggested his department pair up with the Nebraska Humane Society for the program after hearing about a similar initiative in Green Bay, Wisconsin. He thought it would do some good for the shelter dogs in La Vista.
"Any agency looking for a great community policing opportunity would benefit from the program, while strengthening the relationship with their partners at local animal shelters or rescues," Waugh tells The Dodo.
When the day of his ride-along arrived, an officer picked up Mickey and brought him by the station to collect a police patch for his collar, before they headed out to some stores to make friends with shoppers. Mickey also got to go for a walk, and seemed to especially enjoy sticking his nose out of the police cruiser while driving.
"It was obvious our first dog Mickey had a great day," Waugh says.
Mickey's big day out was documented in photos, videos and newspaper articles — and that's how Shannon Andresen spotted him, immediately fell in love and decided she and her boyfriend Tyler Nelson should go over to the shelter to adopt him.
"I said, 'Tyler, get me that dog and you'll make me the happiest girl in the world,'" Andresen tells The Dodo. "Game over."
The couple went to visit Mickey that weekend. On Saturday, they played with him at the shelter and by Sunday, they had put in the adoption paperwork and brought him home.
Mickey has been with them ever since, and "he is absolutely perfect," Andresen says.
Andresen brags about Mickey's good manners, how adorably he plays with his toys and how much he likes to snuggle. Even Mickey's snoring is charming, Andresen says. Sometimes Mickey will wake her up with it, then she'll wake up Nelson so they can both enjoy his rumbles.
For Wiese, this is exactly what she'd hoped for when she sent Mickey out for his ride-along. It's what she hopes for all the other dogs who follow, and right now, Wiese says the program will likely happen once a month.
"We were thrilled that Mickey's exposure got him a new home, and the right home too!" Wiese says. "That is really what our mission is, finding a good home for every pet."
Andresen is thrilled, too.
"We absolutely love him," she says. "He's so perfect that I can't get over it."