Guy Sees Caution Signs On Shelter Door — And Finds The Sweetest Dog Inside
"He's extremely loving and brings so much more excitement to my life."
When Gemar Lezeau began his summer job at the ASPCA, he had no intention of adopting a dog.
The 19-year-old was already juggling a full schedule as a student at St. Joseph's College in Brooklyn, and adding one more responsibility seemed impossible.
What Lezeau didn't anticipate was that a misunderstood pit bull would completely change his mind before the summer was over.
ASPCA
Juice was found tied to a pole on a construction site, shivering and alone on Christmas Eve. When the NYPD delivered the pit bull to the ASPCA, he was in bad shape — underweight, covered in unidentified bite marks and suffering from a bad skin and ear infection. A month went by and Juice began to heal, but when the time came to move the muscular pit bull from the recovery center to the adoption center, things did not go smoothly.
"He was anxious and extremely vocal when potential adopters would walk by his enclosure," the ASPCA wrote on its adoption blog. "As you can imagine, this proved to be a deterrent for many, especially given Juice's appearance and breed. It's no secret that pit bulls have a difficult time being adopted due to prejudice against their breed."
Lezeau met Juice while taking a tour of the ASPCA facilities on his first day of work. "His kennel door had a bunch of caution signs on it and that intrigued me to know more about him," Lezeau told The Dodo. "From that point on I had taken a special interest into him."
Juice's backstory touched Lezeau, who hoped that after months stuck in a small kennel, Juice would find a home, and take his rightful place as a loving family pet.
But as days turned to weeks, it was clear that potential adopters couldn't see past the caution signs and anxious behavior. Not to mention the stigma that comes with belonging to a breed banned in several states in the U.S. and many territories in Canada.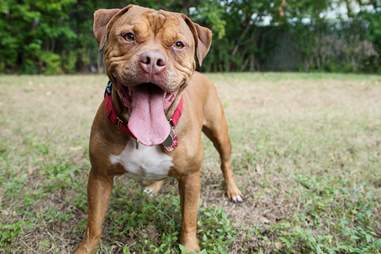 ASPCA
"I felt bad for him and hoped for the best for him, but [the best] seemed to have never come," Lezeau said.
When a staff member offered Lezeau the opportunity to take Juice on an inside walk, he jumped at the chance. "That's the day I truly fell in love," Lezeau recalled. "I played fetch with him, sat with him, socialized and I truly fell for him that day."
Gemar Lezeau
A month after their first inside walk together, Lezeau decided to take Juice home. His work at the ASPCA, and spending day after day with Juice, had allowed him to see past all the preconceived notions to the sweet, special guy he really was.
Now comfortably installed in Lezeau's family home in Queens, New York, Juice has exceeded all expectations. The pit bull has blossomed into the devoted, smiley companion Lezeau always knew he could be.
"Juice went from being a shy dog to being a fun, energetic dog who [is] friendly to all," Lezeau said. "Contact with other dogs was a main concern coming out of the shelter and he [has] adapted very well."
What's more, Juice has become an invaluable confidant as Lezeau tackles the challenges of school. "He's extremely loving and brings so much more excitement to my life," Lezeau noted. "He's always by my side and listens to me when no one else can. He's always there for me."
"Adoptive animals bring so much more to a family and household," Lezeau added. "They come with their issues and what not, but are still super loving and affectionate and need our love and affection the most."
Saturday, October 28, is Pit Bull Awareness Day. Learn more about breed-specific legislation and
how to fight it here
.