Rescue Kitten Was So Scared — Until Her Sister Taught Her To Be Brave
"We like to think Lola showed Lyla that it was OK to trust us."
Two tabby sisters arrived at the ASPCA in May 2016 — one shy and scared, the other outgoing and brave. Rescued from a hoarding situation, the young cats were surprisingly healthy, but shelter workers feared the emotional damage sustained by one of the sisters would be irreparable.
The guarded kitten wouldn't allow herself to be touched unless there was another cat present, and spent most of her time hiding when potential adopters toured the cat habitats. Shelter workers believed her only chance of finding a home and opening up would be her sister's friendly and curious nature, so they decided to keep them as a bonded pair.
Newly married couple Megan and Billy (who asked that only first names be used due to privacy) paid a visit to the ASPCA Adoption Center after making the decision to grow their family. "We were beginning a new chapter so we wanted to bring pets with us," Billy told The Dodo. "We had wanted pets for a while, but with the wedding over we had more time to adopt them and enjoy their company."
While touring the cat habitat, Billy spotted a gray tabby watching curiously from her perch — her sister staying well hidden. "The ASPCA staff told us Lola (then named Tinkerbell) and Lyla were rescued together and were bonded," Billy said. "They also needed a home with an experienced cat owner, and Megan had cats growing up."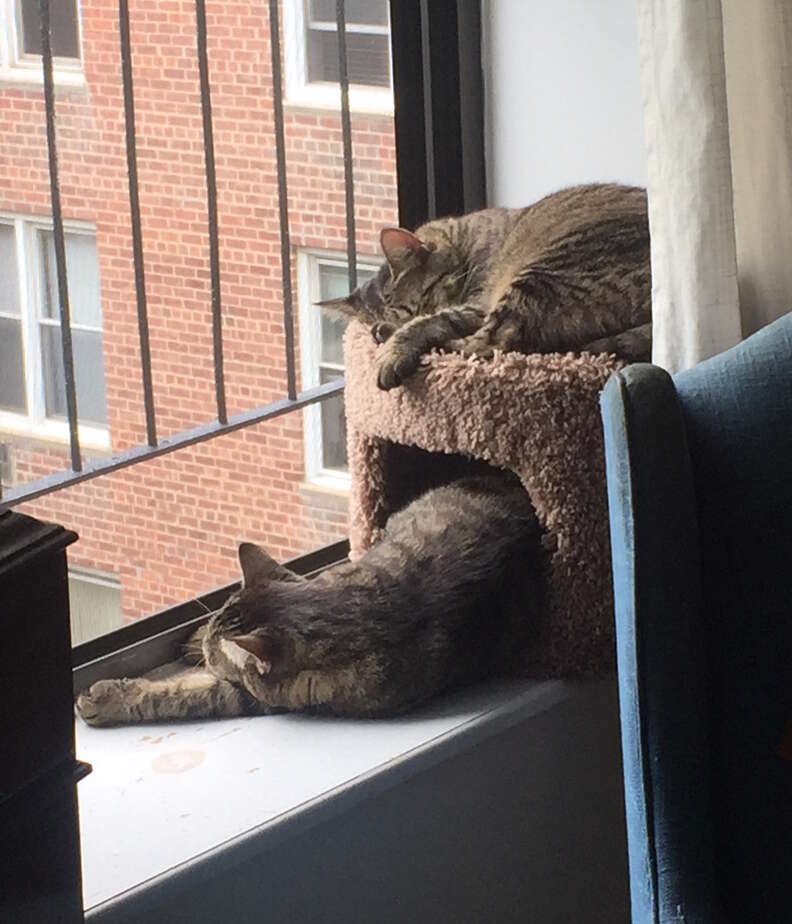 The volunteer leading the tour told the couple that while Lola would be friendly and sweet, they may never see Lyla. When the couple waffled over the decision to adopt, the volunteer offered one more piece of advice, adding, "They may not be what you want, but you're what they need."
The couple was convinced, and brought the bonded pair home that same day.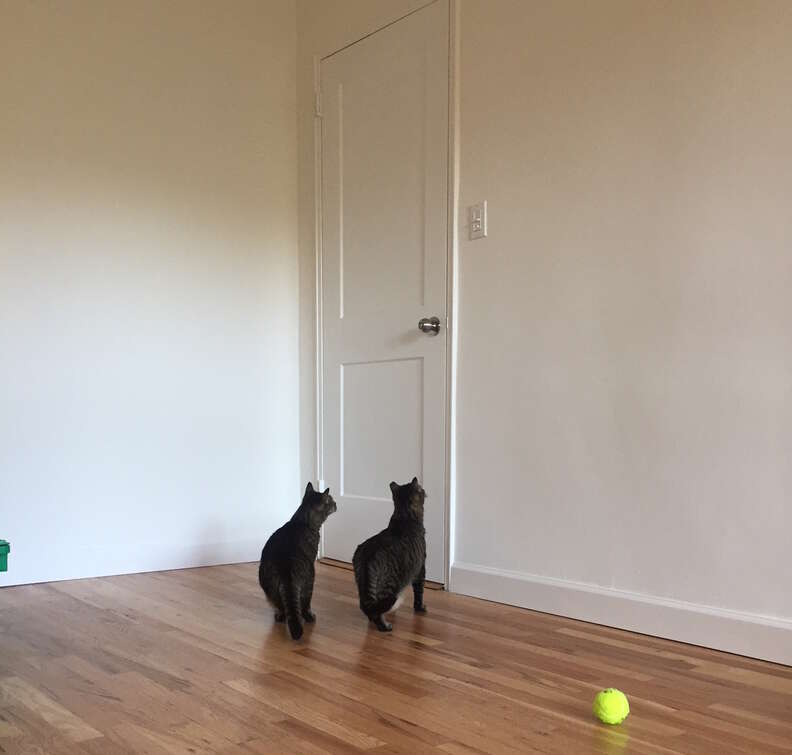 As anticipated, once the cats were introduced to their forever home, Lola was eager to explore her surroundings, while Lyla remained distrustful of the new humans in her life.
"Lola is more of an extrovert. She broke out of the room we were keeping them in after two days," Billy said. "Lyla, meanwhile, was afraid to leave her crate, and then hid under the sofa for weeks."
As time went on, the seemingly impossible happened — Lyla began to come out of her shell.
"We like to think Lola showed Lyla that it was OK to trust us," Billy noted.
Though Lyla is now able to show affection toward Billy and Megan, the bonded pair still depend on each other implicitly — especially during difficult or uncertain times.
"We recently moved apartments. When we first brought Lola and Lyla there, we drove them over in their separate crates and put them in a quiet room with toys and perches," Billy recalled. "When we went in to check on them, Lola had left her crate and was curled up in Lyla's. We were reminded how much they rely on each other, during what must have been a stressful time for them."
Lyla knew just what her normally adventurous sister needed, leaving the room where they were quarantined together first to smell and rub against everything in the new apartment. "We think Lyla used her smarts and realized that her sister, her furniture, toys and humans were still around and now feels confident enough to be the big sister," Billy added.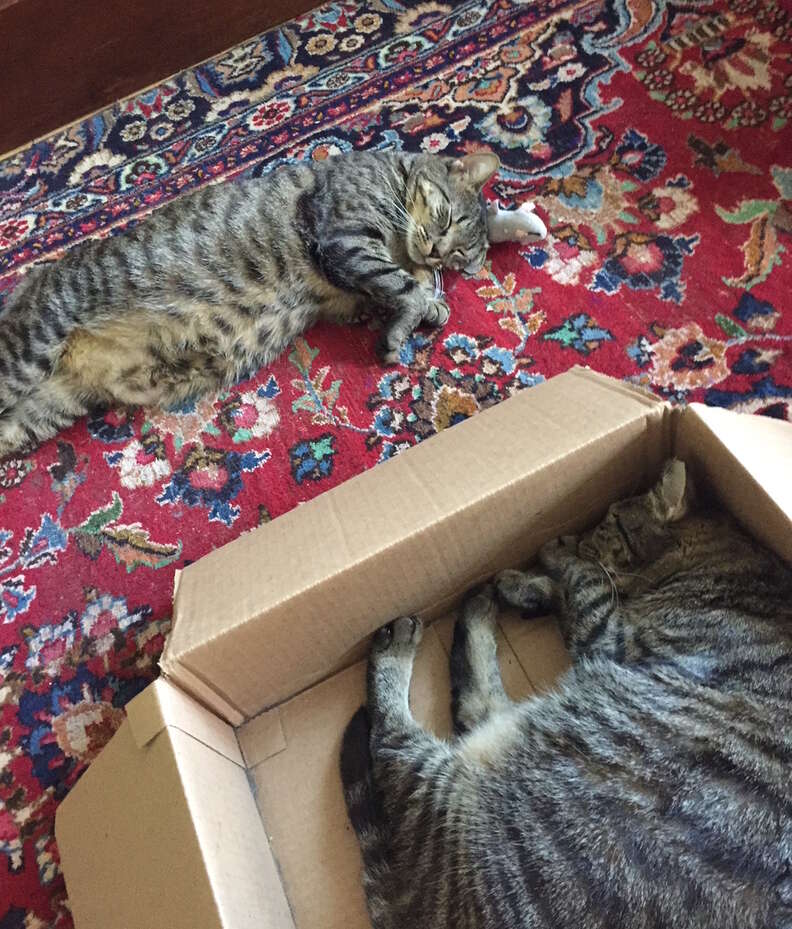 While Lyla is still more reserved than Lola, the two have settled in nicely, and Megan and Billy finally have the close and loving family they hoped for.
"Lola likes hanging out on the sofa, headbutting us and chirping for attention. Lyla likes checking out the new window views, soliciting scratches and chasing balls and wire toys around her new home," Billy added. "We enjoy their company and appreciate their trust and like to think we have a strong interspecies bond."