Mysterious Creature Passes By Reporter During Live News Broadcast
"There's some sort of creature below me ..."
This is Morgan Saxton, a skilled reporter for KUTV News in Salt Lake City, Utah.
As a journalist covering stories in the field, it's her job to shed light on the facts — but this week, Saxton encountered something she couldn't quite nail down.
And it all happened while live on the air.
Twitter/KUTVMorgan
On Wednesday morning, smack-dab in the middle of her report on some recent flooding in the region, Saxton found herself being approached by a shadowy figure emerging from the darkness. Breaking from her script, Saxton identifies the creature as a dog at first, but then second-guesses herself.
"I think it's a dog. I'm not sure," she said, trying her best to maintain composure, adding: "There's some sort of creature below me."
Here's video of that startling moment:
The mysterious, long-tailed creature walks uncomfortably close past Saxton before slinking away into some tall grass — and soon people watching began to speculate about just what kind of animal it was.
A dog? A mountain lion? Something else?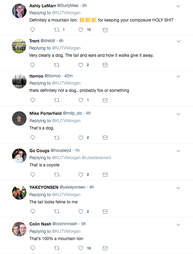 Twitter
Wildlife officials decided to weigh in on the subject, too — and even they were stumped by the footage.
Our biologists are trying to determine if the animal was a cougar. From the video, it's difficult to tell. We will visit the scene this morning and look for tracks or any other signs to help positively identify the animal.

— Utah DWR (@UtahDWR) October 3, 2018
Being the pro she is, Saxton decided to get to the bottom of this mystery.
She helped uncover paw prints from the animal in question — and they pointed to a pup as the likeliest culprit.
CANINE OR COUGAR? This is the paw print found in the mud after my live shot. @UtahDNR says the foothills are know for cougar sightings AND the way it walked it could have easily been mistaken for one. BUT they are 99% sure it was a DOG that stole the show! pic.twitter.com/KbTxFMVkqT

— Morgan Saxton (@KUTVMorgan) October 3, 2018
After more expert input, the question seemed settled.
It was a dog, after all.
Just wrapped up an interview with @UtahDNR - Scott tells me I had every right to think it was a cougar coming toward me. He's a biology expert and didn't know for sure (based on the video) what animal I could be. He says the proof is in a paw print 🐾 #2NewsAM pic.twitter.com/MFn4PAXDCf

— Morgan Saxton (@KUTVMorgan) October 3, 2018
As if that alone weren't enough to put a satisfying bow on the story Saxton hadn't been planning on covering for the day, she actually got to put a face on the dog who'd started it all.
"MYSTERY SOLVED," Saxton exclaimed.
Now THAT'S some good reporting.