Kittens Were Abandoned In Garbage Bag — Then Things Got Even Worse
"I am urging the person who took the kitten to get in touch and return him or her as soon as possible."
When a trash bag was left outside a stretch of shops in Birmingham, England, no one thought anything of it at first — until they noticed the bag was moving. A group of people went over to investigate, and found a mother cat and her three kittens snuggled up inside the bag, very confused and in need of help.
RSPCA
The kittens appeared to be only around 4 weeks old. One of the people who discovered the kittens quickly called the RSPCA, and a small crowd gathered to keep the kittens company while they waited for help to arrive. Boris Lasserre, an inspector with the RSPCA, got the call and headed out to collect the little family — but before he arrived, a member of the crowd grabbed one of the tiny kittens and ran away with him.
By the time Lasserre got there, the kitten was long gone, much to the distress of everyone involved.
RSPCA
"As if it wasn't cowardly enough that somebody left this mother cat and kittens in serious danger inside a bin bag on a busy street, it's completely shocking that another person took off with one of the tiny kittens just before I arrived," Lasserre said in a press release. "The kind people who waited with the kittens were also very upset and shocked. The kittens are only a few weeks old and need to be with their mother, it would be extremely difficult for somebody to hand-raise a kitten of that age without a lot of experience."
Since no one knew the person who took the kitten or had any idea where they could have gone, Lasserre had no choice but to take the mother cat and the remaining two kittens with him, and hope that whoever stole the kitten would eventually realize the error of their ways and return him.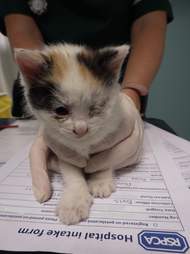 RSPCA
The little cat family was quickly rushed to the RSPCA Birmingham Animal Hospital. The vet who looked them over determined that they all suffered from fleas, worms and eye infections — making their rescuers even more concerned for the missing kitten.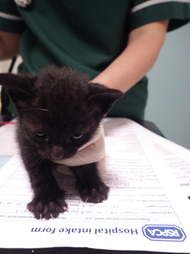 RSPCA
"It's very likely the stolen kitten is suffering with similar problems and will urgently need vet care, not to mention the care and milk from the mother cat," Lasserre said. "She is very loving and taking good care of her kittens, and I am urging the person who took the kitten to get in touch and return him or her as soon as possible."
In the meantime, the mother cat and her two kittens are doing incredibly well, and they will all go off to find loving forever homes once they are old enough.
If you have information about the missing kitten, please contact the RSPCA at 0300 123 8018.
To help other animals in need, you can
donate to the RSPCA
.