Woman Finds Her Large Cat Stuck In An Awkward Predicament
"He was confused, happy and proud that he had gotten himself up there."
Jenn Teeter was making breakfast for the children at Sprouts Montessori, a daycare center in Montana, when, out of the corner of her eye, she saw an orange blur fly through the air.
Teeter immediately identified the flash of fur as Loki, her mischievous 3-year-old cat.
"I see Loki jump from the shelf up into the hole and I'm like, 'He's not going to make it. He's already tried this once before,'" Teeter told The Dodo.
For years, Loki has been obsessed with the small hole in the kitchen doorway, left over from when the landlord removed a vent. But the cat had never been able to adequately explore it — until now.
Both Teeter and Loki were shocked when the cat's leap of faith from the art supplies shelf to the vent hole was successful.
"He was confused, happy and proud that he had gotten himself up there," Teeter said.
Though Loki was suspended off the ground, Teeter was confident that he was OK wedged inside his new perch when she saw his tail wagging happily. "Had he been in distress he would have been very vocal," Teeter said, "so I didn't see anything wrong with it."
The question soon became when — and how — Loki would get himself out of the predicament.
"He got up there all by himself so I knew he could get himself down," Teeter explained. "I just didn't want him to land on my daughter or the other students in the process."
Loki attempted to squeeze himself through the hole but the cat, who is on a special diet to control his ample weight, found that his large behind stubbornly remained on the other side of the wall. Eventually, he was forced to back out the way he came and inelegantly land on his feet.
Teeter posted the video to Facebook, where it has since racked up over 13,000 views. But, for her, it's just an average day with Loki.
"He's constantly getting into things to where we're trying to use tinfoil to teach him to get off of stuff he shouldn't be on," Teeter said. "[He] tends to get into something every day — whether it's eating our banana bread or a blueberry scone, getting into our clean towels and washcloths or messing with the art supplies."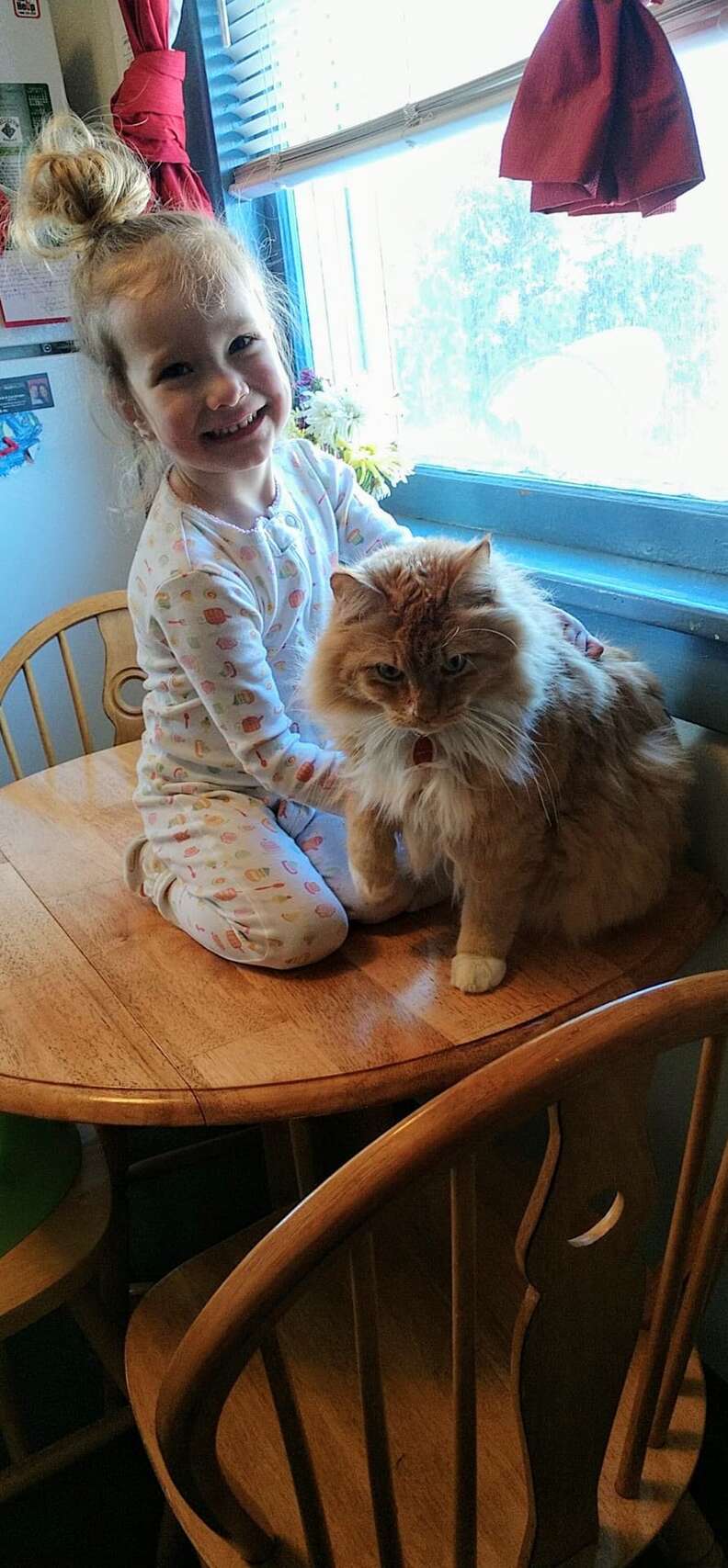 When it comes to the school grounds, the orange cat knows no boundaries.
"I had a parent go to the bathroom and get freaked out because he felt something touching his head," Teeter said. "It was Loki up above the shelf where the toilet is."
For Teeter, having Loki around the kids helps her students learn compassion and respect — even if he can be a handful.
"Loki is loving, silly, compassionate, very mischievous," Teeter said. "He definitely lives up to his name."
But, as to whether Loki learned his lesson about the vent hole: "He was on the shelf again this weekend," Teeter said, "eyeing the hole again."