After living in the shelter for 420 days, a Staffordshire terrier named Mona finally went home with a family. Unfortunately, it didn't last. The next day, the family returned Mona to the shelter because their other dogs didn't like her.
The day after that, Mona was adopted again — and returned again the very next day. This time, the problem was the family's young daughter, who turned out to be allergic to Mona.
"She was returned for no fault of her own, and that's what makes it a little bit more emotional," Brenda Arceo, adoption manager for The Animal Foundation, a shelter in Las Vegas, told The Dodo. "When we first saw her come back into the intake area, she was actually very happy and wagging her tail. But once she realized that she was back where she was, she kind of sat down and looked sad."
Back in February 2017, Mona's original family surrendered her when she was 5 years old. "Her former family had to move and they couldn't take her along," Arceo said.
Mona quickly became a staff favorite at the shelter, and everyone was certain she'd quickly find a new home.
"She's a little shy and timid when you first meet her, but once she gets to know you, she definitely does come around," Arceo said. "She loves getting kisses."
But sadly, Mona doesn't often get a second glance at the shelter, Arceo explained.
"She's a little bit on the shy side … and she likes to hide in the backyard portion of her kennel, so people don't ask to take her out," Arceo said.
Potential adopters have also told shelter staff that Mona is "too old," "not affectionate enough" and "not pretty," according to Kelly Leahy, communications manager for The Animal Foundation.
"We tried to refute those myths in short videos on Facebook," Leahy said. "We show her being affectionate and wonderful, and looking active and certainly not an old dog."
The next time a family decides to take Mona home, the shelter staff want to make sure it's truly a forever home.
"An active family would be good for her since she does enjoy walks," Arceo said. "It would obviously have to be a family with no other dogs since she's so picky with who her doggie friends are," Arceo said. "The last family had small kids, and she loves them … so I think she would do well in a home with a family that has children."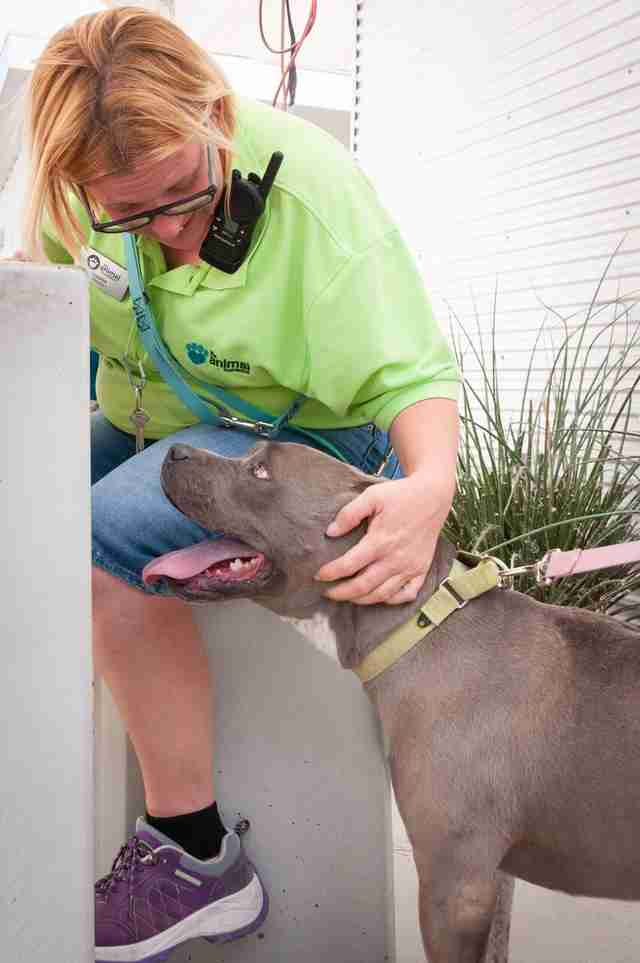 Arceo is sure of one thing — anyone who gives Mona a chance will fall in love with her. "She's so loving, and she wants to be loved," Arceo said. "I think that's my favorite part about her. She's a great dog, and she definitely deserves a loving family."