Daughter Tricks Mom Into Thinking This Adoptable Dog Was Just A Sandwich
"I knew once she saw him she'd be fine and love him!"
Sometimes, arriving to a real-life happy ending requires just a bit of fiction along the way.
Kelsey Johnstone lives in Texas with her family and their dog Oliver. Recently, she'd been thinking about how nice it would be to welcome another canine companion into their home, but Johnstone's mother was less than enthusiastic about that idea.
So, in order to get her mom's approval, Johnstone knew she'd have to get creative.
Then she heard about this: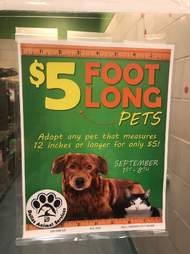 Twitter/_kelseygracee
As part of a week-long adoption drive, the Dallas Animal Services and Adoption Center is offering a discounted rate for folks interested in adopting a shelter pet. The offer is being promoted under the slogan "$5 Foot Long" — exactly how a sandwich place might advertise a special deal.
The similarity wasn't lost on Johnstone.
She grabbed her phone and sent her mom this text: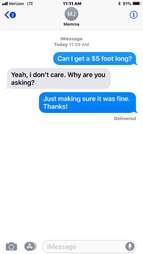 Twitter/_kelseygracee
Well, that was easy. The trick had worked.
Mom was now on board, albeit on a technicality — and with that, this adorable dog named Bentley was homeless no longer.
"She didn't want me adopting another dog right now, but I knew once she saw him she'd be fine and love him!" Johnstone told The Dodo.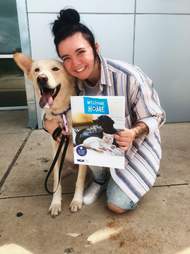 Twitter/_kelseygracee
Johnstone was right. Here's how her mother reacted upon realizing that the "foot long" wasn't actually a meal:
"She was in shock, but once she saw Bentley she thought he was adorable and loved him!" Johnstone said.
After all, Bentley is much sweeter than any sandwich.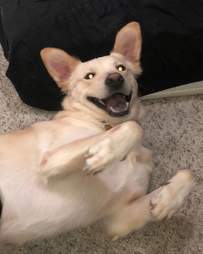 Twitter/_kelseygracee
While Johnstone's method of getting Mom's approval did work out in the end, hopefully a more straightforward approach would work on other reluctant parents.
"Tell them to let them know the perks of adopting," Johnstone suggested. "You're giving an animal a new forever home and it's amazing to see their personality change and light up."
If that's not enough, here are 10 more reasons why adopting a rescue dog is awesome.