Mom Checks Baby Monitor And Sees The Cutest Thing Ever
That's definitely not a baby 😂
From the moment his mom got pregnant and her belly started to grow, Drake the cat was obsessed with his future little sister. He used to love rubbing up against his mom's pregnant belly and liked to sit in his little sister's bassinet, warming it up for her before she arrived. He watched over his mom anxiously until, finally, the day arrived. Six months ago, his little sister Alina was born.
"Once she was born he was a bit unsure at first, but after a few weeks he decided he loved her and hasn't looked back since," Cassie Carter, Drake and Alina's mom, told The Dodo.
After getting used to the idea of having a baby around all the time, Drake fell in love with little Alina, and made it his mission to be around her all the time. He loves watching over his new best friend, no matter where in the house she may be. Whether she's getting ready for an adventure …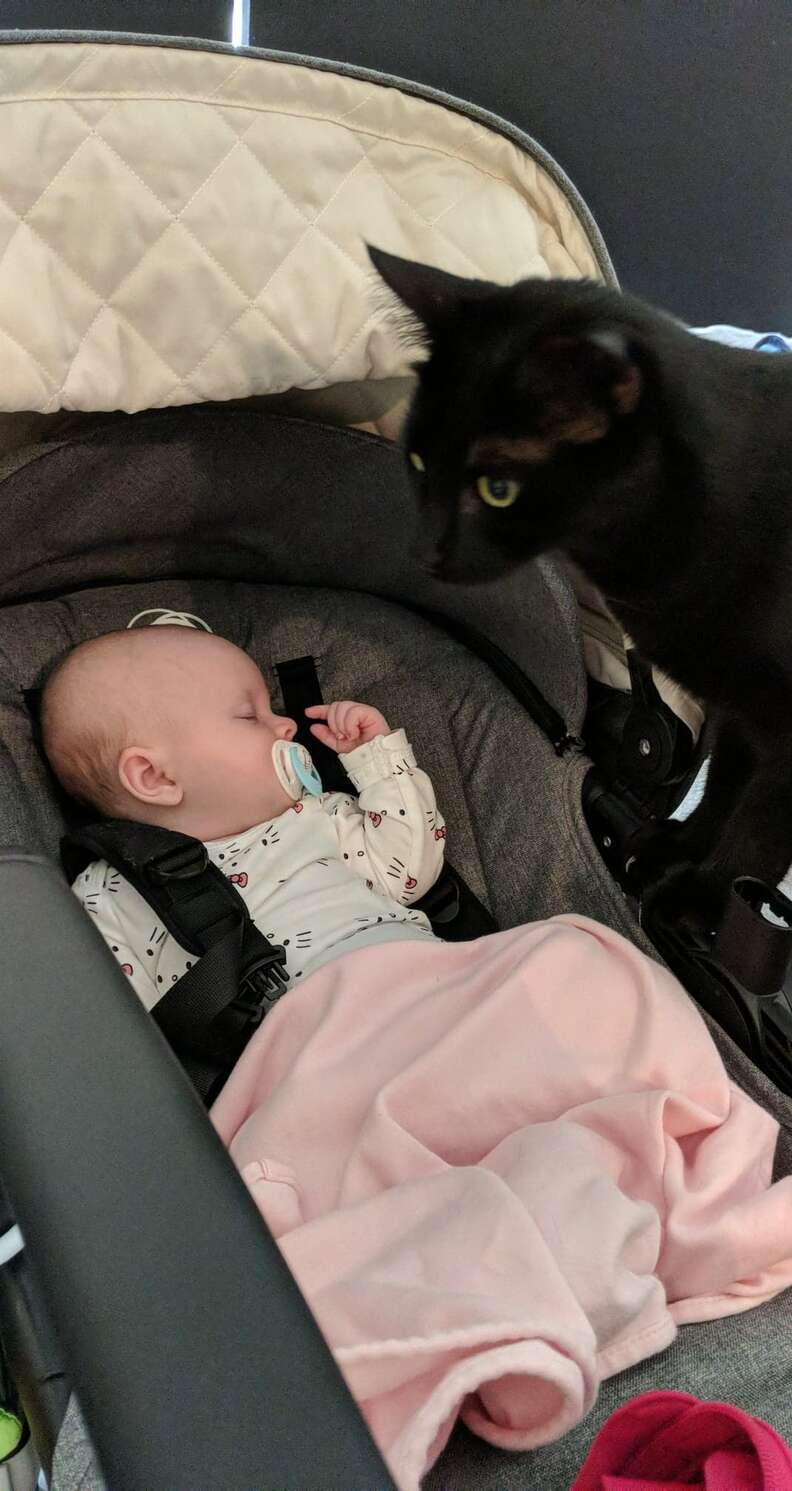 … or even when she's in the bath, Drake is always there.
Even when Alina is hanging out in her bed, resting or taking a nap, Drake sometimes likes to climb in there with her …
… and one day, Carter noticed that Alina wasn't the only adorable thing appearing on the screen of the baby monitor.
There were times where she could only see the tips of Drake's cute little ears appearing on the screen …
… but once he realized the monitor was there, it was a whole other story.
"Drake just thought it was a new thing to sniff and check out," Carter said. "Plus the green blinking light and the noises it makes are fun to experience, apparently. Lately he's found out that I'm on the other side and I talk to him through the walkie-talkie function a lot."
Drake loves hanging out with Alina in her bed pretty much all the time now, so the baby monitor is a great way to check up on them and make sure they're both doing OK.
"Alina doesn't really care that he's in there," Carter said. "She stays down one end and Drake has his blanket in his half. They both sleep so well in there. I find him in there daily, but he's not allowed to sleep in there overnight."
Drake and his other cat siblings absolutely adore their new baby sister ...
... and can't wait to continue to play with and watch over her as she grows up.