2 Little Dogs Trapped By Lava Flows Are Saved Just In Time
Their mom thought she'd never see them again — but rescuers wouldn't give up 👏👏👏
Carol Hosley thought she'd lost everything.
A resident of Puna, Hawaii, her home and possessions were destroyed just days ago by the ongoing Kilauea volcano eruption. Worst of all, her two dogs, Brus and Little Dude, had vanished.
Ten days ago, Hosley woke up at 2 a.m. to an emergency crew banging at the door. The earth near her Leilani Estates apartment had cracked open, and the vent had started spewing black lava and sulfur dioxide gas. The firemen demanded that she evacuate immediately.
As Hosley hurriedly packed a few belongings, her rescue dogs were equally terrified — but for a different reason.
Brus had a nervous temperament, especially around men, which had made it challenging for the local shelter, Aloha Ilio Rescue, to place him in a loving home. But after two years in foster care, he had finally found his "perfect situation" with Hosley.
But that night, the strange men entering the house spooked Brus, and, unaware of the danger that awaited him outside, the little dog ran out the door. Little Dude quickly followed behind his frightened friend.
But with the emergency crew rushing to evacuate everyone, Hosley couldn't stop to look for the dogs. "[The firemen] weren't willing to wait," Aloha Ilio Rescue wrote on Facebook. "And she is in her 70s. She had to leave."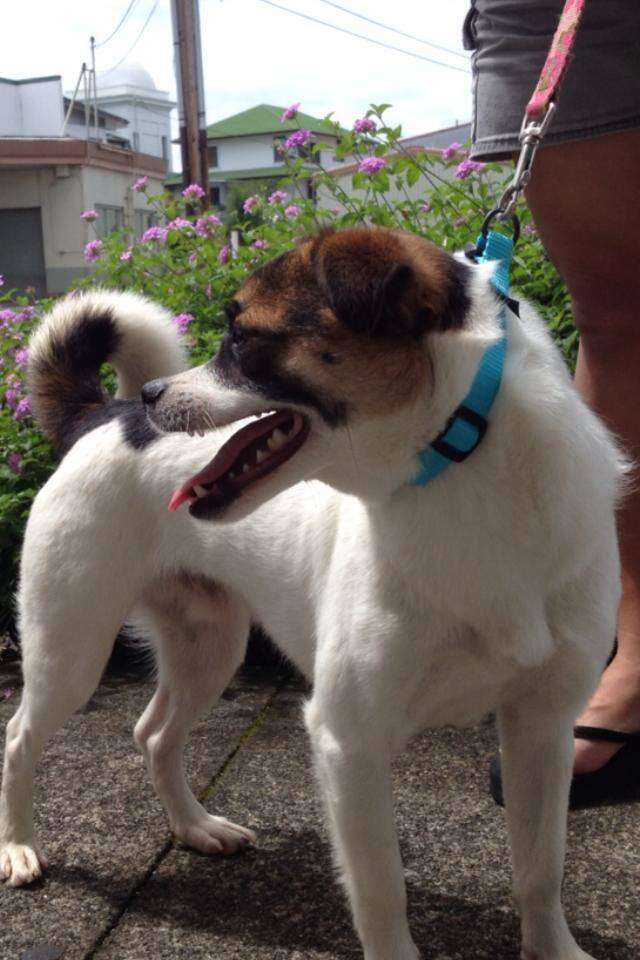 But when Daylynn Kyles, president of Aloha Ilio Rescue, found out Brus was lost, she became determined to find him and return him to the arms of the owner he had waited so long to find.
Despite the life-threatening conditions, volunteers from Aloha Ilio took turns searching the deserted neighborhood, skirting the lava flows that blocked entire roads and each new crack that opened in the ground.
"We left a crate and food for him. There are fresh footprints, his size, on Luana Street in the mud," the rescue wrote on Facebook Friday, May 11. "If you see him PM us. Women only. He is terrified of life as it is ... men sends him over the top."
After days of fruitless searches, the dogs were presumed dead — but that didn't stop Kyles. "We've been looking for him for 10 days, and we've just kept going back," Kyles told Hawaii News Now.
On Sunday, Kyles returned yet again to the nearly abandoned section of the island, this time with two of her female friends. In the distance, the sound of lava bombs filled the air.
That's when they finally spotted them — trapped between a fence and a cooling lava flow.
"They were stuck behind a fence, and couldn't get out because of the lava that surrounded them. It was crazy," Kyles told Hawaii News Now. "We just knew this dog was probably just terrified."
The rescuers used a machete to carve a path through the jungle-like growth to free the two little lost dogs, who were covered in red ant bites.
"Tanya crawled into a hole in the bush most likely made by feral pigs and saw Brus and Little Dude hunkered down along a fence surrounded by lava," Donna Pacheco, vice president of Aloha Ilio Rescue, told The Dodo. "When the dogs heard them they started barking. Tanya climbed the fence and handed the dogs off to Kerry. They then headed out of the bushes."
The team rushed to reunite the two frightened dogs with their mom. Now that they're back with their family, the two pups are healing, and their mom is over the moon to have them back.
"I'm just thrilled to death, I just couldn't be happier," Hosley told Hawaii News Now. "The other stuff is stuff, but I got the dogs."
For now, the little dogs are back at Aloha Ilio Rescue until Hosley finds housing, but the miraculous reunion has brought everyone a little light in a difficult time.