Dog Goes Missing While Out On A Walk — And Turns Up In The Strangest Place
"There was a noise and she ran off ... It was the absolute worst thing ever."
Around 6 a.m. on Tuesday morning, Purdy the dog and her family went out into a nearby field for their usual morning walk. Purdy was running around the field with her other dog siblings when suddenly, she heard a loud noise. The noise spooked her so much that she ran away — and the field was so foggy that her dad had no idea where she went. He searched and searched, but Purdy was nowhere to be found.
Some neighbors reported seeing Purdy, and they thought she may have been hit by a car before running off again. Her family feared the worst, but kept searching and hoping that she was OK.
"There was a noise and she ran off," Mark Hall, Purdy's dad, said in a press release. "It was really foggy and I couldn't see her, I was shouting [for] her but couldn't find her. I took the other two home and looked all over. We heard she'd been run over. It was the absolute worst thing ever."
The ravine where Purdy was found

| RSPCA
Hours later, a man was out walking near a ravine when suddenly, he spotted something white and furry huddled deep down in the ravine. He leaned in for a closer look — and quickly realized it was a dog, desperately in need of help. Poor Purdy had somehow gotten herself stuck down there, and had no idea how to get out on her own.
Not knowing what to do, the man contacted the RSPCA in hopes that someone there would be able to help. Inspector Sarah Bagley drove out to the ravine and began trying to figure out the best way to get Purdy out of there, but unfortunately, it wasn't at all an easy task.
"It was pretty tricky to get her out of there and I tried all sorts [of things]," Bagley said in a press release. "I attempted to encourage her up the embankment but it was just too steep, and when I went to pick her up she wanted to run away."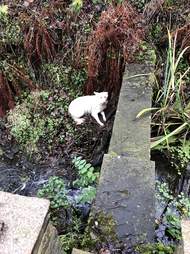 RSPCA
Since Purdy was so scared, Bagley knew there was no way she would be able to get her to climb out of there on her own, so she decided to improvise.
"In the end me and the man who spotted her fashioned a sling out of some towels I had in my van — putting one behind her front legs and one behind her back legs — and carried her up between us," Bagley said.
As soon as she was out, Bagley scanned Purdy for a microchip, and before long was able to reunite her with her worried family, who were absolutely thrilled to have her back at home with them safe and sound.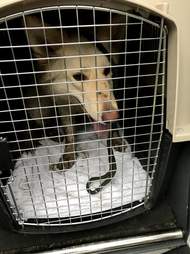 RSPCA
"It was the worst five hours of my life," Liz Hall, Purdy's mom, said in a press release. "It just shows the importance of microchipping. The RSPCA had Purdy home literally within minutes of her being scanned."
While Purdy was a little shaken up, within a few hours she was completely back to normal. Luckily, she wasn't injured at all during her ordeal, and her entire family is so thankful to everyone who helped bring her back home.