People Hear Cries For Help Beneath Recently Poured Cement
"It's crazy that he's still alive, but I'm so happy."
When Meike Vielsack's beloved cat, Jimmy, went missing from her home in Germany last month, she feared she might never see him again.
Two weeks passed with no sign of him at all.
Meike Vielsack
"He's usually outside for no longer than a few hours," Vielsack told The Dodo. "After two days, we started hanging flyers, putting a post on Instagram and asking neighbors whether they could take a look to see if they accidentally locked him in somewhere."
Turns out, Jimmy wasn't far away — but he was in a place no one would ever think to look.
Defense Logistics Agency
Right around the time of Jimmy's disappearance, Vielsack's neighbor down the street had had a new concrete floor installed in his garage. Not long after, the neighbor began hearing a strange sound at night — the sound of faint meowing cries coming from somewhere outside his home.
The connection wasn't obvious at first. But he eventually pinpointed the source of the sound.
It was coming from underneath the new concrete slab.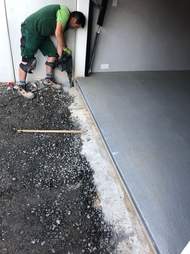 Meike Vielsack
On Monday, the neighbor called the police for help; they heard the meowing, too. The neighbor then called Vielsack.
"He told me that there is a cat stuck under his garage, and as he knew that mine was missing he already guessed that it could be him," she said.
Soon, a rescue operation was underway.
Polizei Karlsruhe
Vielsack knew right away it was Jimmy.
"I was there and he started to meow," she said. "I immediately recognized his voice."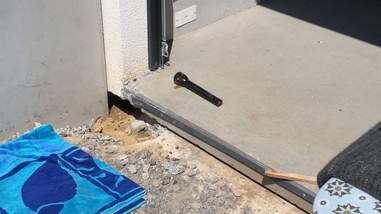 Meike Vielsack
There's a cavity that runs along the rim of the concrete slab, but how Jimmy ended up sealed within it is anyone's guess.
"I'm pretty sure he hid from the workers or was busy looking for a mouse," Vielsack said. "Then they put the earth and foundation at the rim so he was stuck."
Polizei Karlsruhe
Fortunately, it didn't take long to open up a hole in the concrete wide enough for Jimmy to squeeze through, but the weakened and traumatized cat needed some convincing after all he'd been through.
Here's a video of Vielsack trying to coax her kitty out:
"He was afraid at first but eventually he came out after about 10 hours of waiting," Vielsack said. "I was really scared that I would have to watch him die in there."
Fortunately, Jimmy did make it out — and a trip to the vet confirmed that he'd survived the ordeal relatively unscathed; he had lost quite a bit of weight, however.
But he still looks regal as ever, as you can see.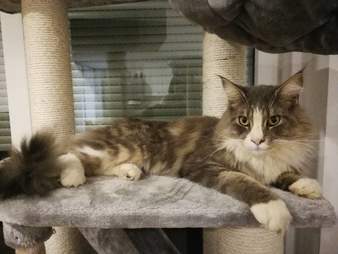 Meike Vielsack
Now Jimmy is back home where he belongs — and Vielsack couldn't be more relieved.
"I think that was the saddest two weeks of my life," she said. "It's crazy that he's still alive, but I'm so happy."