Dog Found In Cage With Crooked Legs Has Such A Different Life Now
He won't let anything hold him back.
Kelly O'Meara's heart went out to each and every dog she saw on the farm in Yesan, South Korea, where dogs were being raised and slaughtered for their meat.
"The dogs live day in and out in these small, elevated metal bar cages, and you can imagine what that metal feels like in the winter when it's freezing," O'Meara, senior director of companion animals and engagement for Humane Society International (HSI), told The Dodo. "And that's all they have — they have absolutely nothing inside these cages that would equate to enrichment of any kind."
The dog meat farm in Yesan, South Korea

| HSI
Since May, HSI has been communicating with the owner of this dog meat farm. He recently agreed to shut down the farm and never sell dog meat again, and in return, HSI will help him start a new career.
"We're in the process of working with him to transition," O'Meara said. "He thinks he is going to grow crops."
HSI
Last month, the dog meat farm finally closed down, and a rescue team from HSI arrived to move the 130 dogs, as well as two kittens, to the U.S.
One dog in particular caught O'Meara's eye — a mastiff named Minsu with badly deformed front legs.
Minsu in his cage at the dog meat farm

| HSI
"Your heart goes out to all of these dogs when you're interacting with them because it's just a miserable existence," O'Meara said. "But with Minsu specifically, you feel that much worse for him because of his legs being so obviously deformed."
Minsu's bent front legs are probably the result of a genetic defect, although O'Meara is sure the living conditions didn't help.
An HSI team member petting Minsu in his cage

| HSI
"It was probably exacerbated by him having to live on these metal bars ... day in and day out," O'Meara said. "We're not sure if there's pain associated, but we assume there was because he had to grow within that cage, and, of course, they hardly get enough food to get by."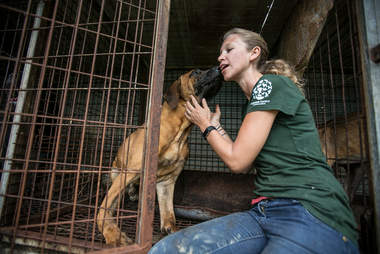 HSI
But once Minsu stepped out of the metal cage, his life changed forever. He was vaccinated and flown to the U.S., and he's currently in foster care with Mastiffs to Mutts Rescue in Pennsylvania.
HSI
Initially, Minsu found it difficult to adjust.
"He was awfully confused," Peg Benoit, founder and rescue coordinator for Mastiffs to Mutts Rescue, told The Dodo. "The first house he was in, he howled all night long for seven straight days. I don't know if it was because of the time difference in Korea or what. Sleeping with him didn't help; crating him didn't help; not crating him didn't help."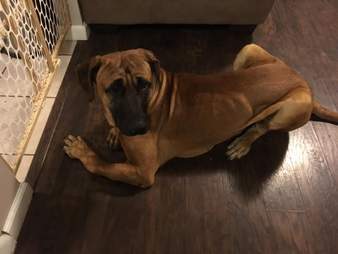 Mastiffs to Mutts Rescue
Minsu also seemed terrified of blankets.
"He would avoid the blanket — it was like he had a snake in his room with him," Benoit said.
Mastiffs to Mutts Rescue
But when Minsu moved to another foster home, things started to look up — and he finally figured out how to sleep on a blanket.
"He's doing beautifully," Benoit said. "Hopefully [they] will end up falling in love with him and adopt him."
Minsu with his foster dad

| Mastiffs to Mutts Rescue
Minsu is also getting the surgery he needs to repair his deformed front legs. The vets will actually have to break the bones in his legs and reset them, and he will have a three-month rehabilitation process, Benoit explained.
Mastiff to Mutts Rescue
But Minsu isn't letting his medical issues stop him from enjoying life.
"He's just sweet," Benoit said. "He was certainly worth saving."
It's estimated that 2.5 million dogs are slaughtered for their meat each year in South Korea. While dog meat is eaten year round, much of it is consumed during the "Bok Nal" festival that occurs each summer.
Mastiffs to Mutt Rescue
However, things may be getting better for dogs in South Korea — recently, South Korea's newly elected president, Moon Jae-In, adopted a dog rescued from a meat farm, which has helped raise much-needed awareness about the dog meat industry.
To help HSI rescue more dogs from meat farms in South Korea, you can
make a donation
.