Cascade the husky was born to a breeder who, upon realizing she had special needs, brought her to a vet clinic to be euthanized. Luckily, the vet convinced the breeder to surrender Cascade — who was just 7 weeks old at the time — to a rescue, giving the little husky a second chance at life.
Cascade was taken in by K9 Rescue and Rehoming, and everyone there immediately fell in love with the unique little puppy. After examining her, it was determined that Cascade has a spinal issue causing a few of her vertebrae to fuse together, but the cause of this issue is still unknown.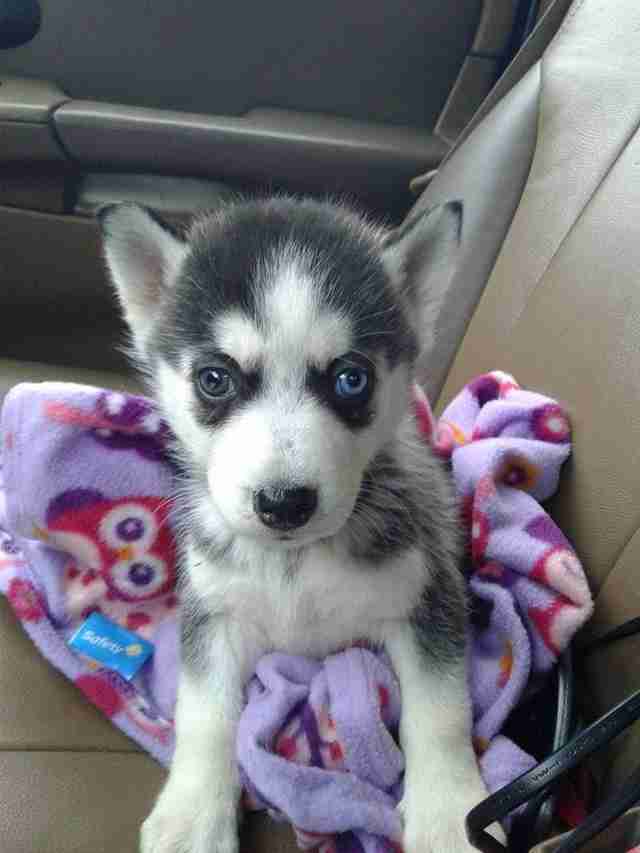 "We don't know if she was born this way or if it was from an injury early on," Kathryn Horski, Cascade's foster mom, told The Dodo. "She had difficulties walking at first and had to wear leg braces for a few weeks as she gained strength in her legs. She is now out of those, although will likely always be on the slightly clumsy side with a funny gait due to the injury."
Due to her issues, Cascade is much, much smaller than a typical husky, and likely always will be. She is also missing her tail and is incontinent, and therefore has to wear diapers at all times, for the rest of her life, to prevent accidents. Her foster mom likes to dress her in cute outfits to keep her diapers on, and between her tiny size and adorable getups, Cascade is definitely one of the cutest dogs around.
"She's very solidly built, but mini in stature," Horski said. "She still looks like she could be a 4-month-old puppy standing next to my personal husky."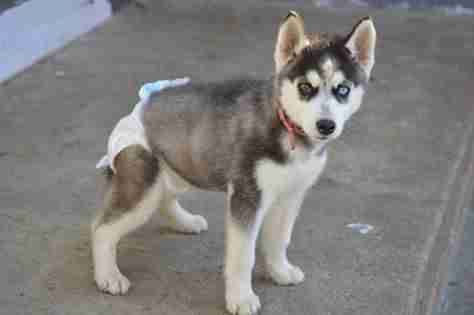 Despite all of her differences, Cascade's personality is just like that of a typical husky. She loves to run and play with anyone who's willing, and has never let her issues stop her from doing anything she sets her mind to.
"Like any husky, she is a bundle of energy and always on the go," Horski said. "She is very smart and always trying to figure things out. She likes to get anything and everything to play with her."
While she can't really jump because of her spinal injury, Cascade can still run and climb fast and far. She loves splashing in mud puddles, wrestling with her cat foster brother, hiking, swimming, kayaking and everything in between.
Cascade's personality is just like that of any puppy, but she does still have issues that her future family will need to be prepared to deal with. She has to have her diapers changed frequently, about six or seven times a day, and she does occasionally need help doing certain things. Other than that, though, she's just a sweet, curious little puppy who wants to find a family to love.