Dog Hasn't Found A Home In 2 Years Because She's Scared Of Strangers
"Once she's with you and trusts you, she's like the best dog in the world."
Mimi has all the qualities people want in a dog. She's playful, loyal, very affectionate — and she knows how to strike a good pose for an Instagram photo.
"She's just so sweet," Emily Derenze, rescue coordinator at Town of Hempstead Animal Shelter in New York, told The Dodo. "We're all in love with her ... because she's spunky, but she's also really calm. She's just the perfect mix of everything a dog should be."
Mimi, a 9-year-old pit bull, has been living at the Town of Hempstead Animal Shelter for the past two years. The thing holding her back from finding a home is that she gets scared of strangers. In fact, this is what caused her to end up in a shelter in the first place.
"She was surrendered to the shelter by her owners … for a behavior issue," Derenze said. "She's got stranger issues. She's wary of new people … and that's probably what she was experiencing in the home."
"So many people comment and say, 'Why is she still here? She's so cute,'" Derenze added. "But she doesn't always make a good first impression and doesn't show well for the kennels. So she's passed over — over and over again — if somebody walks by."
Mimi's stranger issues would be totally fixable with a little training, Derenze said. All she needs is the right person to give her a chance.
"She is easily corrected, so I think someone can work with it and help her get better," Derenze said.
Mimi may be wary of new people, but once she gets to know you, she's very friendly, Derenze said. And everyone who works or volunteers at the shelter, including Derenze herself, has fallen in love with Mimi.
"I have an album on my phone with 455 pictures of her," Derenze said. "There's just something about her. There's over 150 dogs in this building, and she's the one dog that I'm just totally in love with."
Mimi enjoys playing, but she also values her sleep and relaxation.
"She has spurts of energy, but she also wants to lay around, which I think is awesome," Derenze said. "Because she's older, and she doesn't need to go for 5-mile runs each day — she just needs a loving home just to let her chill."
When Derenze leaves for the day, it's always difficult for her to see Mimi alone in her kennel, and she tries to make Mimi as comfortable as possible.
"I set up her bedding and just sit with her … but it just sucks," Derenze said. "She's been there for so long, and it just breaks my heart."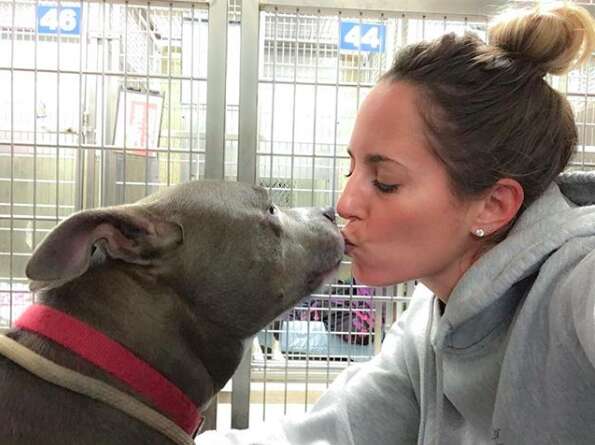 The best family for Mimi would be one with adults only, and possibly with other dogs, whom she really seems to like. It's also important that someone local adopts her.
"She needs a local adopter — local, as in, if you're willing to do the drive to us several times because she really needs to meet you and go slowly and make sure that she likes you," Derenze said.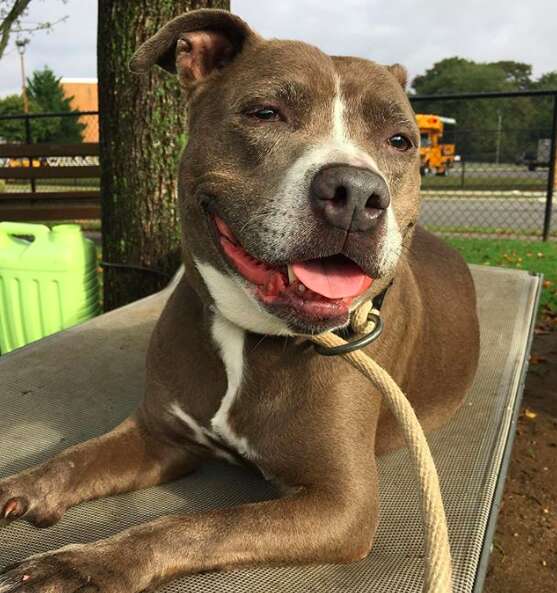 The person who does end up adopting Mimi will have a friend for life. "Once she's with you and trusts you, she's like the best dog in the world," Derenze said.