18 Dogs Trapped In Hoarder's House Can't Believe Someone's Helping Them
"Nothing could have prepared us for what we found."
When rescuers entered the tiny home in Alexandria, Indiana, earlier this week, the stench of ammonia clouded their lungs.
Dogs that looked like huge clumps of matted fur scurried across the floor. Other, younger dogs couldn't stop shaking. And one dog, who was paralyzed, was left lying in a pool of his own waste.  
The Animal Protection League of Indiana has worked on hoarding cases before — but this was unlike anything they'd ever seen.
The Animal Protection League of Indiana
"We never know what to expect when we get these calls, but always try to prepare for the worst," Maleah Stringer, director of the rescue, told The Dodo. "Nothing could have prepared us for what we found."
Inside the tiny home were 18 flea-infested Shih Tzus, some matted beyond recognition. They were living in a mess of their own waste, and had clearly not been groomed in months or years. It's unclear whether they had access outdoors.
The Animal Protection League of Indiana
Rescuers later learned that one of their owners had gotten sick and didn't have funds to care for the dogs. Over the years, the dogs were neglected and their condition got worse and worse. The paralyzed dog had wounds and an infection covering his body, which someone had wrapped in duct tape.
Stringer and the other rescuers knew he was far too sick to recover.
"We were all feeling compassion for the owners, as well as the dogs, until they brought the last little guy out," Stringer said. "I spoke with the owner; he admitted they should have taken him to the vet. I had to walk away."
The Animal Protection League of Indiana
Once the rescuers got each dog to the shelter, they began the slow process of shaving the thick mats away from each dog. The dogs ranged between 8 months and 12 years old — meaning, for some, this life was the only one they'd ever known.
"It took more than an hour to shave one dog," Stringer said. "The mats had just been there for so long. A lot of their fur was hardened from all the filth."
The Animal Protection League of Indiana
While they hadn't received much grooming or veterinary care at their previous home, most of the dogs are still as sweet as ever. Everyone sat politely during their haircuts — without even a snap or growl of discomfort.
"We were all really surprised how well-behaved they were," Stringer said. "Aside from a few, they're really sweet and friendly."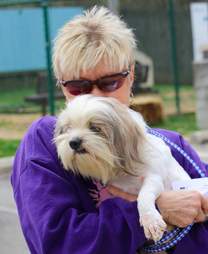 One of the dogs with a staff member after her body was shaved

| The Animal Protection League of Indiana
Unfortunately, some of the older dogs are still showing signs of emotional trauma and anxiety. But with a bit of time, in experienced foster homes, Stringer is confident they will start to come out of their shells.
Another potential issue the dogs may face is housebreaking.
"They've grown up going to the bathroom all over the house, so they will definitely take a lot longer to be trained to go outside," Stringer said. "Our experienced fosters will start working with them on that."
The Animal Protection League of Indiana
In addition to the fleas and matted hair, many of the dogs are unaltered and need dental work. The rescue is currently reviewing adoption applications for the dogs, and once they're health-cleared, they will be ready to find new families. But for now, they're slowly getting settled into foster homes.
While many aren't out of the woods just yet, the rescue has already improved their lives so much. One of the younger dogs, Piper, was well enough to be adopted out this week to a friend of Stringer's.
Piper going home with her new mom

| The Animal Protection League of Indiana
And soon, the rest of Piper's family will find the same happiness.
"I could have never dreamed that these pretty little dogs were under all that mess," Stringer said. "It was overwhelming. In hoarding situations, we find ourselves sad for the animals and furious at the people who let it happen. It's not unusual to see staff and volunteers crying silently while they do their work ... I am so proud of my staff and volunteers, as well as thankful to everyone who donated for their care."