When Lhasa apsos Chewy and Moo showed up at Main Line Animal Rescue (MLAR) in late October, rescuers couldn't believe the shape they were in.
After being abandoned in a home for months, both dogs had hair mats so thick that veterinarians couldn't even examine them until they were groomed first. Their nails were overgrown to the point of being inches long and their skin was riddled with an untreated infection. The mats were the worst on 13-year-old Chewy's face — they'd completely grown over his eyes, trapping fluid and bacteria underneath.

"They smelled so bad that they had flies following them around," Russ Stewart, development coordinator for MLAR, told The Dodo. "Some visitors saw them on their first day here and didn't think that we'd be able to save them. We've developed a reputation over 20 years of taking in the tough cases — animals who were very sick, very old or who needed a lot of time and resources — but Chewy and Moo were definitely two of the worst when they arrived. "
Luckily, the pair, who were also father and son, were in the right hands just when they needed it the most.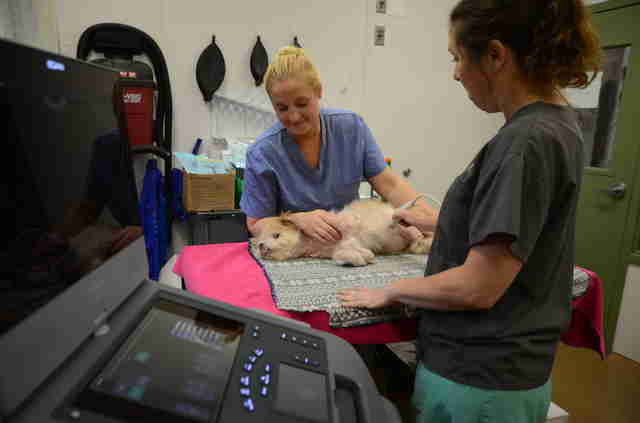 After being shaved down and bathed, the dogs began medical treatment at the rescue's clinic for a variety of their skin, ear and teeth conditions. Moo had a tumor on the bottom of one of his paws, which was removed and found to be non-life-threatening. Rescuers also worked on getting the dogs' body weight up since they were both underweight.
When the dogs started feeling better, rescuers started taking them on short walks every day to build up their strength. Because Chewy, the father dog, is almost completely blind as result of the heavy matting that was on his face, Stewart said, they would usually hook him to his son's leash to let him lead the way. By the time a few weeks had passed, Chewy and Moo had completely transformed — and were ready for a new home, together.

"We honestly weren't sure how we would get them adopted, but we just knew that we couldn't say no to [helping] them," Stewart said. "At first it didn't seem like they were going to make it much longer and we were hoping to find a medical foster for them. Some vet care and love went a long way though, and they came back around."
Despite Stewart's concerns, Chewy and Moo found a new family in record time. Tara Flynn, of Collegeville, Pennsylvania, saw their photos in an email newsletter from the rescue and knew she had to go visit them.
"We went to see them on Saturday and fell in love right away," Flynn told The Dodo. "We were very impressed with their upbeat and positive behavior and their lack of reticence in dealing with people, especially given how they were previously treated. They came home with us that day."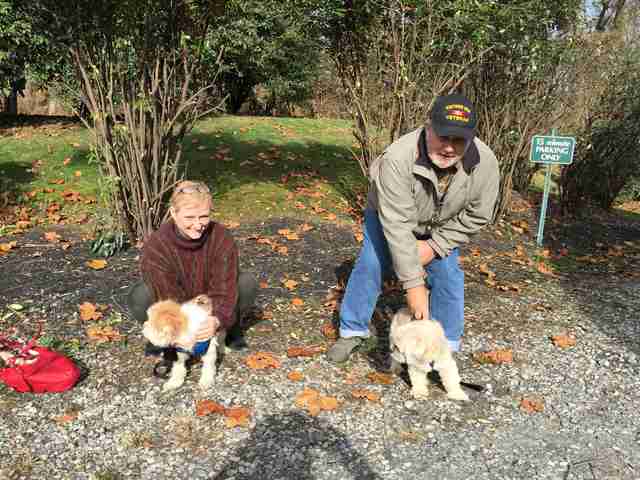 Flynn is quite familiar with adopting senior dogs, and even rescued two a little over a year ago from the same shelter.
"We look for the very senior dogs who are not wanted by most adopters, and we have an especial soft spot for the hard-luck cases," Flynn said. "We provide a very comfortable and loving home for our dogs and work hard to turn around their experiences with humans to positive ones."
And that's just what they're doing. At their new home, Chewy and Moo have three new dog siblings to spend time with and plenty of comfortable spaces to rest, including their new favorite spot: their humans' laps. While they have only been home a few days now, Flynn said both have seemed very comfortable, curious and even playful.
"All I can say is that Tara and her family are the kind of people who restore your faith in humanity," Stewart said of Chewy and Moo's new home. "They're the type of people who can't wait to help those in need."