Matted Senior Pup Dumped At Shelter Is Like A Whole New Dog Now
"It's almost like she's a doe with her skinny legs learning to walk for the first time."
Shelter workers at Animal Haven, an animal rescue in New York City, had dealt with cases of neglect before — but when Astrid entered the shelter earlier this month, they were shocked by what they saw.
The 10-year-old Maltese mix's once-white fur was matted and filthy. Her little paws were so caked in waste that her overgrown, curling nails could barely push through, making it painful for her to walk.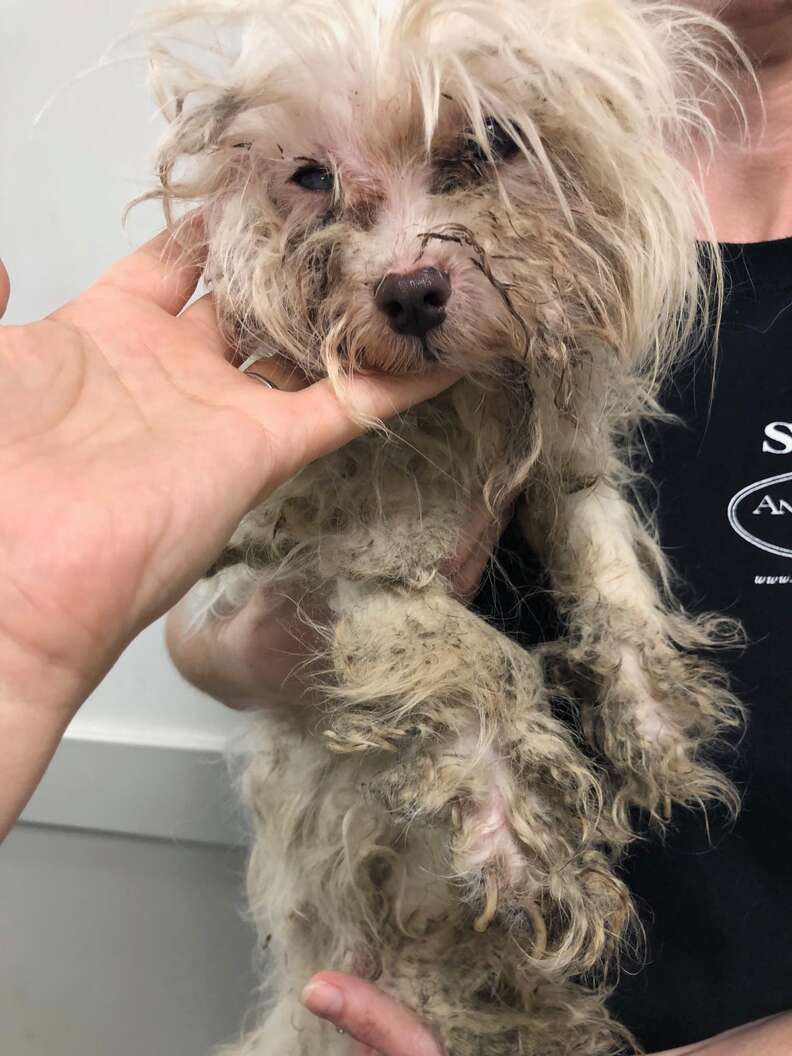 Animal Haven
How long Astrid had been kept in such a horrific state was unclear, and the person surrendering her didn't have any answers.
"She was brought in by someone who seemed to be a homeless person claiming that a family member had died and left him the dog," Tiffany Lacey, executive director of Animal Haven, told The Dodo. "The human was in terrible shape as well as the dog, so we took Astrid in on the spot."
Animal Haven
At the shelter, Astrid seemed confused and unsure what to do.
"She was covered in mats and spinning in circles," Lacey said. "We are afraid she was left in a small confined area for long periods of time."
Animal Haven
After a trip to the vet, Astrid was given a bath and freed from her matted fur. Once Astrid was clean and swaddled in a warm jacket, rescuers began to see another side to the timid dog.
Shelter volunteer Mindy Liu had spotted Astrid the day she was dumped, and instantly felt that, if she could get the shy dog out of the shelter and into a home, even for a little bit, Astrid would learn to feel safe.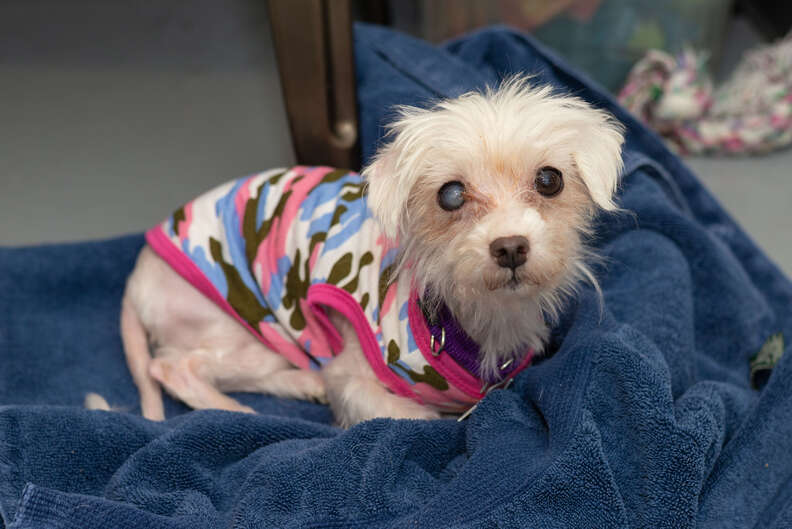 Animal Haven
With three rescue dogs already, Liu knew taking on a high-needs senior was a risk — but she trusted Astrid would fit in with the pack.
"We don't just foster any dog because it really can change the dynamic of the household and we know our limit on what energy we can handle without overwhelming the balance of the house," Liu said. "I also go with a gut feeling and know who is meant to come home with me and that's how I felt with Astrid when she first came into the shelter."
When Liu touched Astrid, it became clear that the dog wasn't used to receiving affection.
"She is a bit awkward when you pick her up," Liu said. "Her legs stiffly stick out, so we know she wasn't carried much."
Mindy Liu
Her foster mom understands that it will take Astrid time to get used to her new life, and Liu's committed to helping Astrid until she's ready to find a forever home.
In the meantime, Astrid is enjoying the support and care she gets from her three new dog friends — Chinta, Beatrix Kiddo and Hanzo Blade of Steel — with whom she takes stroller rides around the city. "I'm surprised at how calm she is coming into our house with our three dogs," Liu said. "She's not overly interested in the other dogs and at the same time not intimidated by them either."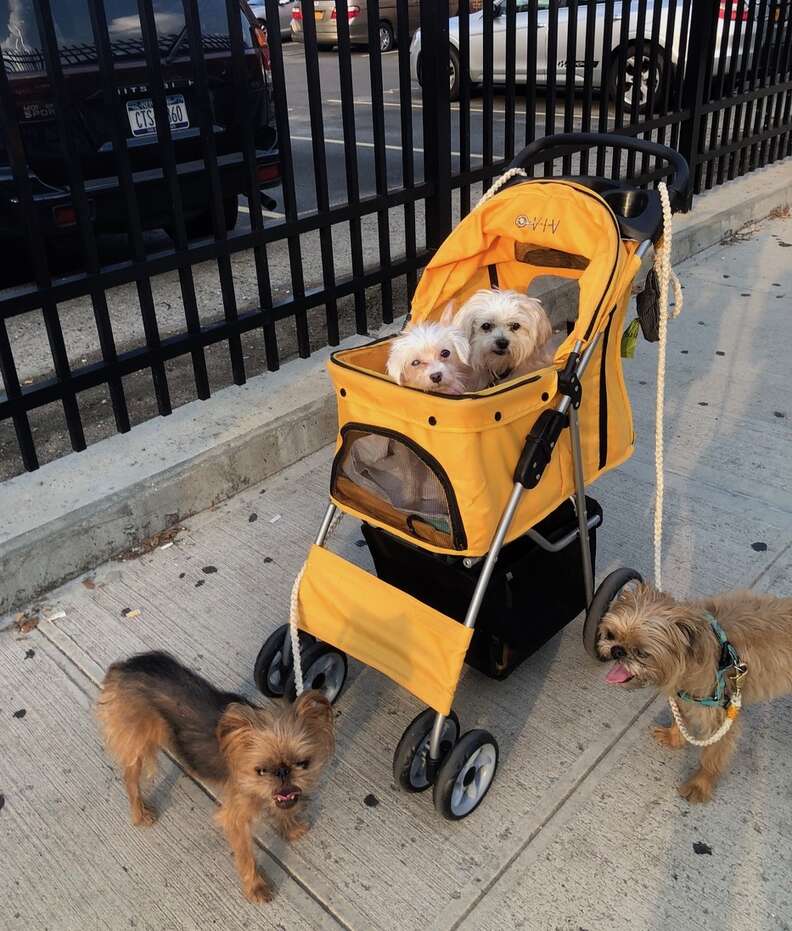 Mindy Liu
Walks outside are challenging for Astrid, who still spins at times, and can't seem to comfortably hold up her own weight with her weakened leg muscles.
"It's almost like she's a doe with her skinny legs learning to walk for the first time," Liu explained. "Astrid also seems confused by her tail. She will be walking then suddenly spin to nip at her tail."
Mindy Liu
Little by little, Astrid is coming out of her shell and becoming interested in her new surroundings. While she may not yet be sure of herself or her future, Astrid seems content to enjoy the simple pleasures.
"Right now she's a little observer watching us — I mean, just staring," Liu said. "She's timid, but not scared. If you put her on a towel, bed or something soft she will just curl up and lay down to relax."