Dog Rescued From Dirty Home Turns Into Sweetest Family Pet
She's so FLUFFY now 😍
In March 2018, the RSPCA rescued Hobbit and 21 other dogs from horrific living conditions at a home in England, after receiving complaints of potential animal neglect. The dogs were all crammed into makeshift pens throughout the house and backyard, and after seeing the way in which they were being forced to live, their rescuers were all shocked that anyone could treat animals in such a terrible way. 
RSPCA
"They were all absolutely filthy with matted coats," Miranda Albinson, an inspector with the RSPCA, said in a press release. "The conditions were absolutely hellish. I can't begin to describe how awful the smell was."
RSPCA
All 22 dogs were taken from the home and brought to various branches of the RSPCA. While all of the dogs were matted and suffering from various health conditions, Hobbit was in a particularly bad state. She was severely underweight, and was so wary of people that at first she was too scared to let anyone touch her.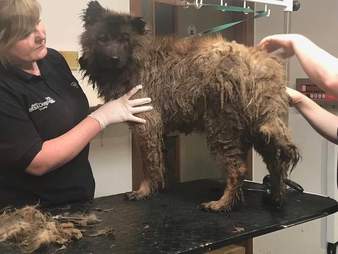 RSPCA
"We tried to brush and clip her coat, but on our first attempt she got so stressed that we [had] to stop," Rachel Jones, head of fundraising and communications for Bath Cats & Dogs Home (an RSPCA branch), said in a press release. "We eventually had to sedate her and shave a lot of her coat as it was in such a terrible state."
RSPCA
After she was all cleaned up and given time to heal, Hobbit's rescuers started working with her to help her learn how to trust people again. It took three months, but the emotional wounds from Hobbit's past finally healed, and she transformed into the sweetest, most loving dog who wanted nothing more than to hang out with all of her rescuers. Hobbit was so different from the scared, dirty dog she was when she started her journey …
RSPCA
RSPCA
Once she was ready, everyone knew it wouldn't take long for Hobbit to find the perfect loving home, and they were right. In June 2018, the best couple stepped up to adopt her, and Hobbit's life has been a dream ever since then.
"Hobbit is so adorable and loving, she has learned so much in the few months we have had her," Anna Abram, Hobbit's new mom, said in a press release. "She has lots of doggy and human friends now, everywhere we go people want to take pictures and ask about her!"
RSPCA
Hobbit used to be so terrified of everyone and everything around her, but now with her new family by her side, she takes trips to the beach …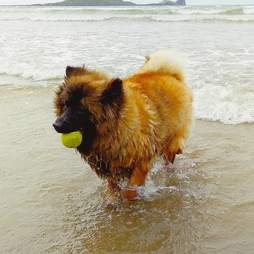 RSPCA
… goes for long walks outside …
RSPCA
… and even won first place in a local dog competition.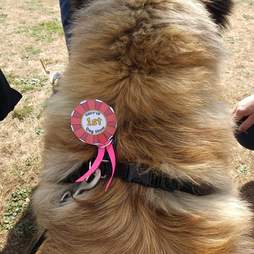 RSPCA
Hobbit's life changed instantly the day the RSPCA came to rescue her, and with her fluffy coat and confident attitude, it's almost as if she's a completely different dog.