Dog Left Behind In Apartment Was So Matted He Could Barely Move
"He was like a statue. His eyes would move, but his body stayed still."
Day after day, Sunny the poodle simply waited.
It had been weeks, but his family still hadn't come home.
All of their furniture was gone — even his food bowls. He drank from the open toilet because he was so thirsty, and he was getting skinnier by the day. His hair was so matted and dirty that it hurt to move. He yearned for relief.
Finally, after waiting for so long, someone found Sunny.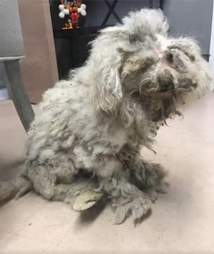 Sunny after he arrived at the humane society

| Humane Society of North Texas
"He was brought to us by an apartment complex manager who had done a final walkthrough and found that Sunny had been left in the apartment," Cassie Lackey, community relations manager with Humane Society of North Texas, told The Dodo. "He was just locked inside the apartment and left to roam around."
Sunny's family had apparently moved out of the apartment and left the 2-year old dog behind. While his abandonment was shocking enough, his condition showed the neglect had gone on for quite some time, likely before they'd even left. His fur was filthy, matted and infested with bugs. The hair around his legs was so knotted and painful that he could barely move.
Humane Society of North Texas
"When you lifted the fur away from his eyes, he just winced," Lackey said. "He was like a statue. His eyes would move, but his body stayed still."
A groomer from a local PetSmart store offered to take on the delicate job of freeing Sunny from the painful mats. He required a light sedative to stay relaxed throughout the process, while the groomer cut his hair in sections.
Humane Society of North Texas
Including breaks, the entire session lasted around eight hours. Sunny had quite a few sores on his body, but he was finally free from the thick coat. He was put on medicine to help heal the skin irritation, and was sent off to his foster home looking like a brand-new dog.
Two weeks later, little Sunny is looking and feeling so much better. He's lively, playful and social now — and he can't get enough of hanging out with people.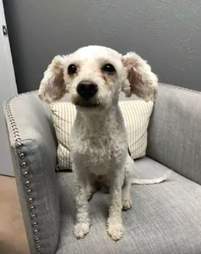 Sunny relaxing with his foster family's dogs

| Humane Society of North Texas
Lackey took Sunny back to PetSmart to show off his new look and do some shopping. On his way through the aisles, Sunny couldn't contain his excitement.
"He was in his cart zooming around and barking," Lackey said. "He is just a joyful pup. He is amazing."
In the pet clothing section, Lackey and Sunny found an outfit quite suitable for everything he has overcome: A superman suit.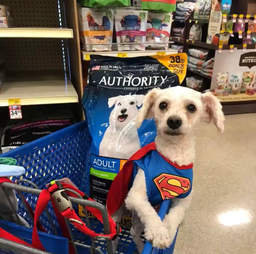 Sunny going shopping in his new costume

| Humane Society of North Texas
Sunny has captured the hearts of many people throughout the North Texas community, and with that outpouring of support has come dozens of adoption applications. He found the perfect family in the process and will likely go home this weekend.
Sunny being held by his new mom, Christine Cook

| Humane Society of North Texas
"The resilience of an animal who's been severely neglected and traumatized is so remarkable to me," Lackey said. "He's a superhero to have gone through what he did and just be the most peppy and happy little guy."