Sweet Senior Pittie Has Waited In The Shelter For 3 Long Years
"She's extremely expressive, so she's just very, very funny, and everything that she does kind of has this ridiculously cute factor to it."
To Hillary Aiges, a 10-year-old bull terrier named Marilla is one of a kind.
"She's an exceptionally happy, content, interesting little character," Aiges told The Dodo. "She has more energy than a young puppy, but she's equally as affectionate and calm."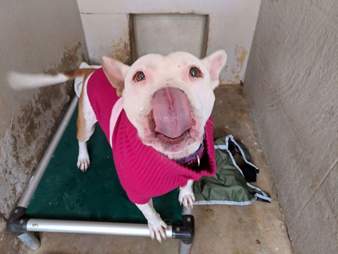 Marilla at the Austin Pets Alive! shelter

| Hillary Aiges
But for a reason Aiges can't understand, Marilla hasn't been able to find a home, and she's spent the last three years in the shelter run by Austin Pets Alive! in Texas.
"She's such an amazing dog, but she's been going unnoticed and falling through the cracks for the last three years," Aiges said. "For whatever reason, no one has ever come in to want to meet her for adoption. It's beyond me."
Hillary Aiges
But Marilla's life finally changed when Aiges took her home to foster her in September.
"I am a dog trainer, and one of the things that I am a fierce warrior about is long stay shelter dogs," Aiges said. "I've been in Austin for the last several years, and one by one, I have been systematically able to take dogs who have been living in shelters for three or four years and advocate for them in a way that has helped them find their forever homes. So when my house became empty, I picked her up."
Hillary Aiges
The timing couldn't have been better for Marilla, who'd just had surgery on some cysts and tumors on her body, and needed a comfortable place to recover.
"Having just had surgery, I knew that being in a wet, hot, 100-degree kennel was not going to be good for a 10-year-old dog," Aiges said. "So I brought her home, and she's been living with me now for several weeks, and she's just a delight."
Hillary Aiges
It didn't take long for Aiges to become totally smitten with Marilla — and Aiges' love for Marilla is clear when you look at the photos she posts of her on Instagram.
"I cannot stop photographing her," Aiges said. "She is like my muse. I am absolutely fascinated by how she can go from being this extremely beautiful, ethereal creature to this little, whirling cannonball."
Hillary Aiges
"She's got these big satellite dish ears that kind of have a personality of their own," Aiges added. "And she's extremely expressive, so she's just very, very funny, and everything that she does kind of has this ridiculously cute factor to it."
What Aiges loves the most about Marilla is her passion for life.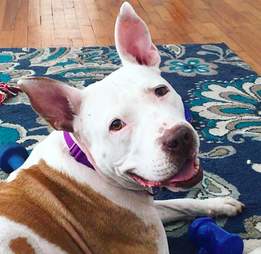 Hillary Aiges
"Her spirit is so strong that even though she's been completely deprived of any kind of real humanity or relationships in a real way in the world, she's not mean and she's not broken and she's not despondent," Aiges said. "She has this incredible joy for life. She's just a party girl who is up for anything. Nothing seems to break her down, and I am just amazed by her sheer joy for life."
Hillary Aiges
Aiges describes Marilla as an "entertainment center." Not only can Marilla entertain herself, but she gives Aiges endless entertainment as well.
"It's hard for me to go to work, because she keeps me so happy, and I think anyone who lives with her will experience the same," Aiges said.
Despite being a senior, Marilla is full of energy, and she'd be well-suited to an adult or couple who lives an active lifestyle.
"Anyone who wants a dog to go on long walks with or to go swimming with or doing nature-type things, she would be very happy," Aiges said. "Or someone who's got a really great toy chest. She can just hang out, and play with her little things."
Hillary Aiges
"She's the kind of dog who will just go and drag all of the toys out of the toy box, lay them in a row, show them to you proudly and then just entertain herself. She'll throw the ball into the air and catch it … and keep herself busy for hours."
It can take Marilla a couple meet-and-greets before she fully warms up to someone, but once she trusts you, she's "extremely wiggly and happy," Aiges said. And Aiges is sure that Marilla will make a wonderful companion for the right family.
Hillary Aiges
"We need a happy ending," Aiges said. "As a senior at 10, and having undergone major surgery, just living in shelters is not really an option for her any longer. And she's such an exceptionally sweet and easy dog to have in the home."