Woman Finishes Marathon Carrying Puppy She Rescued Along The Way
She ran 19 miles with the puppy — and that was just the beginning ❤
Khemjira Klongsanun is a running enthusiast from Bangkok, Thailand.
Though she enjoys racing in competitions, Klongsanun knows some things are more important than setting a record time.
Last week, Klongsanun was participating in a local marathon when something caught her eye. There, about 7 miles into the 26-mile run, she spotted a tiny puppy on the roadside with no owner or mother in sight.
Rather than continue on her way and leave the little dog to face the world alone, Klongsanun decided to briefly put the race on hold. She stopped — and scooped the helpless puppy into her arms.
But then she did so much more.
For the next 19 miles, Klongsanun carried the puppy as she ran.
She was now safe and in good hands.
There was a chance, perhaps, that Klongsanun could have handed the puppy off to a willing spectator or race official, but she did not.
Here's footage of her and the lucky little dog making their way down the course:
Sure enough, the puppy remained in Klongsanun's arms to the end.
They crossed the finish line together.
This, however, wouldn't be the end of the line for Klongsanun and her unlikely racing companion.
After the race, Klongsanun decided to take the puppy home to be a part of her family.
She got some much-needed rest along the way.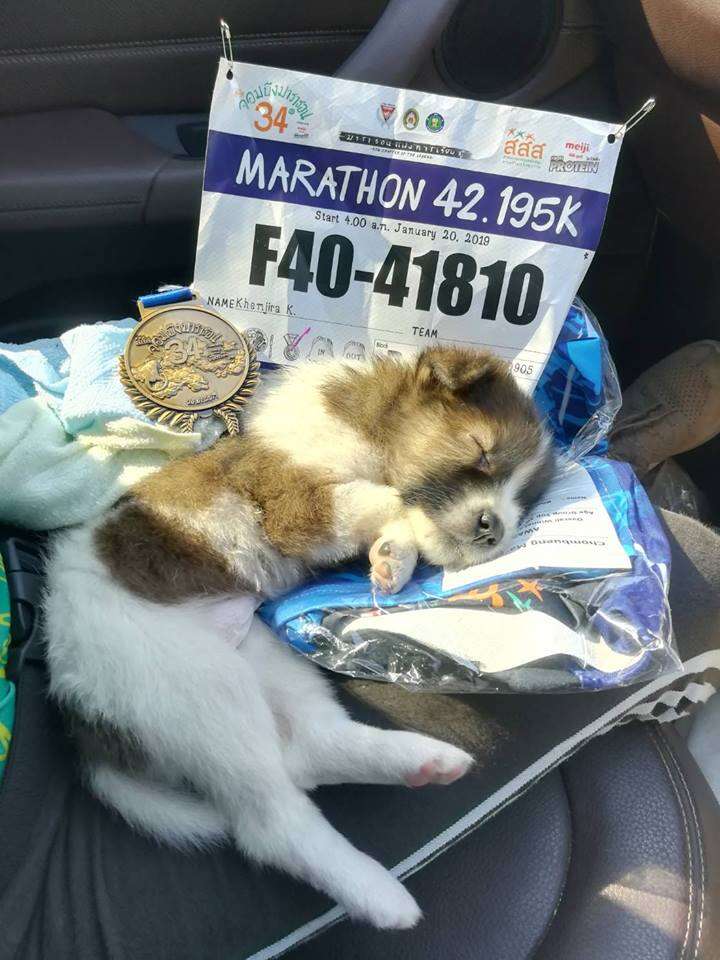 Klongsanun has since taken the puppy, now named Nong Chom, in for a checkup with a vet.
Later, she introduced her to her family's other dogs.
The once-lonely stray puppy was now surrounded by love.
Just in case Nong Chom's siblings and mother were around and in need of help, too, Klongsanun and Nong Chom returned to where she'd been found to look for them. But, it seems, Nong Chom truly had been there all alone.
Now, at least, Nong Chom was home.
Every rescue dog has a story of when their life changed for the better — but few, perhaps, are as memorable as Nong Chom's. And though there's no telling how much time Klongsanun lost in the race that day due to the pup, such details matter little compared to the lifetime of love that now lies ahead.