Guy Who 'Doesn't Want Pets' Finally Gives In On His Wedding Day
Best wedding present ever 🤗❤️️🐱
Kaylee Schmidt and her fiancé Orion Metheny had spent five happy years together. There was just one big thing they disagreed on — Metheny was never sold on the idea of pets.
While he loves animals, Metheny wasn't sure he wanted any of his own. Schmidt, on the other hand, had grown up with cats, and was dreading moving out of her family's house when they finally got married because she'd have to leave behind her beloved family cat Nala.
Little did she know, though, that her fiancé had a plan.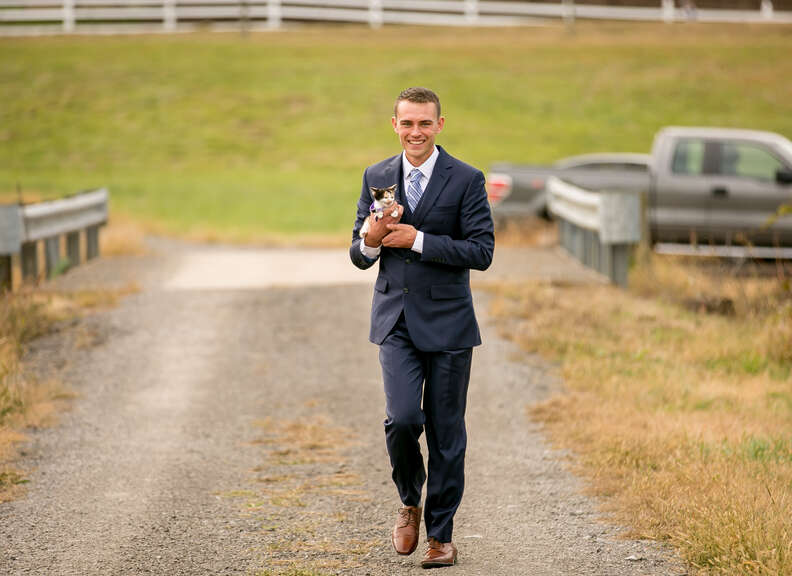 "He knew I was sad to be leaving Nala," Schmidt — now Schmidt-Metheny — told The Dodo. "I've talked about wanting a cat once we got married. He knew how much joy a cat would bring me, plus make the transition easier. So the wedding day seemed like a perfect opportunity."
When Metheny found out about a tiny kitten who had been abandoned and found wandering around their neighborhood, he knew it was meant to be. He decided to adopt the tiny kitten, later named Chloe, and surprise his future wife with her on their wedding day. When he told their photographer, Megan O'Dell of Wild and Wonderful Photography, about his plan, she couldn't have been more excited.
On the day of the wedding, October 19, O'Dell prepared the couple for their "first look" photos, where they would see each other all dressed up right before their ceremony. As Schmidt-Metheny waited, O'Dell told her that Metheny had a surprise for her.
"I have to admit that part of me was hopeful for an animal, but didn't think it would actually happen," Schmidt-Metheny said. "Orion had seemed pretty apprehensive about getting a cat when we had talked about it in the past. Plus, while I was turned around still, I couldn't hear any animals making noises so I thought the surprise must be something else."
Finally, Schmidt-Metheny turned around — and couldn't believe her eyes when she saw her fiancé holding Chloe.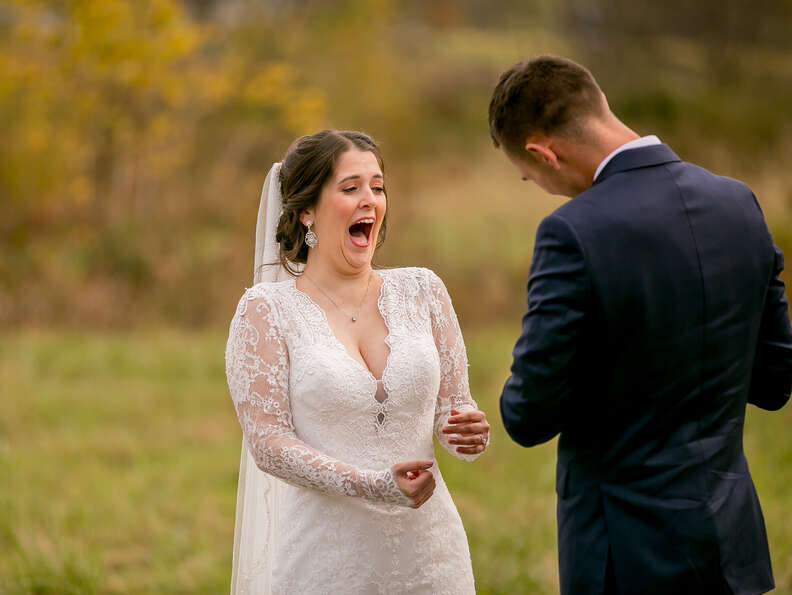 "I think the first thing I said was, 'Shut up!' — I was totally shocked and couldn't believe he had a kitten with him," Schmidt-Metheny said. "Then I got emotional when it processed that this was our kitten to keep!"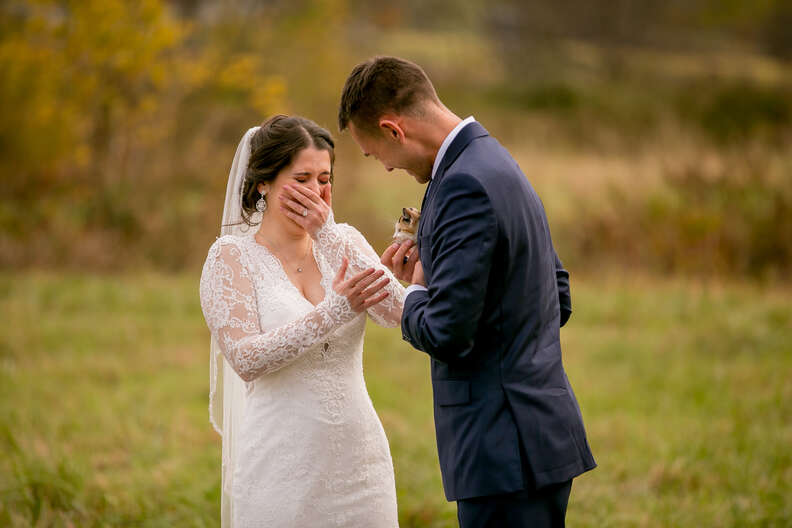 Schmidt-Metheny's face went from shock …
… to pure joy in a matter of seconds, as she and her future husband cuddled the newest member of their family.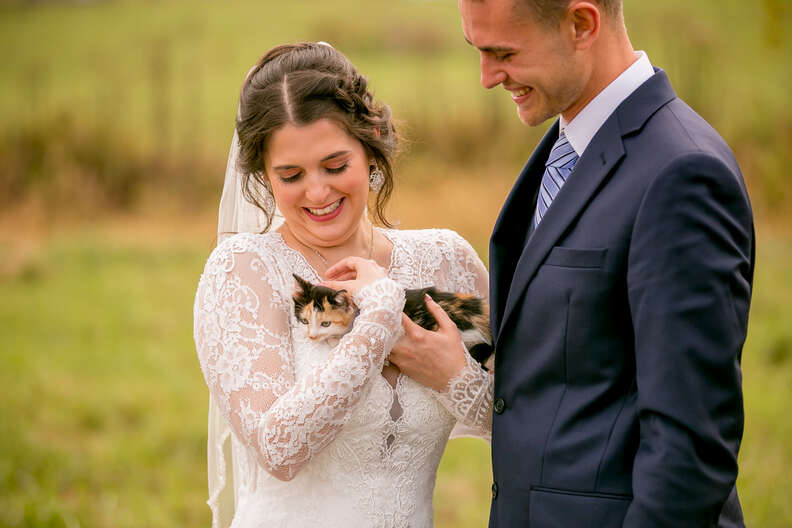 Schmidt-Metheny was so overjoyed to have a kitten to start their new life with, and little Chloe seemed pretty excited about her new parents as well.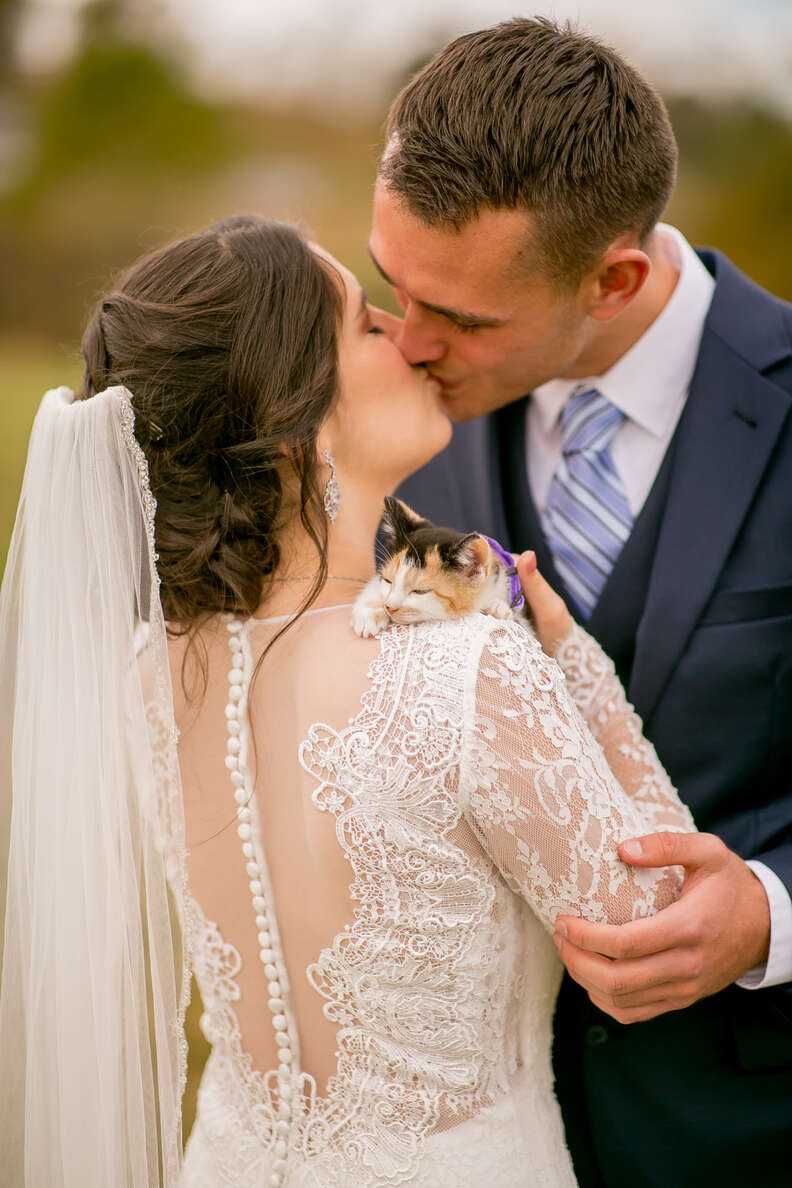 "Chloe was so calm and cuddly," Schmidt-Metheny said. "Which is so crazy to think back on now, because now she is so rambunctious and playful all the time!"
After the photos, the couple temporarily parted with Chloe so they could go and get married, but were so excited to bring her home later and start their new life with her. Chloe has since settled in wonderfully in her new home, and her parents already can't imagine life without her.
"She's very happy," Schmidt-Metheny said. "Orion and I both love playing with her, and she's been a perfect addition to our little family!"