Stray Cat Asks Man For Help — And Won't Let Go
"It's moments like this that I tell myself, 'This must be happening for a reason.'"
When Jason Belisha's car broke down earlier this month it was inconvenient, but a small gray cat named Popeye couldn't have been more grateful for the engine trouble.
Belisha was returning his rental car in Decatur, Georgia, when he heard a desperate meow in the parking lot. "I looked left and right and then finally under the car next to me, where I found the poor little guy soaking wet and all alone," Belisha told The Dodo.
Belisha beckoned the cat over and, to his surprise, the young stray showed no hesitation in approaching. He rubbed his face on Belisha's hand, eager for attention. While rescuing an animal didn't quite fit in with Belisha's plans for the rest of the day, he knew he couldn't leave the lonely cat behind.
"It's moments like this that I tell myself, 'This must be happening for a reason,'" Belisha said. "And if I were a homeless kitten I would want someone to help me."
Belisha scooped up the stray and changed course, explaining to the rental agent that he'd need the car for a few more hours so he could drive the cat to a shelter. Luckily, the person behind the desk was happy to help — and to overlook the fresh wet paw prints in the car's interior.
But the local shelter's response to the young stray was not what Belisha hoped for. "They told me that since he's older than 3 months, they would put him back on the street where I found him because he could probably survive on his own," Belisha explained. "No thank you!"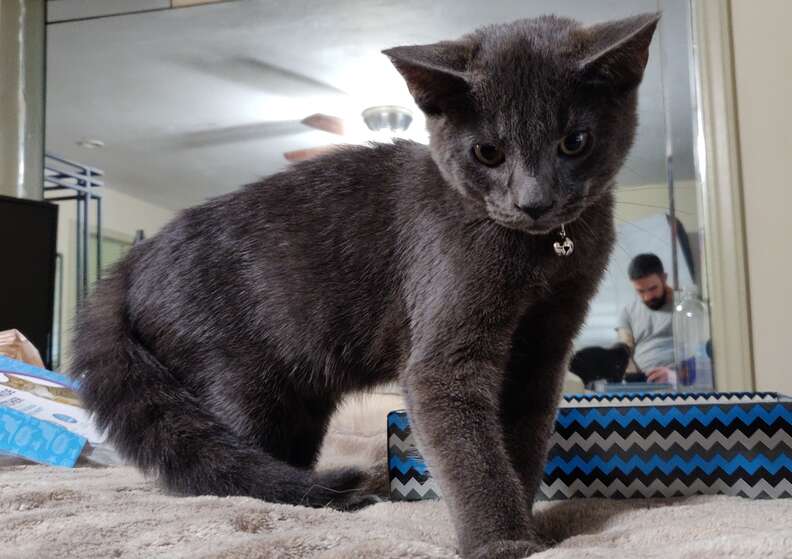 The shelter gave Belisha a carrying case for the cat, but Popeye didn't want to be separated from his rescuer — even for a moment. "He would keep screaming except for when I held him in my arms," Belisha explained.
After picking up his car from the shop and a visit to the pet store, Belisha finally returned home with the kitten. Immediately Popeye started using the litter box, and made friends with Belisha's corgi, Goose. "They were instant buds," Belisha said. "[It was] like a miracle."
As Popeye grew accustomed to life in a home, he remained the same snuggly kitten who first approached Belisha begging for help. He even insisted on sleeping in bed with his new foster dad and dog brother.
But Belisha knew that no matter how much he loved the little cat, their arrangement couldn't last forever. With his hectic schedule as a musician and photographer, Belisha couldn't give the kitten the care and attention he needed. So he made sure he could find someone who did.
"One of my dear friends reached out and said she had a place for him if I couldn't keep him," Belisha said. "I took the opportunity and brought him over before I got too attached to him. Given another few days, I would have gotten irrational!"
While Belisha was sad to say goodbye, he knew he was doing what was best for both of them. And he's staying up-to-date with all of Popeye's adventures.
"He was a joy and a pleasure to have around," Belisha added. "Goose and I will miss him a lot, but he'll always be close by at my friend's place … and his new mom sends me videos all the time so I know he's OK."