Little Street Puppy Runs Up To Traveler And Completely Steals His Heart
"Beside this tower of trash, laying in a nest of tall grass, was Chica, smiling with those eyes of hers and wagging that tail wildly."
When realtor Scott Kalmbach traveled to Guatemala last November, he knew he would be providing a home for a person who needed it — but he never thought he'd be giving a home to someone with four legs, too.
He's part of Home for a Home, a San Francisco-based organization that builds houses for families in Guatemala. Walking along the cobblestone streets of Balanya with some coworkers one day, Kalmbach was nearly tripped by a tiny, tan-colored animal who had come bursting across the road toward him.
It was a puppy.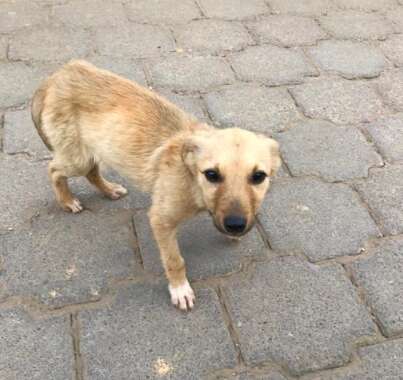 "She was wagging her tail so fast and furiously and kept falling over from all the excitement," Kalmbach told The Dodo. He was surprised how lively and excited the little dog was, compared to the many other strays he'd seen while on his trip.
He took out his phone and snapped a photo, but unfortunately had to move on to a busy day of work in a nearby village. Yet he promised himself he would come back for her.
"I thought, 'If I find that dog when we come back to Balanya, I am going to bring her home with me," Kalmbach said. "She was such a sweet little girl."
He decided to call her Chica. That night, when he was back at his hotel, Kalmbach scoured the internet to find an animal rescue group that might be able to help him and Chica. He came across Unidos Para Los Animales.
Kalmbach contacted the rescue's founder, Linda Green, who agreed right away to get Chica some vet care, immunizations and paperwork to fly home to Kalmbach in California if Kalmbach could find her again. After all, the rescue regularly flies dogs to California to find homes each year. It was meant to be.
With a plan in place, the next step was to track Chica down. He searched and searched the village with no luck — so he asked a group of children for help. The kids seemed to instantly recognize Chica's picture and guided Kalmbach around, street after street. After two hours of walking, they led him into the town dump.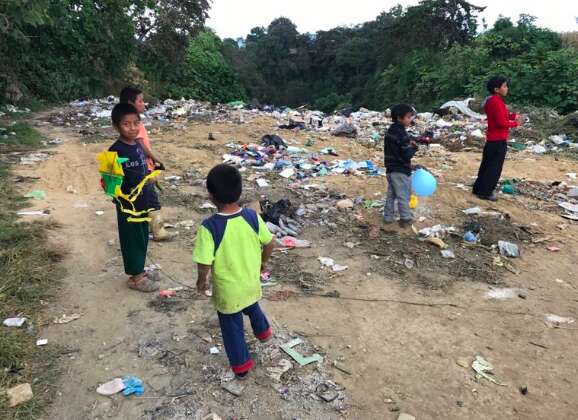 "It was a vast hillside of garbage where both children and stray dogs picked through the heaps of trash, looking for something to eat or play with," Kalmbach said. "Beside this tower of trash, laying in a nest of tall grass, was Chica, smiling with those eyes of hers and wagging that tail wildly."
When Kalmbach was finally able to pick up Chica, he noticed she was in bad shape. She was thin and covered in fleas, bugs and excrement — and there was no telling when her last meal had been. But despite everything, she was nothing but happy.
Kalmbach cradled the little dog as he set up a milk crate in his car with some pine needles inside to serve as Chica's bed on the drive out to the city of Antigua, which is where he had planned to meet Green, the founder of the animal rescue. Chica finally had a safe place to rest — and she slept the entire 2.5-hour trip.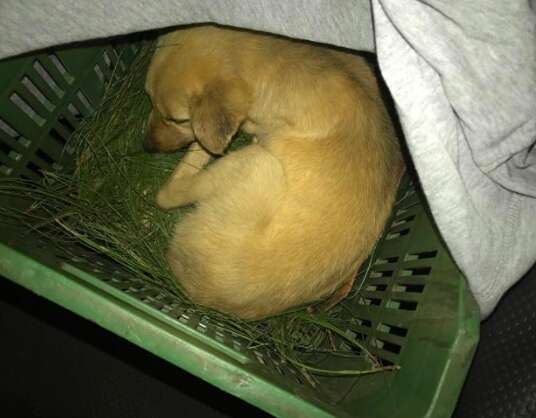 When he dropped Chica off at the rescue, Kalmbach knew she would be in great hands. He sent a short email to his family back in San Francisco: "I'm coming home with a story and a surprise," he wrote.
Over the course of the next month at the rescue, little Chica gained some much-needed weight, and was fully treated for parasites and fleas. It wasn't long before she was health-cleared, vaccinated and ready for her big day: going home.
She flew into San Francisco and was reunited with her dad at midnight. They might have spent a month apart, but Chica remembered who he was right away. Aside from being so much healthier and larger, the sweet dog hadn't changed a bit.
Kalmbach had a strong feeling that Chica would fit perfectly into the family — and he was right. She settled in right away and instantly took to all the other pets and the couple's two children.
"She is fantastic with kids and has been a great stepmom to our other pets, including rabbits and goats," Kalmbach said. "She is extremely affectionate and loves to sleep under the covers in bed."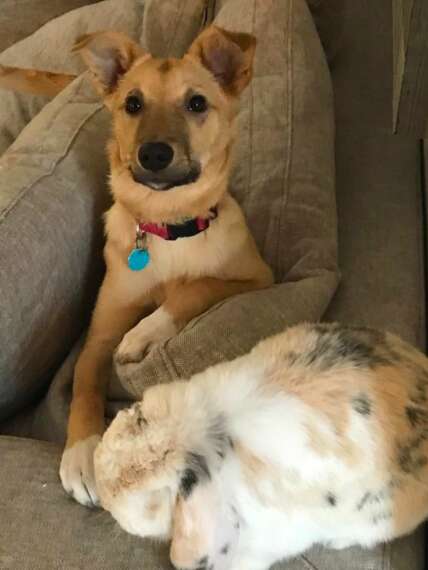 While Chica adores spending time with her family, her true light comes out at her favorite place: the dog park. "She is great with other dogs and is the belle of the ball at the dog park," Kalmbach said.
Now approaching her first birthday this fall, Chica is living a dream life with her new family after such an uncertain start. Kalmbach will never forget seeing her for the first time on those dusty streets — the moment that changed both of their lives for the better.
"It's hard to believe she had such a scroungy beginning, and now has settled in so well to a normal life," he said. "I think many people meet stray dogs when traveling and don't realize that it actually is possible to bring them home with you and give them a fresh start. She is such a love … I'm so thankful we brought her home."